Daily Devotional Worship Items
Visit our Daily Devotionals page every day to see what's new.
---
ZLP on Roku
You can watch Our Jewish Roots on your Roku video TV box. This is one of the easiest ways to watch our video archives on your TV without using a computer.
See our Roku page for more information.
---
The Promised Messiah
Print our one-page foldout showing Messianic prophecies from the Bible in Hebrew and English.
Download this document and print it double-sided, then fold to create a hand-out:
---
Passover Materials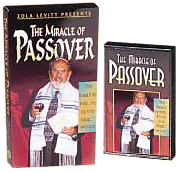 The Miracle of Passover (Video, audio and booklet)
Passover is the crown jewel of the Biblical feasts. In this DVD, videotape, booklet and audio cassette, Zola explains the origin and significance of Passover and demonstrates the feast where Christ is revealed through its very elements. This is one of the most basic and important Bible studies, shedding clear light on the mysteries of the Lord's Supper. Order online or watch the video on your computer.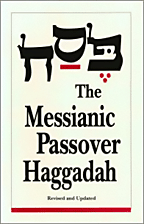 The Messianic Passover Haggadah
This 2-color, 36-page book guides you through the traditional Passover Seder dinner, step-by-step. What's so unique about this Haggadah is its focus on Yeshua (Jesus) the Messiah and his teaching, especially on his last night in the upper room. Order online.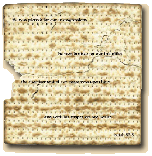 Matzo Postcards (Pack of 12)
Our Lord said, "this bread is my body." It is striped, pierced and pure (it has no leaven). So we have created a 6-1/2″ x 6-1/2″ cardboard postcard. One side is functional, with areas for postage, an address and a message. The other quotes Isaiah 53:5: "He was pierced for our transgressions, He was bruised for our iniquities: the chastisement of our peace was upon Him; and with his stripes we are healed." Order online.
---
Upcoming Tours
See Israel, Petra, and take a Greek cruise in October.
Tour Israel and Petra in March.
---
Read Important articles that didn't make the Levitt Letter. Only available on the web! Updated frequently.
---
Archive: Snow in Jerusalem!
When it snowed in Jerusalem on Jan 30, 2008, our former Man in Jerusalem, Will King, was out taking photos.
---
Archive: Israel Blog
Sandra Levitt started a daily journal of her experiences in Israel during their dispute with Hizballah in Lebanon in 2006. She added reports whenever she was in Israel.
Read her account of her travels in Israel.
---
Archive: Zola's Health Battles
Read about Zola's 2005 heart surgery on our News About Zola page.
Read about Zola's 2006 fight with cancer on our Zola's status page.
---
ZLM on Internet Radio
In addition to our TV program, Our Jewish Roots, we carry teaching audio cassettes and the soundtracks of our TV programs on Internet Radio.
Monday through Saturday at 9 PM Central Time:
You will find terrific praise and worship music there anytime you listen, including some of Zola's. Whenever you're working or playing on your computer, why not let its speakers bless you with free teaching and music?