Blessed are those whose strength is in You, whose hearts are set on pilgrimage. Psalm 84:5.
Fall Tour
Description
Join us for our Fall Tour, when the temperatures are mild and the fall harvests provide bountiful feasts for the table.
In addition to our ten-day Israel tour, you can opt to include an extension to Petra, "the rose-red city half as old as time," or our Greece extension with a cruise to Patmos, Mykonos, Crete, Santorini, and Ephesus.
For our Fall Tour, you may choose Israel only, Israel with the Petra extension, Greece and Israel, or an all-encompassing tour of Greece, Israel and Petra.
Upcoming dates
2018: October 8–26
8–15
14–23
23–26
(tentative dates)
Greece
Israel
Petra
2019: September 9–27
9–16
15–24
24–27
(tentative dates)
Greece
Israel
Petra
Details
Fall Tour Itinerary
Greek Cruise Information
General Tour Q&A
Further information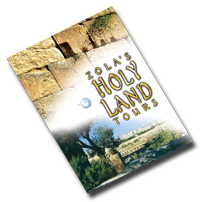 Request information be sent in the mail.
Ready to register?