"A trip to Israel is worth ten years of Sunday School." —Zola
Fall Tour
Description
Join us for our Fall Tour, when the temperatures are mild and the fall harvests provide bountiful feasts for the table.
In addition to our ten-day Israel tour, you can opt to include an extension to Petra, "the rose-red city half as old as time," or our Greece extension with a cruise to Patmos, Mykonos, Crete, Santorini, and Ephesus.
For our Fall Tour, you may choose Israel only, Israel with the Petra extension, Greece and Israel, or an all-encompassing tour of Greece, Israel and Petra.
Upcoming dates
2017: October 9–27
9–16
15–24
24–27
(tentative dates)
Greece
Israel
Petra
Details
Fall Tour Itinerary
Greek Cruise Information
General Tour Q&A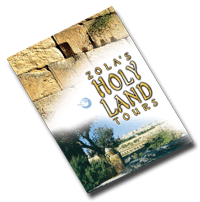 Further information
Request information be sent in the mail.
Ready to register?