Dear Friend,
Reminders — they are in our smart phones, computers, ovens, microwaves, washers, dryers, and various other devices and appliances. Why so many reminders? We live in the era of multitaskers, filling every moment of our lives with activities.
Allow me to remind you of a special obligation: Believers ("Believer" is short for "believer in Yeshua/Jesus as Messiah.") in Yeshua must remember to stand in support of Israel. Many gentile Believers tend to forget that imperative. But during the Babylonian captivity, the Psalmist wrote "If I forget you, O Jerusalem, let my right hand forget its skill." — Psalm 137:5
Israel, a Chosen People
"Israel" is not only a land blessed by God, Israel is a people blessed by God — a people through whom He blesses the rest of the world. From the beginning, God put His geographical stamp on Israel. In Leviticus 25:23, He said, "the land is Mine." And in Genesis 12:3, He pronounced the consequences of supporting or not supporting His people. "I will bless those that bless you, and I will curse him who curses you; and in you all the families of the earth shall be blessed." What Believer wouldn't want to secure these blessings that God promised through His people?
God promised Abraham and Sarah that He would bless the world through their descendants (check the lineage laid out in Matthew). He gave the instructive Law through Moses. In time, He revealed the New Covenant, which we find in Jeremiah.
Behold, the days are coming, says the Lord, when I will make a new covenant with the house of Israel and with the house of Judah, not according to the covenant that I made with their fathers [Mosaic Covenant] in the day that I took them by the hand to lead them out of the land of Egypt, My covenant which they broke, though I was a husband to them, says the Lord. But this is the covenant that I will make with the house of Israel after those days, says the Lord: I will put My law in their minds, and write it on their hearts; and I will be their God, and they shall be My people. — Jeremiah 31:31–33
The Two Covenants
The Mosaic Covenant and the New Covenant have significant differences. The Mosaic Covenant demanded obedience. It was conditional — "I will, if you will." The New Covenant has no such condition. It freely offers forgiveness of sin regardless of the person's rebellious condition. The Mosaic Covenant was written on stone tablets not once, but twice, because of Israel's rebellious heart. The New Covenant is carved on the hearts of God's people, as noted in the Jeremiah passage above.
When was the New Covenant established? When Jesus/Yeshua paid the final penalty for sin with His death on the cross. "For it pleased the Father that in Him all the fullness should dwell, and by Him to reconcile all things to Himself, by Him, whether things on earth or things in heaven, having made peace through the blood of His cross." — Colossians 1:19–20
Every Believer during this the Church Age — that is, the period after Yeshua's resurrection when Jewish and gentile followers of Yeshua worship as the assembly of Believers — receives the full benefits of the New Covenant.
Not to be left out, Israel will see a day when the benefits of the New Covenant extend to include that nation.
For I do not desire, brethren, that you should be ignorant of this mystery, lest you should be wise in your own opinion, that blindness in part has happened to Israel until the fullness of the Gentiles has come in. And so all Israel will be saved, as it is written: "The Deliverer will come out of Zion, and He will turn away ungodliness from Jacob; for this is My covenant with them, When I take away their sins." Concerning the gospel, they are enemies for your sake, but concerning the election they are beloved for the sake of the fathers. For the gifts and the calling of God are irrevocable. — Romans 11:25–29
The Jewish nation of the Millennial Age will turn to the Redeemer (Yeshua), and their doing so will bring the culmination of God's elective purpose for Israel.
The penalty of sin was paid in full with the crucifixion, burial, and resurrection of Jesus/Yeshua, satisfying the Old Covenant with one stroke and for everyone! "For the death that He died, He died to sin once for all; but the life that He lives, He lives to God." — Romans 6:10
The Church
This brings us to the Church, which was birthed at Pentecost. Almost everyone who was saved and added to the assembly of Believers at Pentecost was Jewish. Evangelizing Israel during the days leading up to and following Pentecost — and later, taking the Gospel to the remainder of the known world — was accomplished by Jewish believers in Yeshua (the first missionaries). I suggest that the next time you meet a Jewish person, thank him or her for the Gospel of Yeshua and enjoy their reaction! You might be surprised at your opportunity to be a witness.
In the days of Yeshua's ministry and following His Resurrection, the closest followers of the Jewish Messiah were Jewish. They put their lives on the line to follow Him. All the writers of the New Testament were Jewish. (Luke's ethnicity is debated, but after reading ZLM Sr. Theologian Thomas McCall's reasoned argument, you'll likely agree that Luke was Jewish. levitt.com/essays/luke)
Consider how meticulously the written Word was copied and passed down through the generations, just so you in the 21st century could hold a copy in your hand. Sixty-six magnificent books, neatly stored in a one-volume library call the Holy Bible. Your Bible may say, "The Authorized King James Bible." I say, "The Authorized Jewish Bible."
That about covers Israel:
a chosen people
a chosen Messiah
an unparalleled Biblical record
a chosen land
an effectual Redemption
Modern Israel
Left to Right: Albert Einstein, Levi Strauss, Jonas Salk, and Irving Berlin
However, as those annoying infomercials say … But wait, there's more! We've only touched on the historical, Biblical contributions that should inspire Believers to support and stand with Israel. What about modern contributions? The list is too long to include more than a few here:
Printed circuit board — Invented by an Austrian Jew, Paul Eisler.
USB flash drive — Invented in Israel.
Cellphones — Invented by an American Jew, Martin Cooper.
Drip irrigation.
Iron Dome (missile protection).
From the polio vaccine to the heart defibrillator (invented/developed by American Jews) and pacemaker (Jews and gentiles contributed), numerous medicines and medical devices have been invented/developed by Jews from the U.S., Israel, and other nations.
What about people? Here are a few recognizable names:
Albert Einstein
Levi Strauss
Sigmund Freud
Jonas Salk
Irving Berlin, Hyman Rickover, Lerner and Loewe, Harrison Ford, George and Ira Gershwin, Edwin Land, Daniel Radcliffe, etc., etc.
Supporting Israel Today
I admit that standing with Israel and the Jewish people is easy when you consider the contributions that bless the world. But how can gentile Believers justify our support when we're barraged by unjust criticism of Israel, talk of boycotts, and claims that the Jewish state occupies land that doesn't belong to it? Remember this statement by one of our Israeli tour guides: "Israel is a wonderful place. We're just located in a bad neighborhood."
Please show your support for Israel by partnering with Zola Levitt Ministries as we continue Zola's unapologetic vision of revealing to the world the real Israel as "the apple of God's eye." We could, in fact, be the last generation to reach our Jewish friends with the Gospel. (See Luke 21: 31–32) That statement is not hyperbole — it's a warning that time is running out. The King is coming, and soon!

Tony
P.S. What reminder went off as you read this note? Did you think about a people who have struggled to survive the most difficult circumstances? Did you think about our LORD's sacrifice that settled forever the issue of the Law's requirements? Or, did you call out "Thanks" to God for the Bible in your hand? I pray that your soul has been stirred, and you will give God the glory for the wonderful things He has done through His chosen people!  
Zola Tours to the Holy Land
For questions and itinerary details, please contact Zola Tours manager, Sandra, at 214-696-9760, email her at travel@levitt.com, or visit levitt.com/tours.
Fall Tour 2017 options
| | | |
| --- | --- | --- |
| Deluxe (Israel only) | Oct 22–31 | $4,488 |
| Grand Petra (Israel & Petra) | Oct 22–Nov 3 | $5,688 |
| Grand Athens (Greece & Israel) | Oct 16–31 | $7,188 |
| Ultra Grand (Greece, Israel, & Petra) | Oct 16–Nov 3 | $8,388 |
Spring Tour 2018 options
Our prices include tips, taxes, & fuel surcharge (subject to change)  

| | | |
| --- | --- | --- |
| Deluxe (Israel only) | Mar 10–20 | $4,488 |
| Grand Petra (Israel & Petra) | Mar 11–23 | $5,688 |
A Note from David and Kirsten
Dear fellow Believer,
Tony's insightful message of why gentile Believers should stand in support of Israel and the Chosen People reminds us that, even today, we reap the benefits of a covenant blessing. God's hand will always be upon His chosen people. In 2017, we see that covenant in action.
So, how can we Believers support Israel when most of us live a great distance away? By supporting this ministry, you support Israel! ZLM upholds many ministries in the Holy Land while bringing you news from Israel and illuminating Yeshua's Message every week. Zola's vision lives on.
We thank all of you who contribute automatically through our Monthly Gift Program to ensure that the message of "Christianity through Jewish eyes" continues. Your investment is paying off in the form of unique teaching by Jewish Believers who live day to day in Israel. They see firsthand the loving and practical relationships formed as Believers — Jew and gentile — work together to gather God's own to Him.
TV Programs in September
In September, Zola Levitt Presents continues airing our newest series, Called Together.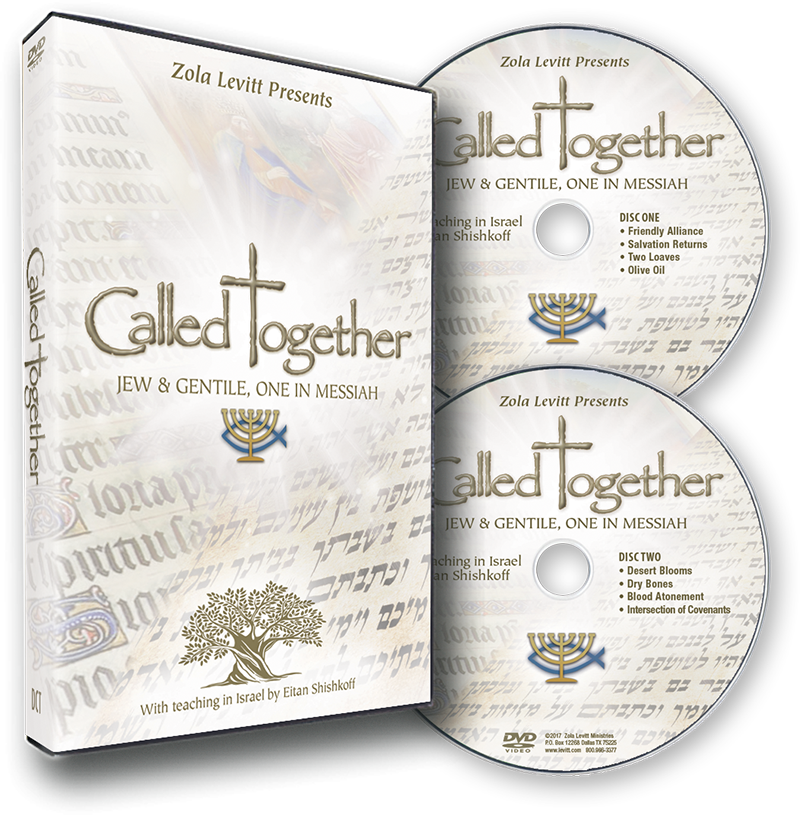 Salvation Returns

Eitan reminds us that Israel was the "messenger light" to the gentiles, who now take the Gospel message back to where it began. Importer of humanitarian aid Jim Schutz explains how gentiles reflect God's love. An Israeli Jew and Polish Christian call us to support the Jewish people. Chaim and Deanna Malespin show us where they were married, and teach us "Jesus" in Hebrew. Messianic singer Caroline Hyde shares "Oseh Shalom." Jeff Seif helps us apply series teachings to our lives.

Two Loaves

Peter learned the mystery of gentile salvation at the house of Cornelius, welcoming gentiles into the family of God. Eitan explains that the wall separating the gentile and Jewish worlds remains a barrier to Israel's salvation. Vineyard owner Yaakov Berg compares grapes to the Jewish people making aliyah. Chris Chambers's love for Israel resulted from his Christian faith. Chaim Malespin discovers who has been pruning the grapevines in Samaria, and Dana Feinstein teaches us God's Hebrew name. David Hart sings Zola's classic song "Sha'alu Shalom Yerushalayim" from his Jerusalem 3000 album.

Olive Oil

Eitan sees gentile Christians and the Messianic Jewish community as called together into a shared priesthood. David Parsons, media director at the International Christian Embassy Jerusalem, invites Christians to come and help draw Jewish people back to our promise-keeping God. Activist "Jerusalem Jane" encourages Believers to stand with Israel. Chaim looks forward to the Eastern Gate's eventual opening, and Dana teaches a Hebrew icebreaker, "What's Up?" Harvey Schmitt sings Zola's classic song "Righteous Gentile" from his Champions of Faith album.

Desert Blooms

Since 1948, Israel's desert has bloomed. In the future, all nations will come here to worship. Eitan encourages Christians to help Messianic believers restore Israel to the glory of God. Vineyard owner Yaacov Berg refutes BDS movement claims. Chaim takes us to Shiloh where items from Tabernacle times are being unearthed, and Dana teaches us "Abraham" in Hebrew. David Hart sings Zola's classic song "Faith in the Fire" from his Faith in the Fire album.

Dry Bones

Eitan recounts Ezekiel's vision of dry bones that become physically and spiritually alive. Like the Prodigal Son's brother, some Christians resent the rise of Messianic congregations. Native American Joaquin Guerrero relates to the Jewish people's persecution, hostile environment, and spiritual connection to the land. Chaim takes us to the Western Wall, then introduces his family. Dana teaches us the Hebrew way to close one week and open a new one. Caroline Hyde sings "Hu Chai B'tochi."
Another way you can support Israel is by taking your backpack or pocketbook there, literally. Help counter the boycott of Israeli products by going to Israel and physically spending your time and money there. Tourism helps boost the Israeli economy, and your presence reassures the residents of Christian friendship. Your pilgrimage constitutes a tangible way to support the Jewish people, and it will change your life at the same time. We call that a win-win. Zola Tours makes your study tour pilgrimage easy for you. If you've never been, sooner is better than later. If you've been before, come again! Join us — David and Kirsten — and Tony and Jane this fall or next spring.
For questions and itinerary details, please contact Zola Tours manager, Sandra, at 214-696-9760, email her at travel@levitt.com, or visit levitt.com/tours. See above for tour options, dates, and pricing.
One more reminder: Sha'alu Shalom Yerushalayim! Pray for the peace of Jerusalem! — Psalm 122:6
Lehitraot (see you soon),

David & Kirsten