Dear Friend,
From the earliest days of Zola's weekly television broadcasts, his now well-known tagline "Pray for the Peace of Jerusalem" (Psalm 122:6) has been an earnest request to you on behalf of Israel.
However, Psalm 122:6 stood as a lone request, with only an occasional mention of its full context.
This year's 50th anniversary of Jerusalem's reunification is a good time to consider what Zola was asking of you viewers and readers when he enthusiastically said or wrote, "Sha'alu shalom, Yerushalayim! — Pray for the Peace of Jerusalem!"
A "Psalm of Ascent"
Psalm 122 is one of the Psalms of Ascent (Psalms 120–134). These psalms (songs) were heartily sung as pilgrims made their way up to Jerusalem, Israel's capital, and were especially inspiring during the reigns of David and Solomon. During those two monarchies, pilgrims traveled to the Tent of Meeting and the Temple, respectively.
As you and I know, God gave David's son Solomon the task of building the Temple, but it was David who moved the Ark of God from Kiriath-Jearim (2 Samuel 6:1ff) into a specially prepared tent in Jerusalem, the Tent of Meeting.
So they brought the ark of the Lord, and set it in its place in the midst of the tabernacle that David had erected for it. Then David offered burnt offerings and peace offerings before the Lord. (1 Samuel 6:17)
There were three main pilgrimages during the year: Passover, First Fruits, and Sukkot. These Moedim (appointed times) were scheduled meetings with God on the Temple Mount.
To save you time, I've included the text of Psalm 122 (NKJV):
1I was glad when they said unto me, "Let us go into the house of the Lord."
2Our feet have been standing within your gates, O Jerusalem!
3Jerusalem is built as a city that is compact together.
4Where the tribes go up, the tribes of the Lord, to the testimony of Israel, to give thanks to the name of the Lord.
5For thrones are set there for judgment, the thrones of the house of David.
6Pray for the peace of Jerusalem: "May they prosper who love you.
7Peace be within your walls, prosperity within your palaces."
8For the sake of my brethren and companions, I will now say, "Peace be within you."
9Because of the house of the Lord our God I will seek your good.
The first two verses offer a glimpse of the pilgrims' joyful arrival in Jerusalem. The journey was long and arduous for many, but when they looked upon the Holy City set on a hill, their weariness turned to rejoicing. So much so that they invited King David to join them in their rejoicing. Even as a king, David wasn't too busy or put off when the pilgrims invited him to join their celebration.
Bible readers don't know the particulars of this season of celebration, but no matter; everyone there rejoiced. David's psalm makes special note that the worshipers are inside the city walls of Jerusalem. He might be remembering all the times he had joined other pilgrims in their worshipful journey, or just noting that here they are, standing in the streets of that magnificent City of God.
Reflection on Our "Ascent"
Two questions come to mind when reading these verses:
Do you get excited at the thought of joining other like-minded Believers ("Believer" is short for "believer in Yeshua/Jesus as Messiah.") in worship? Such experiences can be exhilarating when we prepare our hearts prior to arrival. These ancient pilgrims were singing their way to Zion!
Are you looking forward with excitement to that day when all Believers will set foot in the New Jerusalem — the eternal Holy City of God?
I envy Apostle John that he was given the vision of the New Jerusalem, which he describes in his Revelation. When our Zola Tours pilgrims see firsthand the remnant retaining wall (Western Wall) of the Temple platform and view the eastern gates from across the Kidron Valley in Gethsemane, it's a joy-filled occasion. But, consider just a portion of what John saw in his vision:
The foundations of the wall of the city were adorned with all kinds of precious stones: the first foundation was jasper, the second sapphire, the third chalcedony, the fourth emerald, the fifth sardonyx, the sixth sardius, the seventh chrysolite, the eighth beryl, the ninth topaz, the tenth chrysoprase, the eleventh jacinth, and the twelfth amethyst. The twelve gates were twelve pearls: each individual gate was of one pearl. And the street of the city was pure gold, like transparent glass. (Revelation 21:19–21)
Am I trying to entice you to travel with our Messianic group to Israel and see Jerusalem in all its modern glory? Of course I am. But it's more important that you don't miss the New Jerusalem for all eternity. Zola Tours pilgrims have a joyous time in Israel; we Believers will have a glorious time in New Jerusalem!
Back to our psalm study. Verses 3–5 describe how compact (closely knit) the community of
worshipers becomes in Jerusalem. When the tribes (pilgrims) come together for celebration, the
city grows crowded, but not in a bad way. David describes how much joy he derives from seeing
Jehovah's people singing praises and worshiping — drawing the city
together compactly in the safety of worship.
Pardon my side note, but I've been within the Old City walls of modern Jerusalem and witnessed the serenity in which Jewish families live their daily lives — young children (kindergarten age) safely walking hand in hand to school. We at home see only what the television and news media think we need to perceive about the modern State of Israel. Sorry for the slight detour. ☺︎
Hope in Our Ascent
Now to the main point of our study: verses 6–9. What exactly was Zola asking you to pray for when you pray for the peace of Jerusalem? Without a doubt, he knew — and also taught — that real peace would only come when the Prince of Peace appears the second time!
He knew that praying for a settled calm (peace/shalom) in Jerusalem would afford thousands of Believers the incentive to journey to the holy sites and model Yeshua's love to his Jewish brothers and sisters, just by their presence. You see, the key is opportunity. Zola knew that if unrest continued, pilgrims from around the world would stay away from Israel. While one travel motive is to boost the local economy, the more important result is being a witness — a tangible friend to Israel.
The prayer for peace and prosperity reflects back to Genesis 12:3.
I will bless those who bless you, and I will curse him who curses you;
And in you all the families of the earth shall be blessed.
Psalm 122 is a call to worship for the pilgrim. Jerusalem was not always a city of peace and security, so the psalmist is praying that Jerusalem — the City of Peace — will be a place of peace, security, and prosperity for its people … because of the "house of the Lord our God."
No accounting method can keep track of all the prayers that have been offered to God for this ministry and Israel through the years. And mere words seem inadequate to express ZLM's gratitude to all of you who have helped keep the lights on, cameras rolling, and printing presses providing free newsletters over the years. The vital mission of this ministry will continue only with your prayers and financial provision. We ministry workers covet both and earnestly request them.
Standing firm with Israel,


Tony
P.S. Verse 8 of our study psalm notes, "For the sake of my brethren and companions, I will now say, 'Peace be within you.'" Signing off with Sha'alu shalom, Yerushalayim was Zola's plea to you — for the sake of his Jewish brethren and companions — to pray for peace! His original vision and mission, thanks to you, remain intact.  
Zola Tours to the Holy Land
For questions and itinerary details, please contact Zola Tours manager, Sandra, at 214-696-9760, email her at travel@levitt.com, or visit levitt.com/tours.
Fall Tour 2017 options
| | | |
| --- | --- | --- |
| Deluxe (Israel only) | Oct 22–31 | $4,488 |
| Grand Petra (Israel & Petra) | Oct 22–Nov 3 | $5,688 |
| Grand Athens (Greece & Israel) | Oct 16–31 | $7,188 |
| Ultra Grand (Greece, Israel, & Petra) | Oct 16–Nov 3 | $8,388 |
Spring Tour 2018 options
Our prices include tips, taxes, & fuel surcharge (subject to change)  

| | | |
| --- | --- | --- |
| Deluxe (Israel only) | Mar 10–20 | $4,488 |
| Grand Petra (Israel & Petra) | Mar 11–23 | $5,688 |
A Note from David & Kirsten Hart
Dear fellow Believer,
Kirsten and I recently were blessed by an extended visit from both of our grown sons and our daughter-in-law. One of our conversations centered on investing money and making wise financial decisions. It's a fulfilling turnaround when your children teach you ideas!
Our whole family admires Zola Levitt Ministries and its God-directed stewardship. We love working with the ministry to spread Yeshua's Good News through many media and print outlets. You supporters can trust that your financial gifts effectively disseminate the message of Yeshua's saving grace "to the Jew first, and also to the Greek" (Romans 1:16). Thank you for your continued provision to this ministry.
The present Jerusalem and the one to come both are cities set apart to be truly holy. As Tony mentioned, the trip up to Jerusalem can be "long and arduous" for many, both in the past and for current-day travelers. Whether it is the travel itself or the finances that are daunting, we want to assure you of our pilgrimage's value. Therefore, if God has set this destination on your heart, please pray about joining one of our study tours. Once you lay eyes on the Holy City, you will rejoice as did the pilgrims of the past — your weariness will turn to rejoicing!
Please see tour options and contact information above.
TV Programs in August
In August, we air the final three programs of the eight-part series Times of the Signs that encourages Believers to look beyond the troubling prophetic signs of our day and live in growing expectation of our Messiah's return.
Government on Whose Shoulders?

Satan continues his push to exclude God and install a man-based government over Earth. Mankind's only hope lies in accepting Yeshua's sacrifice on the cross.

Green to the Extreme

Extreme elements in the environmental movement are moving away from Judeo-Christian teachings and toward animal rights, glorifying nature as "Mother Earth." Believers worship the Creator, not creation. Guest: missionary Mark Musser.

Bethlehem Rewritten

Present-day Bethlehem is a city of prodigious tension, with Arab Christians there caught between God's Scriptural covenants with the Jewish people and replacement theologies powered by Islamic doctrine. Too many "peace" proposals exclude the Prince of Peace. Guests: Andy Woods, Randall Price, Jim Fletcher, Tim LaHaye, Jimmy DeYoung, and Bill Koenig.
David and Kirsten Hart introduce Called Together, an eight-part series about gentile
Christians recognizing their Messianic brothers and sisters (Jewish believers in Jesus/Yeshua)
as the "natural olive branch" Paul referred to in Romans 11.
Friendly Alliance

Guest teacher Eitan Shishkoff ("Our Man in Haifa") points out that King Solomon's help from gentile King Hiram in building the Temple foreshadows God's salvation plan. Messianic evangelist Jacob Damkani reminds us that the Gospel originated with the Jews. Chaim Malespin welcomes springtime in Jerusalem, Dana Feinstein teaches us how to say "Father" in Hebrew, and guest analyst Dr. Jeffrey Seif talks with David and Kirsten. The Harts sing a song written by Zola Levitt.

Salvation Returns

Eitan reminds us that Israel was the "messenger light" to the gentiles; now gentiles take that Gospel message back to where it began. Importer of humanitarian aid Jim Schutz shows how gentile Believers reflect the love of God. An Israeli Jewish man and a Polish Christian woman call us to support the Jewish people. Chaim shows where he was married, and Dana teaches us to say "Jesus" in Hebrew. Jeff Seif discusses applications with David and Kirsten. Messianic Caroline Hyde sings.
We're finding the new program format exciting indeed: Dana's weekly Hebrew lessons, teachings from Eitan and Chaim, and discussions with Jeffrey Seif. The best of Messianic and Israeli teachers every week! Oh, yes, and the honor of singing Zola's songs! You won't want to miss a single program of the new series Called Together.
Tony's description of Zola's heart for Yerushalayim gave us a new appreciation of the ministry's traditional sign off. We hope you agree. Sha'alu shalom Yerushalayim! — Pray for the peace of Jerusalem! — Psalm 122:6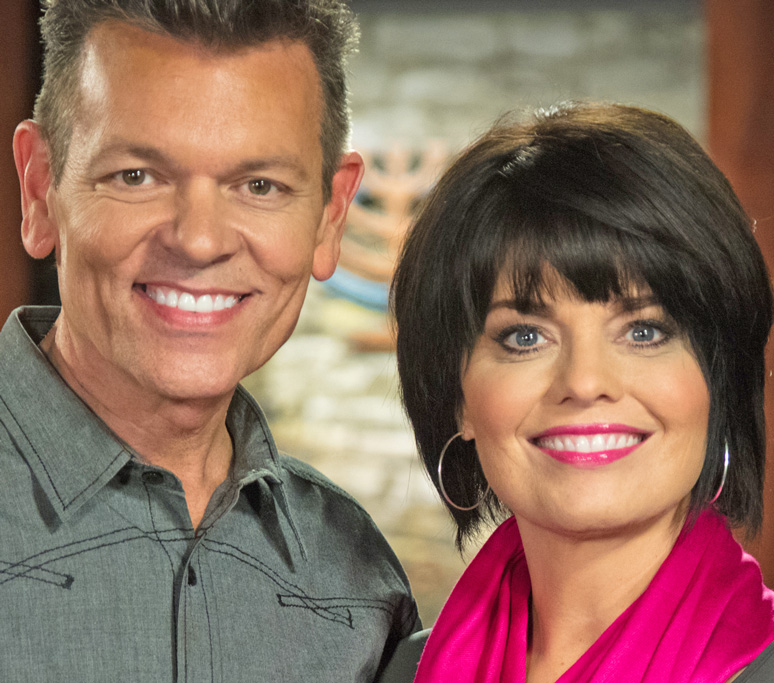 David & Kirsten