Bible-teaching Ministry and Replacement Theology
by Zola Levitt

Zola Levitt
This is the first Levitt Letter I've ever begun with an apology. In a way, I'm sorry for having to do what we're doing, which is taking up valuable ministry space to grapple with seminaries over a bad textbook. There is so much other teaching and ministering we could do with this very useful Letter, which goes out nationally. But it's hard to think of anything else when I know that a generation of young people, future pastors, etc., has been taught wrong regarding Israel, prophecy, the veracity of Scripture itself, and even the deity of our Lord.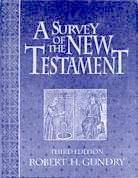 I won't take space to redefine this subject again, assuming that most of you have been reading this Letter right along. I'll just say that a textbook, A Survey of The New Testament, third edition, written by Robert H. Gundry, teaches Replacement Theology and is anti-Israel and anti-Semitic, and we have found it in use in any number of seminaries and Bible colleges, including Criswell College and Dallas Baptist University here in Dallas.
When I pointed out the errors in the textbook to administrators in these colleges, they simply rebuffed me, made awkward defenses of the book, and evidently intend to go on using it. They just circled the wagons.
In a way, nothing could be more important for any Bible-teaching ministry than to attempt to stop this sort of wrong doctrine from getting into our seminaries. I have to tell you that I'm downright amazed that the obvious errors in this book are being ignored by these administrators, and that they go on teaching what they know to be wrong. It's as if the book is a profitable undertaking of some sort because there's no other reason why they wouldn't change to an accurate textbook, which would be a very simple thing to do. (The publisher who sells the books to the seminaries is the author's brother.)
If letters from Criswell College and Zondervan to our viewers are to be believed (and in some cases they're not), this textbook is in tremendously wide use coast-to-coast, and 250,000 copies are in print. Please understand that I don't think this ministry can really win this battle. If college administrators are determined to teach wrong-headed Bible or just don't care what they teach, then nothing we can do can change their minds.
On the other hand, if we publish the names of the colleges using this book, you'll at least know which schools to avoid in terms of sending your youngsters or giving your support. If they suffer some sort of financial loss, seminaries do sit up and take notice.
This is not a Jewish/Gentile argument. Most Biblically-read Gentiles understand that Israel is at the heart of God's plans, and that the entire Bible is about that nation and its adventures in taking the Messiah to the world. If anyone thinks Israel is irrelevant to Scripture or to Christianity, let them just tear out each page in their Bible that mentions that nation and see what they have left.
In the Jews for Jesus organization there are any number of Gentiles deeply conscious of their obligation to witness "to the Jew first" (Romans 1:16) and to support Israel. They wear T-shirts labeled "Gentiles for Jesus," and are proud of their heritage in Israel and the fact that they are going there for a thousand years when the Kingdom comes. They know, along with Paul, that "God hath not cast away his people which he foreknew" (Romans 11:1, 2).
But other Gentile people take offense at things Jewish. Zondervan, the publisher of the textbook, sent a letter to one of our viewers characterizing me as some kind of nut who requires certain "shiboleths" in the text of their book. This Hebrew word is used to identify their complainer in a negative way. They might as well have said, "He's nothing but a Jew, so just ignore him."
Well, I'm a Christian, and I object to people teaching a perverted Christian gospel. As II John 9 and 10 says, "Whosoever transgresseth, and abideth not in the doctrine of Christ, hath not God. He that abideth in the doctrine of Christ, he hath both the Father and the Son. If there come any unto you, and bring not this doctrine, receive him not into your house, neither bid him God speed." When people say that our Lord discovered that He had made a mistake in coming to His own people, and instead changed His ministry and went to Gentile people, then that is a perverted gospel and that's all there is to that.
I'm afraid the end of all this will be that only a few seminaries will look critically at what they've been teaching and replace the textbook and get back on the straight path. Most others will ignore our complaints and go on preparing Replacement Theologians to pastor our Bible churches and work in ministries. What I would say is that we need to get our Bible teaching from ministries that are created to do just that. Bible Study Fellowship and Precepts are two ministries I can very much recommend.
I know any number of their students, and I know that both teach a virtually error-free Bible study. They use the Scripture itself as their textbook, and they certainly aren't in it for the money. Of course, I can also recommend the churches that are teaching accurate Scripture, although there you have to pick and choose. Unfortunately there are many churches who have fallen into anti-Israel and Replacement Theology doctrines, and I'm not surprised, since Gundry's books have been in use for nearly thirty years.
Our own ministry offers Bible teaching as accurate as I can possibly make it with the advice of several consulting theologians, and I will give you chapter and verse for any position I take in my writings or on television. We are not perfect, but we are not in it for the money either. Our desire is to teach the Scriptures as accurately as possible.
It occurred to me that those who believe the Church has replaced Israel, and who avoid contact with the Jews, have certain things in common. I conceived a set of beliefs that they all might hold, and I call it "The Apostate's Creed":
I do not particularly like Israel or the Jews, and I believe God feels the same way.
I go to a church that believes the Gentiles replaced the Jews as God's Chosen People.
I do not read the Bible. I do not want to be confused by Scripture.