A deception as old as Eden…
Dear Friend,
"If you tell a lie big enough and keep repeating it, people will eventually come to believe it."
—Joseph Goebbels, (l) Master Propagandist of the Nazi Regime
With characteristic flair and narcissistic bravado, the monster in command of Germany's Nazi "cultural life" set the stage for generations of political liars. One of Goebbels's posthumous admirers was Yasser Arafat, who employed "turnspeak" to change the narrative of the Middle East.
Turnspeak: the propaganda technique of "attacking someone and then turning the criticism around 180 degrees to claim they attacked you. Because the truth is the exact opposite of the information being disseminated, it is psychologically difficult to counter and leads to…psychological confusion and a feeling of being 'burned-out' or 'overwhelmed' with too much information, effectively creating a blanket of 'white noise' which makes clarity difficult to achieve." —EretzYisroel.org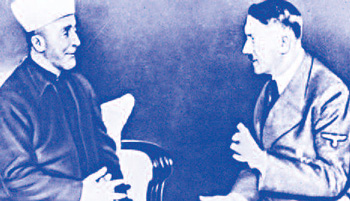 Liars of Goebbels's magnitude include Yasser Arafat's mentor, the Mufti of Jerusalem, Haj Amin al-Husseini. He was "the notorious Nazi who mixed Nazi propaganda and Islam… He was wanted for war crimes in Bosnia by Yugoslavia…
"Arafat's actual name was Abdel-Rahman Abdel-Raouf Arafat al-Qudwa al-Husseini. He shortened it to obscure his kinship with the notorious Nazi and ex-Mufti of Jerusalem," (A History of Israel by Howard M. Sachar). Also, "Yasser" was really his nickname, which means "easy-going."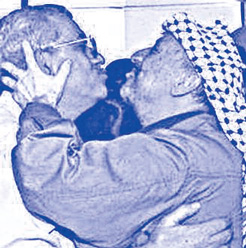 Arafat's partner in crime was Mahmoud Abbas, his successor. Abbas wrote his "doctoral thesis" denying the Holocaust and bankrolled the 1972 Munich massacre of Israeli Olympic athletes. On his watch as the leader of the Palestinian Authority, the demonic campaign against Israel has flourished. The ongoing attack continues to delegitimize, demonize, and call for divestment.
Goebbels would be proud of Arafat and Abbas, his progeny, and their followers.
It is readily apparent why our vital ministry must proclaim the biblical truth despite deceptions that Satan and his minions deploy.
Honestly, I can't think of a better way to spend our time on Earth. Katharine's and my first Bible teacher used to say, "Jesus is worthy of a lifetime of living." Our Lord's sacrificial triumph and soon-coming Kingdom more than merit all the temporary difficulties we face in this mortal life. Proclaiming Messiah and His love for Israel AND the Nations is our privilege…and responsibility. We will "provoke" the Jewish people to jealous love and zealous faith. (Romans 11:11)
In his second letter to Corinth, Rav Shaul (Apostle Paul) noted,
5:16 So from now on, we do not look at anyone from a worldly viewpoint. Even if we once regarded the Messiah from a worldly viewpoint, we do so no longer. 17 Therefore, if anyone is united with the Messiah, he is a new creation—the old has passed; look, what has come is fresh and new! 18 And it is all from God, who through the Messiah has reconciled us to Himself and has given us the work of that reconciliation, 19 which is that God in the Messiah was reconciling mankind to Himself, not counting their sins against them, and entrusting to us the message of reconciliation. 20 Therefore we are ambassadors of the Messiah; in effect, God is making His appeal through us. What we do is appeal on behalf of the Messiah, "Be reconciled to God! 21 God made this sinless Man be a sin offering on our behalf, so that in union with Him we might fully share in God's righteousness."
Paul's message of love and reconciliation echoes Yeshua's and is meant to be the main purpose of the international community of faith. Yet that message is being challenged today.
Whole denominations are turning away from the Hebrew understanding of the Bible, the covenants of God, and the importance of Israel. The "new" Replacement Theology redefines Jesus as a "Palestinian messenger" (Muslim prophet) and a "freedom fighter" who stood up to "oppressive" Jewish rulers.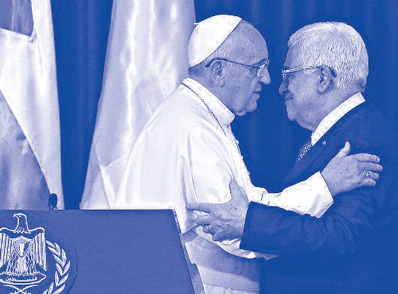 Symbolically reinforcing this fallacy, Pope Francis on his recent visit to the Holy Land seemed to pointedly emphasize the importance of the Arab population and diminish Israel's significance. While ostensibly concerned with the state of Christians living in the Holy Land, the Vatican referred to "the state of Palestine," which many observers saw as tacit support for the creation of an independent Palestinian state.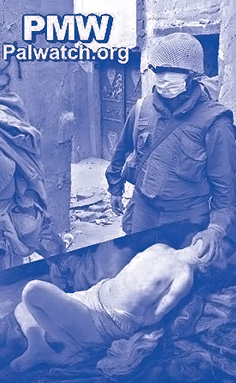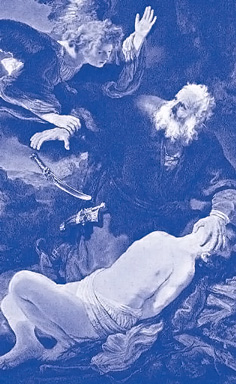 In preparation for the Pope's visit, Abbas instructed the Palestinian Authority (PA) to design an art display integrating classical Christian art with news photos of "suffering" Palestinian Muslims. For example, an Israeli soldier replaces Abraham in Rembrandt's The Sacrifice of Isaac, (1635). The original painting shows an angel interfering as Abraham, ready to cut Isaac's throat with a knife, covers Isaac's face with his hand.
The Pope's dramatic, unscheduled stop at the security wall that separates Jerusalem from Bethlehem provided an incredible propaganda photo opportunity. Francis was shown bowing his head and praying in front of a bold graffiti display that proclaimed, "Free Palestine!" Never mind that Israel built the fence in 2003 to protect Israel's civilians from Islamic suicide bombers.
The strong visual statement of the Pope's sympathies glaringly omitted any reference to the ongoing persecution and violent intimidation of local Christians. The PA's approval of and participation in such violence has decimated the Christian population. Bethlehem, 80% Christian in 1948, is now less than 15%. That reduction is unrelated to any Jewish or Israeli prejudice. It is the direct result of creeping sharia (Islamic) law with its suppression of other religions.
Those of us who are "reconcilers" according to the scriptures from Corinthians cannot help but grieve over the omissions by the Vatican in a frail attempt at neutrality. How can they be "neutral" when their own people—Christians—suffer severe persecution? Our friend David Rubin, (below right) former mayor of Shiloh and founder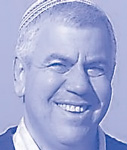 of the Shiloh Israel Children's Fund, poignantly noted, "It's sad but true that the Vatican doesn't have a stellar record when it comes to protecting its own children."
So, we will watch and wait and hope for the best. And prepare.
Our ministry regularly leads pilgrims to experience the truth of the Covenant Land. Join us. You'll find yourself better able to interpret current events through the lens of Holy Scripture and a Godly view of politics.
Our Fall Tour 2014, at last count, was full with two busloads! Get on the waiting list…or reserve your place for spring. Please call Sandra Luttrell at Zola Tours for information: 214-696-9760 or levitt.com/tours. The Fall Tour travels:
Israel: Oct. 19–28
Israel/Petra: Oct. 19–31
Greece/ Israel: Oct. 13–28
Greece/ Israel/Petra: Oct. 13–31
Our Spring Tour 2015 promises to be especially inspiring, occurring in the days of preparation for the spring feasts of Passover, Unleavened Bread, and First Fruits.
Israel: March 15–24
Israel/Petra: March 15–27
Replacement Theology teaches that the Church has replaced Israel as the claimant of God's covenants and the apple of His eye. The Palestinian Narrative usurps Israel's history, Messiah, and covenants, claiming them as belonging to a fictitious Palestinian ancestry. Christian Palestinianism comprises Christians who buy wholeheartedly into the Palestinian Narrative, most likely because they don't really understand it but imagine that following along places them on the virtuous side. Many of them think that "Allah" is simply Yahweh's name in Arabic. They couldn't be more wrong!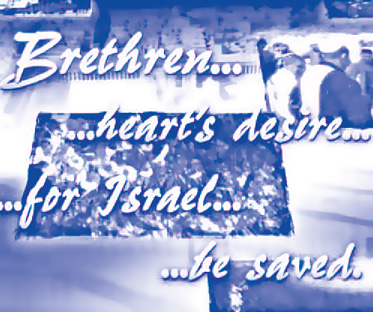 What these replacement philosophies have in common is anti-Semitism. They all completely shut out/replace Israel and the Jewish people physically and spiritually. Our ministry possesses a particularly effective weapon in this perennial spiritual warfare: our weekly Zola Levitt Presents television program that touches millions of homes worldwide. This month, we conclude our seven-part series on Israel in Prophecy. These contemporary, half-hour programs are also viewable on our website at levitt.tv.
As the time of Messiah's coming draws near, Believers need the spiritual gift of discernment to deal with the false "salvations" among us. This month's Prophecy programs address the phenomenon of false gods in the UFO movement, the new Replacement Theology, and the role that the Bible describes for Israel in the End Times. Enlightening interviews with well-respected theologians make these programs both educational and encouraging.
Aliens Among Us.

Myles and Katharine talk about a subject often ignored today. The modern UFO movement has ancient and demonic roots. Christian Believers will be equipped to exercise their authority in Christ against Satan. Guests include Gary Bates, Douglas Hamp, Doc Marquis, and L.A. Marzulli.

Bill Salus and August Rosado.

Bill Salus discusses three future wars: the Palestinian- led war mentioned in Psalm 83, the Gog and Magog war, and Armageddon. August Rosado speaks against Replacement Theology and the nuclear arrangement with Iran, and looks toward the day when Jesus reigns from Jerusalem.

Israel, the East, and the End of the World.

Instead of living in anticipation, the Church neglects Bible prophecy, leaving many Christians clueless about God's plan for Israel while the Nations turn against the Jewish state. The antiChrist may come from the eastern (Turkish) side of the old Roman Empire. Guests include Don Perkins, Randall Price, Terry James, and Andy Woods.
Following the series on prophecy, we reprise our eight-part Sons of Promise: Isaac & Jacob. This TV series throws a knockout punch to Christian Palestinianism by explaining that while the God of Israel blessed Ishmael, His everlasting covenant is with Isaac! That covenant is STILL blessing our world today—through the Jews and Western civilization founded on Jewish law. Following are some glimpses into this series:
The Wells of Salvation.

Abraham's servant ventures out to find a wife for Isaac, continuing God's Covenant from generation to generation. Myles interviews Jan Willem van der Hoeven—a Dutch-born student of Corrie ten Boom, longtime resident of Jerusalem, and champion of the Jewish people. Mark Levitt interviews Rebecca Brimmer, president and CEO of Bridges for Peace.

The Bridegroom and the Bride.

Isaac and Rebekah's love for each other represents that of Yeshua and the Bride of Christ. Myles interviews Saul Singer, co-author of Start-up Nation; Mark interviews a Jewish National Fund spokesman. Through JNF, ZLMers have planted thousands of trees in Israel.
We soldier on in this ministerial labor of love. Thanks for joining us on the journey. Our newest TV production centers on the life of Joseph. A beloved son of Jacob, he is also a Hebrew scriptural picture of Messiah. You can help bring this important teaching to hungry souls everywhere and to Jews who eagerly await their Messiah but haven't yet connected the dots between the prophecies in Hebrew Scriptures and revelations in the New Testament. Please consider a generous gift to help make Joseph an effective series of hope.
Blessings on your house, and please remember, Sha'alu Shalom Yerushalayim—Pray for the Peace of Jerusalem! (Psalm 122:6)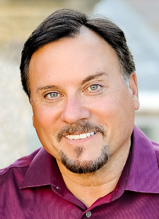 Your brother,
Myles

P.S. Please pray for the Israel-Vatican connection; that truth would be established and any deception revealed. The Vatican needs to recognize Israel's importance in God's plan, and Israel needs to recognize its Messiah.

Zola Levitt Ministries is ECFA approved
Feedback
Dear Myles,
Christian Palestinianism, the new Replacement Theology, is simply revamped anti-Semitism. "Allah" is NOT Yahweh.
Featured Products