Dear Friend,
Leading the latest Zola Tour was a grand experience that gave Jane and me the opportunity to witness "aha" moments in the lives of our passengers, like-minded Believers ("Believers" is short for "believers in Yeshua/Jesus as Messiah"). As our group traversed Israel from the far northern border in Dan to the southernmost border in Eilat, I couldn't help but personally note the high places.
We visited Mount Carmel where Elijah challenged the prophets of Ba'al.
Our pilgrims could see the Gilboa mountain range from Megiddo, and, at a distance, Mount Tabor, where some believe Yeshua ascended to the Father.
We traveled up the Golan Heights from where we could view Mount Hermon, whose snowmelts in the spring fill the tributaries to the Jordan River.
As our group approached Jerusalem, I thought of Abraham from Ur, who brought his son Isaac to be sacrificed on Mount Moriah — the eventual location of Solomon's Temple. When we traveled to Eilat via the Dead Sea, we looked eastward and saw the mountains of Moab and Edom in Jordan.
A Safe Haven
My main pause to reflect came in the Golan on Mount Bental, a stronghold of army bunkers from the 1967 and 1973 wars that overlook a valley and the border with Syria. The abandoned city of Quneitra lies in the valley, once controlled by Israel, then Syria, and now in a buffer zone between both countries. I found it amusing that the UN keeps a lookout over Syria from Mount Bental — within the safe borders of Israel. Political fingers always point at Israel and call the Jews the troublemakers in the Middle East. However, when safety is the issue, the political forces choose Israel as a safe haven. Remarkable, don't you think?
While on Mount Bental, I thought about our safe haven — Yeshua — and recalled Psalm 91. I invite you to join me there in the Scriptures and allow the protective presence of Yahweh to cover you with His "pinions," which we will discuss shortly. It is not only Israel under attack by the great deceiver Satan, but everyone who believes that Yeshua is the Messiah and places faith in Him for a secure eternity!
Psalm 91 is not written for just anyone, but specifically to dwellers. Consider with me verses 1–4:
He who dwells in the secret place of the Most High shall abide under the shadow of the Almighty. I will say of the Lord, "He is my refuge and my fortress; My God, in Him I will trust." Surely He shall deliver you from the snare of the fowler and from the perilous pestilence. He shall cover you with His feathers (pinions), and under His wings you shall take refuge; His truth shall be your shield and buckler.
A Protective Shadow
Could it get any clearer that dwelling in His protective shadow is a good thing? Do you remember David's words in Psalm 23:4? "Yea, though I walk through the valley of the shadow of death, I will fear no evil." We do not walk in the valley of death but in the shadows in the valley, led by the protective hand of our Lord.
As Believers, we are not removed from the presence of evil, as Yeshua expressed in His prayer in John 17:15, "I do not pray that You should take them out of the world, but that You should keep them from the evil one."
In the first four verses of Psalm 91, we clearly see that He is our refuge, our fortress, and the One in whom we can trust. My wife's favorite verses in all of Scripture are:
Trust in the Lord with all your heart, and lean not to your own understanding; In all your ways acknowledge Him, and He will direct your paths. (Proverbs 3:5–6)
Satan's ultimate goal is your destruction, but Yahweh will deliver His people:
Many are the afflictions of the righteous, but the Lord delivers him out of them all. (Psalm 34:19)
Psalm 91 predicts what Yeshua will say in Matthew 23:37:
"O Jerusalem, Jerusalem, the one who kills the prophets and stones those who are sent to her! How often I wanted to gather your children together, as a hen gathers her chicks under her wings (pinions), but you were not willing!"
Isaiah noted that the Lord holds us dearer than a mother values her nursing child:
"Can a woman forget her nursing child, and not have compassion on the son of her womb? Surely they may forget. Yet I will not forget you. See, I have inscribed you on the palms of My hands; Your walls are continually before Me." (Isaiah 49:15–16)
You and I are each special to our Lord — never forget it!
Do Not Be Afraid
The next couple of verses tell us to not be afraid. Satan's best, most effective "dart" is fear. Well, I'm here to tell you that you can tell Satan to "Go to Hell." Satan knows his destiny. If he can manipulate Believers by fear, then he can create doubt and despair. You are in Yeshua's hands, and no one can pull you away!
Psalm 91:7–10 focuses on our faith:
A thousand may fall at your side, and ten thousand at your right hand; but it shall not come near you. Only with your eyes shall you look, and see the reward of the wicked. Because you have made the Lord, who is my refuge, even the Most High, your dwelling place, no evil shall befall you, nor shall any plague come near your dwelling.
When the accuser comes to you, you can stand firmly on God's Word, His Promises, and in His Strength:


Finally, my brethren, be strong in the Lord and in the power of His might. Put on the whole armor of God, that you may be able to stand against the wiles (scheming) of the devil…above all, taking the shield of faith with which you will be able to quench all the fiery darts of the wicked one. (Ephesians 6:10–11, 16)

When the accuser comes to you, claim your victory in the cross:


And you, being dead in your trespasses and the uncircumcision of your flesh, He has made alive together with Him, having forgiven you all trespasses, having wiped out the handwriting of requirements that was against us, which was contrary to us. And He has taken it out of the way, having nailed it to the cross. Having disarmed principalities and powers, He made a public spectacle of them, triumphing over them. (Colossians 2:13–15)

When the accuser comes to you, you are safe in the

Lord

's name:


And being found in appearance as a man, He humbled Himself and became obedient to the point of death, even the death of the cross. Therefore God also has highly exalted Him and given Him the name which is above every name, that at the name of Jesus every knee should bow, of those in heaven, and of those on earth, and of those under the earth, and that every tongue should confess that Jesus Christ is Lord, to the glory of God the Father. (Philippians 2:8–11)
Angels Over Us
In Psalm 91:11, we are told that angels have charge over us: "For He shall give His angels charge over you, to keep you in all your ways." Did you know that we have angels appointed to us? The expression "guardian angels" is true. For some of us, they work overtime. 😀
Verse 12 gives us confidence in life. Angels "bear you up" in their hands:
And when the servant of the man of God arose early and went out, there was an army, surrounding the city with horses and chariots. And his servant said to him, "Alas, my master! What shall we do?" So he answered, "Do not fear, for those who are with us are more than those who are with them." And Elisha prayed, and said, "Lord, I pray, open his eyes that he may see." Then the Lord opened the eyes of the young man and he saw. And behold, the mountain was full of horses and chariots of fire around Elisha. (2 Kings 6:15–17)
The Psalm ends by reminding us of what Yahweh will do on our behalf:
"Because he has set his love upon Me, therefore I will deliver him; I will set him on high, because he has known My name. He shall call upon Me, and I will answer him; I will be with him in trouble; I will deliver him and honor him. With long life I will satisfy him, and show him My salvation." (Psalm 91:14–16)
Experience Israel
Reminders of the presence of God exist everywhere in Israel. Every pilgrim has a unique inspirational story to tell. Please consider going along with David, Kirsten, Jane, and me to Israel in March 2018 — a truly special year as Israel celebrates 70 years as a regathered nation.
Standing firm with Israel and ZLM,
Tony
P.S. Are you one who dwells in the presence of the Almighty? Are you aware that you are under His "pinions?" If not, the time of decision is moving quickly. Don't delay your decision to come under His protective, redeeming love.
P.P.S. While in Israel, our camera crew shot footage for a new eight-part television series on Isaiah, with teaching by Marty Waldman, leader of North Dallas's Baruch HaShem Messianic Jewish congregation. Please pray for God's guidance and provision as we move into production.  
A Note from David and Kirsten
Dear Reader,
Thank you, Tony, for remarkable insight into God's Word and His Land. We enjoyed our co-pilgrimage with you and Jane. Once again, the Word of God came alive as we walked in the land Yeshua loved through human eyes. Zola Levitt Presents producer, Ken Berg, just made his 69th pilgrimage to the Holy Land, and we agree with his statement, "Traveling to Israel never gets old. I learn something new every time."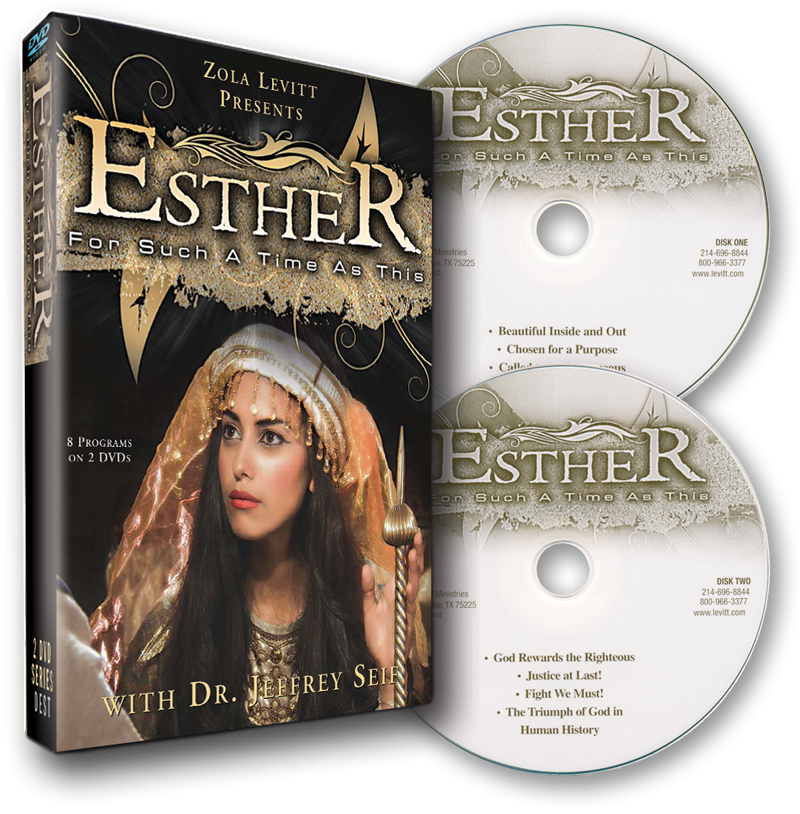 Zola Levitt Presents Programs in December
In December, we conclude our revisit of Esther: For Such a Time as This, one of the Jewish people's favorite Bible stories. In this eight-program television series, Dr. Jeffrey Seif explains that, like Esther herself, we Believers may be alive for such a time as this.
Called to be Courageous

Faced with a plot to destroy the Jews, Esther wavers but declares, "If I perish, I perish!" If only we all had such resolve!

Undone by a Woman

The once-sheepish Esther becomes a shepherdess. She boldly takes on the wolf, thus guiding the saga to its peaceful conclusion.

God Rewards the Righteous

God uses irony to give the wicked and the righteous their just deserts, and we see the eventual triumph of the righteous — then as now.

Justice at Last!

Our story's villain comes to his inglorious end as he becomes the object of his own wicked scheme. The triumph of righteousness and faith encourages us in our own lives.
We break our Esther series for our traditional year-end programs that review the past year and offer previews of the new.
Year End 2017: The year in review

This has been an exciting year for Zola Levitt Presents. Following last month's Fall Tour, we filmed our "Year In Review" program from the Mount of Olives, reviewing all the series we brought you in 2017 with a sneak peek at what's coming in 2018. God is moving, opening new doors to His salvation, and we are thankful to be a part of this fresh season. Please stay with us financially, as we depend on your backing.
We also extend an enormous Thank You to our supporters who make Zola Levitt Presents a reality. Did you know that ZLP airs in Israel? We turned on the television set in our hotel room in Jerusalem, and there we were! Australia also gets Zola Levitt Presents. When we were waiting for the elevator in our hotel, a gentleman approached us and declared, "I know you two! You're the TV ministry people! I'd know your smiles anywhere. We love watching Zola Levitt Presents in Australia!"
Because of your faithful, regular giving, people worldwide (literally) are learning about prophecy that is being fulfilled right now in Israel. And they are connecting the Jewish roots of Christianity to their own faith.
Zola Tours to the Holy Land
Dear Reader, you still have time to join us on our upcoming Spring Tour. You will learn as never before, enjoy fellowship with likeminded Believers, laugh daily, and draw closer to the


even better, we can save a whole row for you and your family. What a legacy to give your family a trip to God's special land, especially during 2018 as the State of Israel celebrates its 70th re-birthday.
For Zola Tours questions and itinerary details, please contact Sandra, at 214-696-9760, email her at travel@levitt.com, or visit levitt.com/tours. Our next tour offers the following options:
Spring Tour 2018 options
Our prices include tips, taxes, & fuel surcharge (subject to change)

| | | |
| --- | --- | --- |
| Deluxe (Israel only) | Mar 10–20 | $4,488 |
| Grand Petra (Israel & Petra) | Mar 11–23 | $5,688 |
Please remember to sha'alu shalom Yerushalayim!—pray for the peace of Jerusalem! (Psalm 122:6),
David & Kirsten
P.S. By upholding this ministry, you truly are making a difference around the world, and we thank you from the bottom of our hearts!