When It's the Will of God It Works!
Dear Friend,
For readers who are unfamiliar with Zola Levitt's testimony, allow me to offer a few highlights that he would share with tour groups or as an aside at his speaking engagements. He was educated and trained as a performance musician; he held two degrees and a bright and lucrative future in that professional world. But through the ministry of Campus Crusade for Christ,
Zola Levitt came to know Yeshua as his Messiah—Savior. When retelling his story, he often mentioned how he would sneak through the darkness to the Campus Crusade director's house, like Nicodemus, to learn more about his newfound faith in Jesus.
"This man came to Jesus by night and said to Him, 'Rabbi, we know that You are a teacher come from God; for no one can do these signs that You do unless God is with him.'" —John 3:2
Zola's Vision
As Zola became an avid student of the Scriptures, he became burdened for his unbelieving Jewish friends and family. He also noticed that the New Testament Church generally neglected the teachings of its Jewish roots. So, he answered the call of God to set out on a journey to educate the Church, his Jewish friends, and family. In the process, he became one of the staunchest supporters of Israel around during his lifetime and even to this day.
Zola often repeated the advice he followed: "Choose a job you love, and you'll never work another day in your life." Through his years of ministry, Zola taught thousands in person, ministered to millions via television, and escorted thousands to Israel—God's Holy Land. I recently was reading an archived Levitt Letter in which Zola invited people to tour with him in Israel. He made the comment to his readers that once the tour pilgrims were introduced to him, most of them never conversed with him again—noting that the tour wasn't about him.
I relate this anecdote about Zola's ministry because I want to impress upon you that, while Zola followed the will of God for his life in ministry, he was quick to recognize that it was God's ministry. I once heard him comment, "This thing [ministry] just keeps going because it's God's ministry!"
Today, many challenges confront Zola Levitt Ministries, but it is still God's ministry. Every organization I've ever known or been associated with has gone through changes—from personnel to financial to sometimes a "reboot" in order to adapt to quickly changing media and print environments.
Because of the Will of God
Zola Levitt Ministries continues to this day because it's the will of God—plain and simple! The ministry's cast of characters (that's not a derogatory statement, because God used a cast of characters to reveal His truth to us through the written Word) are convinced that they're in the will of God, and the board of leadership remains convinced that the ministry is on track to accomplish what God called Zola to do years ago. Today is a different day, with different methods and different people, but the purpose hasn't changed.
I'll be the frst to admit that I like to keep things simple. I still like to hold a book when I read and use pen and paper for short writing assignments and lists. But I also like newer gadgets, like HD television, laser printers, digital cameras, cellphones (most of the time), and "working" computers. Yet, I also ft really well into Alan Jackson's country song that admits this digital world is okay … "but I still like bologna on white bread now and then."
Okay … my point: Nothing is out of control in our world, or in the inner world of Zola Levitt Ministries. When God created the world, He also established its course—including Zola Levitt Ministries. God is not sitting on the edge of Heaven, wringing His hands, wondering what will happen next. His plan may often seem unfair and illogical, but He is the Potter and we are the clay. Isaiah 45:9 —
"Woe to him who strives with his Maker! Let the potsherd strive with the potsherds of the earth! Shall the clay say to him who forms it, 'What are you making?'"
What It Does Say
One more point: I want to call your attention to Romans 8:28–30. Please read the verses aloud and meditate on them for a few moments.
"And we know that all things work together for good to those who love God, to those who are the called according to His purpose. For whom He foreknew, He also predestined to become conformed to the image of His Son, that He might be the first-born among many brethren. Moreover whom He predestined, these He also called; whom He called, these He also justified; and whom He justified, these He also glorified."
What these verses do not say:
They do not say that all things are good.
They do not say that all things work toward the good of everyone.
They do not say that all will be conformed to the image of His Son.
What these verses do say:
God causes all things to

work together

for the good of those who love Him.
Those who love God have a great purpose to fulfill in this life.
His tapestry of workings in the life of those who love Him conform them to the image of His Son.
All those being conformed will be justified (saved) and glorified (receive their rewards).
I felt compelled to take a few liberties in this letter. This Personal Letter is truly my personal letter to you. I believe that the people (including our volunteers) involved in the daily operations and production media (print, broadcast, Internet) of Zola Levitt Ministries truly fit the above criteria—they love God! And whatever contribution of time and energy they give puts them on the road to being "conformed to the image of His Son." Isn't that what all Believers ("Believers" is short for "believers in Yeshua/Jesus as Messiah.") want?
Staying the course in ministry is difficult. Even the beloved Apostle Paul noted his struggle in Romans 7. Ask anyone in ministry and they will tell you that not all things are good, but that all things combined by God bring completed and rewarding results.
What happens when someone doesn't stay the course?
What happens when they listen to all the "other" voices? I leave you with the following story:
Robert Robinson was born in England more than 200 years ago. When he was just a boy, his father died and his widowed mother sent him to London to learn the barbering trade. While in London, he found salvation under the preaching of the great revivalist George Whitefield and soon began preparing for a lifetime of serving Christ.
At age 25, Robinson was called to pastor a Baptist church in Cambridge. He was successful, but his popularity was more than the young minister could handle. Ultimately, he fell into a life of sin. The years faded and his devotion to Christ was forgotten.
Years later, while making a trip by stagecoach, Robinson happened to sit next to a woman who was reading a book with obvious pleasure. She seemed to be especially interested in one particular page. Finally, she turned to Robinson—a complete stranger—and, pointing to the hymn she had been reading there, asked what he thought of it.
Robinson looked at the frst few lines:
Come, Thou Fount of every blessing
Tune my heart to sing Thy grace;
Streams of mercy, never ceasing,
Call for songs of loudest praise…
He read no farther. He tried to direct the woman's attention toward the passing scenery. She would not be deterred but told him about the benefit she had received from the words of that hymn—expressing her admiration for its message.
Overcome with emotion, Robinson burst into tears. "Madam," he cried, "I am the poor, unhappy man who wrote that hymn many years ago, and I would give a thousand worlds to enjoy the feelings I had then."
Robert Robinson, now many years older, was far removed from his earlier commitment to Christ. How ironic that, at the end of the hymn, he had seemed to prophesy his own downward course:
O to grace how great a debtor
Daily I'm constrained to be!
Let Thy goodness, like a fetter,
Bind my wandering heart to Thee:

Prone to wander, Lord, I feel it,
Prone to leave the God I love;
Here's my heart, O take and seal it;
Seal it for thy courts above.
Robert Robinson died shortly after this stagecoach encounter, at the young age of 55, the victim of the lure of lesser loyalty. He had left the God he once loved and had become "a wicked old man." (Edited excerpts from Simple Faith by Charles R. Swindoll)
My prayer is that Zola Levitt Ministries will continue on the God-inspired path of its founder and never listen to the "other" voices. My prayer also is that you, Dear Reader, will understand the dangerous path down which other voices can lead you. May God find us all faithful to our calling when He comes!
Standing firm with Israel and ZLM,
Tony
P.S. When people talk about the "good ol' days," some of them are recalling the gathering of firewood for the stove on which to cook and keep warm. They talk about drawing water from the well on Saturday morning, dumping it into a washtub so the sun could warm it during the day, and then taking their Saturday evening bath. I think you get the picture and can agree that no one really wants to go back to that time. But it is human nature to long for a simpler life. (Of course, our technological world won't allow it—not if we want to stay relevant.)
A Note from David and Kirsten
Dear Fellow Believer,
Isaiah 43:18–19 tells us that God does new things: Forget the former things; do not dwell on the past. See, I am doing a new thing! Now it springs up; do you not perceive it?
The new things "springing up" at ZLM are exciting. In the very beginning, God created. He still actively creates. ZLM's changes are examples of God saying, "See, I am doing something new!" The best part: We get to be part of what He is accomplishing. When you support ZLM, you actively engage in creating remarkable ways of reaching out to improve lives. What an opportunity! This ministry can't and won't survive without its supporters catching the vision of God creating something new. Focusing on the past can blind us to recognizing new possibilities that God wants to bestow through ZLM. Thank you for being a vital part of this ministry.
Please join us on our weekly television broadcasts. You can also watch Zola Levitt Presents current and past episodes online at levitt.tv. Zola had a heart for conveying Christianity through Jewish roots, and Kirsten and I are honored to be a small part of his legacy. In a world filled with harsh scenes and cruelty in the media, this ministry strives to bring you hope, words of encouragement, and Good News.
ZLP Programs in November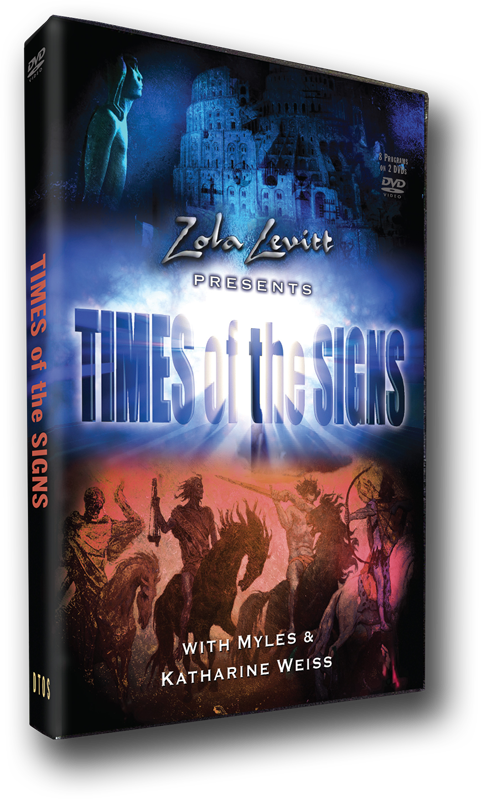 In November, we conclude our series Times of the Signs. In this eight-program TV series, Myles and Katharine Weiss encourage Believers to look beyond the troubling prophetic signs of our day and live in growing expectation of our Messiah's return.
The Sword of Allah

The spiritual battle with radical Islam is wearying, but we mustn't give up; the Lord wants none to perish (2 Peter 3:9) and will return for His own.

New Heaven, New Earth

Signs such as increased knowledge, new technology, Jewish return to Israel, and the growth of Messianic congregations point toward the return of the Messiah. Yeshua is coming for His bride, and we want no one to miss out.
Then we reprise Esther: For Such a Time as This. The Book of Esther is one of the Jewish people's favorites. David and Kirsten Hart present this eight-part series with teaching from Dr. Jeffrey Seif, dramatic reenactments, Hebrew lessons, and music from Ted Pearce. Like Esther, we Believers may be alive for such a time as this.
Beautiful Inside and Out

Does God use women? Yes! In Esther's rise and Queen Vashti's fall, we see how God elevates individuals to places of influence—then as now.

Chosen for a Purpose

Though wickedness surfaces in every generation, God positions His people to thwart the devil's plans and fulfll His own. We examine Mordecai and Esther's placement … and our own; for we, too, are called to God's work.

Called to be Courageous

Faced with a plot to destroy the Jews, Esther wavers but decides her sacrifice is worthy: "If I perish, I perish!" May we all have such resolve!
Zola Tours to the Holy Land
This month, as you're reading this letter, Zola Tours buses are transporting Believers through God's Holy Land. On every ZT tour, Messianic teachers bring to life the Scriptures you read at home. Pilgrims who tour Israel with Zola Tours walk in Yeshua's steps, especially in Jerusalem where Yeshua died and rose from the dead. If you haven't already visited Israel, it may be time to cross "a Holy Land pilgrimage" off your bucket list. For questions and itinerary details, please contact Zola Tours manager, Sandra, at 214-696-9760, email her at travel@levitt.com, or visit levitt.com/tours. Our next tour offers the following options:
Spring Tour 2018 options
Our prices include tips, taxes, & fuel surcharge (subject to change)

| | | |
| --- | --- | --- |
| Deluxe (Israel only) | Mar 10–20 | $4,488 |
| Grand Petra (Israel & Petra) | Mar 11–23 | $5,688 |
Please remember to sha'alu shalom Yerushalayim!—pray for the peace of Jerusalem! (Psalm 122:6),

David & Kirsten
P.S. Would you kindly lend an extra measure of support as we create our new Isaiah series? It will feature a favorite topic of our guest teacher, Baruch HaShem's Messianic pastor, Marty Waldman: prophetic clues about Yeshua. This year's three back-to-back hurricanes, however, have taken their toll on our ministry's finances by diverting support we need for our film crew to shoot footage in Israel. Thanks in advance for your help.