Dear Friend,
Several years ago at the conclusion of a men's Bible study class that I was teaching, I asked a new Jewish Believer ("Believer" is short for "believer in Yeshua/Jesus.") with whom I had become friends to share the Aaronic Blessing with the class. He had a thick Israeli accent, and I thought the class would enjoy hearing the blessing in Hebrew from an Israeli. To my surprise, he protested, "But I'm not a priest." We were already at the end of our study time, so I didn't discuss the "priesthood of the Believer." I explained to him that the class understood he wasn't a priest in the Old Covenant sense, and that I just wanted the men to hear the blessing in Hebrew from a Hebrew. He acquiesced, and read it in his wonderful Israeli accent.
Later, I thought about his reply and realized that he did not yet fully understand his freedom in Christ. I questioned whether I fully understood the Believer's priesthood. That query set me on a brief study to better understand this cardinal principle for New Testament Believers, and maybe help others who haven't grasped their standing in God's Kingdom.
My research began with a moment in time when an Augustinian monk named Martin Luther nailed his 95 theses to the door of the Castle Church in Wittenberg, Germany on October 31, 1517. Regardless of anyone's opinion about Luther, he contributed to a theological reformation that gave the "common man" a new freedom in his faith. My study focused on Luther's statements regarding the priesthood of all Believers. Luther severely criticized the distinction that the Church of Rome made between "laity and clergy." He argued that all who belong to Christ through faith and baptism share in the priesthood of Jesus Christ/Yeshua HaMashiach.
Under the Old Covenant
Before we consider 1 Peter 2:4–10 and other corollary passages, let's take a quick look at the priesthood under the Old Covenant. Fundamentally, priests served as conduits of reconciliation and mediation. Priests intervened on behalf of the people for their sins by offering atoning sacrifices and participating in the settlement of disputes. The Hebrew term for priest (kohen) means "one who stands for another and mediates in his cause." God, in His sovereignty, chose the Tribe of Levi and the family of Aaron (Cohen) to serve as priests (kohanim).
Therefore you [Aaron] and your sons with you shall attend to your priesthood for everything at the altar and behind the veil; and you shall serve. I give your priesthood to you as a gift for service, but the outsider who comes near shall be put to death. (Numbers 18:7)
Look with me briefly at one more Scripture passage that reveals the extensive service of priests in the time of David and Solomon until the Babylonian captivity. David is speaking …
Of these, twenty-four thousand are to supervise the work of the temple of the LORD and six thousand are to be officials and judges. Four thousand are to be gatekeepers and four thousand are to praise the LORD with the musical instruments I have provided for that purpose. (1 Chronicles 23:4–5)
Three Fundamental Truths
Now to our main text, where Peter writes in 1 Peter 2:4–10:
Coming to Him as to a living stone, rejected indeed by men, but chosen by God and precious, you also, as living stones, are being built up a spiritual house, a holy priesthood, to offer up spiritual sacrifices acceptable to God through Jesus Christ. Therefore it is also contained in the Scripture, "Behold, I lay in Zion a chief cornerstone, elect, precious, and he who believes on Him will by no means be put to shame." Therefore, to you who believe, He is precious; but to those who are disobedient, "The stone which the builders rejected has become the chief cornerstone," and "a stone of stumbling and a rock of offense." They stumble, being disobedient to the word, to which they also were appointed.

But you are a chosen generation, a royal priesthood, a holy nation, His own special people, that you may proclaim the praises of Him who called you out of darkness into His marvelous light; who once were not a people but are now the people of God, who had not obtained mercy but now have obtained mercy. (NKJV)
At least three fundamental truths regarding the priesthood of all Believers appear in this passage.
Verses 4 and 5 (the first bold sentence above) convey the message that we are joined to Yeshua, our living stone, by faith. Thus we become living stones, chosen by God in our new relationship to Yeshua, the "chief cornerstone." This sentence reflects on Psalm 118:22,

"The stone that the builders rejected has become the chief cornerstone."

This was, and is, understood as a Messianic passage about the rejection of Messiah by the Jewish people. "Stone" refers to Yeshua as our strength and our sustainer. A corollary passage in John 6:35 tells us,

"And Jesus said to them, 'I am the bread of life. He who comes to Me shall never hunger, and he who believes in Me shall never thirst.'"

As hymn writer Augustus Toplady wrote, He is our "Rock of Ages."
Also noted: When we are joined to Yeshua, we are built into a spiritual house — a holy priesthood offering spiritual sacrifices. What are these sacrifices? Paul tells us in Romans 12:1, they are ourselves.

"I beseech [beg] you therefore brethren by the mercies of God, that you present your bodies a living sacrifice, holy, acceptable to God, which is your reasonable service."

Notice we present the sacrifice (ourself) only because of the mercies of God.

As Paul indicates in Philippians 2:17, the sacrifice is also our service. "Yes, and if I am being poured out as a drink offering on the sacrifice and service of your faith, I am glad and rejoice with you all."

By now, you probably agree that we are not priests unto ourselves, but in service to others, in the fellowship of other priests (Believers).

Verse 9 (the second bold sentence in our main text) gives a very specific outline of who we are in Yeshua — and our greatest work is in praising Him! We are a

chosen generation

, a

royal priesthood

, a

holy nation

, His own

special people

. This does not apply only to Israel, but to everyone (Jew and gentile) who comes to faith in Yeshua, the Messiah! Why else would Paul write the following to the church in Ephesus?


Now, therefore, you are no longer strangers and foreigners, but fellow citizens with the saints and members of the household of God, having been built on the foundation of the apostles and prophets, Jesus Christ Himself being the chief cornerstone, in whom the whole building, being fitted together, grows into a holy temple in the Lord, in whom you also are being built together for a dwelling place of God in the Spirit. (Ephesians 2:19–22)
New Covenant, New Priests
Back to my friend's comment that inspired my journey of discovery, "But I'm not a priest." In the Old Covenant sense, no, he isn't a Cohen or Levite (e.g. Levitt, Levy, Levin). But as a New Covenant believer in Messiah, yes, he is a living stone joined to the Chief Cornerstone. The beauty that Luther recognized is that every Believer has immediate access to God in Yeshua, the Messiah. Yeshua's perfect sacrifice has forever opened the way, so that we Believers now have the privilege and responsibility — the priesthood — to intercede for one another. And to complete our task in the priesthood, we are to represent God to all the people. We are all called, chosen, and gifted to serve. Whatever you do, do it all to the glory of God!
The way God uses people in His Kingdom work has always fascinated me. Some individuals open their hearts and lives, and God uses them in sometimes-miraculous ways. Others hold their spiritual gifts close and use them sparingly. If your gift is serving as a prayer warrior, then please remember this ministry as you approach God's throne. If your gift is generosity, then please consider making your most generous gift to this ministry as we continue to trust God's direction and provision for today and the future.
Standing firm with Israel,


Tony
P.S. I pray that you have been encouraged today in your relationship with Yeshua and that you clearly understand your extraordinary place in the kingdom of priests. Remember, you are special — you've been bought with a price!
Zola Tours to the Holy Land
Visiting the apple of God's eye is an enjoyable way to bless Israelis. You will rejoice when the Word comes alive for you in a new way. For itinerary details, please contact Zola Tours manager, Sandra, at 214-696-9760, email her at travel@levitt.com, or visit levitt.com/tours.
Fall Tour 2017 options
| | | |
| --- | --- | --- |
| Deluxe (Israel only) | Oct 22–31 | $4,488 |
| Grand Petra (Israel & Petra) | Oct 22–Nov 3 | $5,688 |
| Grand Athens (Greece & Israel) | Oct 16–31 | $7,188 |
| Ultra Grand (Greece, Israel, & Petra) | Oct 16–Nov 3 | $8,388 |
Spring Tour 2018 options
Our prices include tips, taxes, & fuel surcharge (subject to change)

| | | |
| --- | --- | --- |
| Deluxe (Israel only) | Mar 10–20 | $4,488 |
| Grand Petra (Israel & Petra) | Mar 11–23 | $5,688 |
TV Programs in July
In July, we conclude our newest series Close Encounters with Yeshua, focusing on how Yeshua/Jesus came to Earth, ministered, and calls people to Him today. We hear stories from those who have been supernaturally drawn back to His Land. David and Kirsten Hart introduce this ten-program series from the studio, while Myles and Katharine Weiss teach from Israel.
Life Laid Down

Yeshua came down the Mount of Olives like a king; but in the Garden of Gethsemane, He surrendered His will to the Father's plan. Interview: Carolyn Hyde, Heart of G-d Ministries.

Empty Tomb

Myles and Katharine remind us that the Crucifixion and the Cross led to the empty tomb, and thus removed the curse on mankind. Interview: Samuel Smadja of Messianic Assembly in Jerusalem and Sar-El Tours.

Interview with Gary Bayer

Gary Bayer explains his battle with cancer and how Yeshua comforted him, becoming even more real and personal. Interview: Gary Bayer (PlaceOfStoriesIsrael.org), a writer and television presenter.
Olive Branches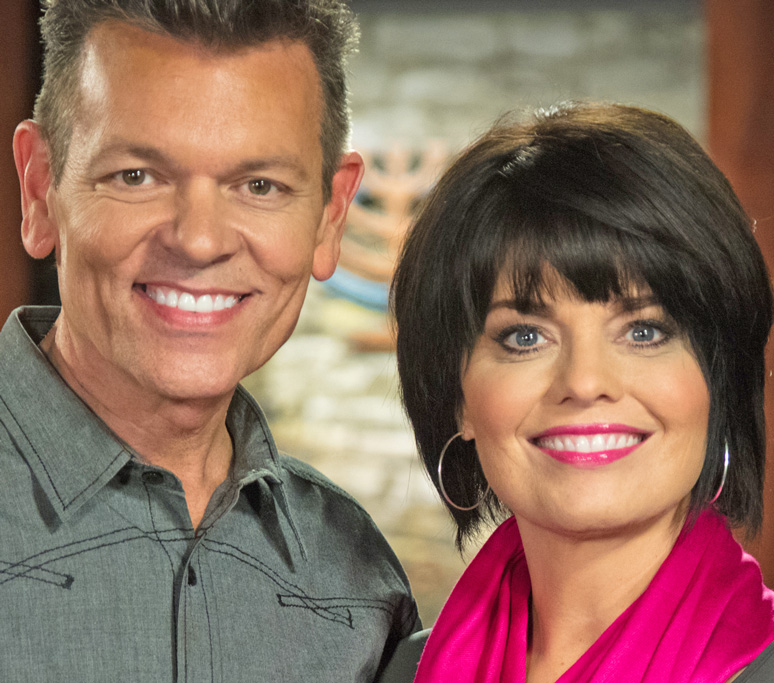 In this stand-alone program, new studio co-hosts David and Kirsten Hart present their journeys to faith. Sharing how they came to join Zola Levitt Ministries, they interview Producer Ken Berg. They also preview upcoming television series.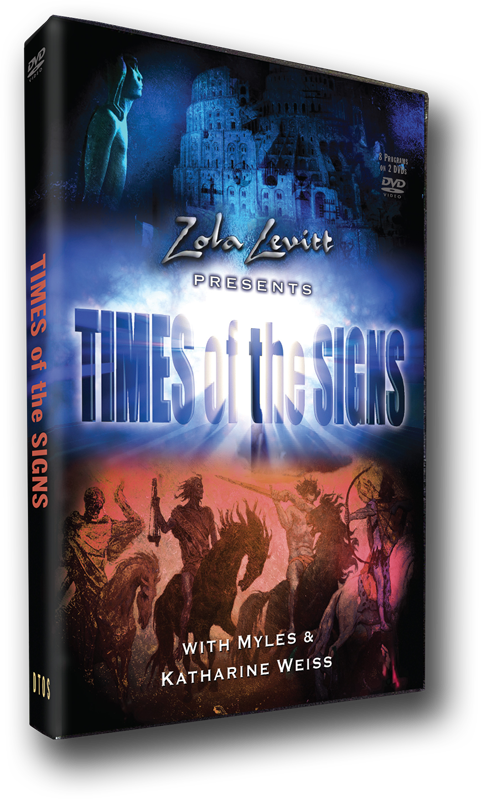 In the eight-program series Times of the Signs, Myles and Katharine Weiss encourage Believers to look beyond the troubling prophetic signs of our day and live in growing expectation of our Messiah's return.
On the Prophetic Horizon

The first program reviews the major prophetic signs that point to the return of Yeshua/Jesus and the quickening pace of prophecy.
A Note from David & Kirsten Hart
Dear Friend,
For years, you've heard our ministry and other prophecy trackers advise you to watch Israel. That is good advice. Today, we live in a time when you can see, hear, and touch the Old Testament prophecies coming alive. The fact that Tony and we are gentiles writing these words to you is itself a fulfillment of prophecy! Notzrim is a Hebrew word used three ways.
Notzrim means "watchmen," such as those mentioned in Isaiah 62:6 that the Lord set on Jerusalem's walls to stand guard.
Notzrim has been used since the days of the Apostles to describe followers of Yeshua HaMashiach (Jesus Christ).
Notzrim is also the word for the new shoots of an olive tree. Gentiles are grafted metaphorically into the olive tree (Israel), giving it new life and amplified fruit.
Prophecy!
As Tony just taught us, by being joined to Yeshua/Jesus we are priests in service to others. So, how do we — with our varied backgrounds — serve each other? No matter which branch you are, reach out and lift the branches around you! We are in this together … serving, helping, loving. Fulfill your royal priesthood calling.
Please come with Tony & Jane and us to Israel this fall or next spring. Let the locals see and take comfort that notzrim are in the Land, walking Jerusalem's streets and keeping tabs on world events that affect Israel. Tony and Jane will conduct the tour, while we will lead the worship and music. And you will meet amazing Jewish Messianic speakers teaching on their topics of expertise. You will cherish this unique experience.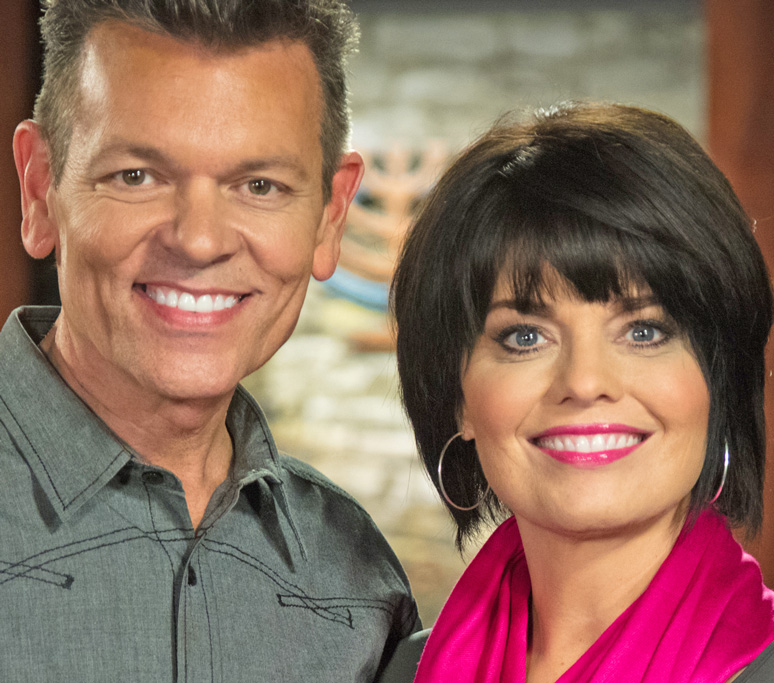 For tour dates, please see above or contact Zola Tours manager, Sandra, at 214-696-9760, email her at travel@levitt.com, or visit levitt.com/tours.
Let's remember to Sha'alu shalom Yerushalayim! — Pray for the peace of Jerusalem! — Psalm 122:6