Dear Friend,
New York, London, Paris, Rome, Athens, Istanbul… and the list goes on — each destination a grand attraction for the casual traveler and for serious students of history and archaeology. All the captivating cities of the world have unique histories and romantic appeal to world travelers.
Standing alone… Jerusalem! Jerusalem has been the world's most significant city since the time of King David. "The Lord loves the gates of Zion more than all the dwellings of Jacob. Glorious things are spoken of you, O city of God! And of Zion it will be said, 'This one and that one were born in her; And the Most High Himself shall establish her.'" — Psalm 87:2–3, 5
Jerusalem:
Dwelling place of God.

"For the LORD has chosen Zion; He has desired it for His dwelling place: This is My resting place forever; Here I will dwell…" — Psalm 132:13–14

Scene of Christ's resurrection (Luke 24)
Site of His soon return.

"In that day His [Yeshua's] feet will stand on the Mount of Olives, which faces Jerusalem on the east." — Zechariah 14:4a
No city has garnered more attention over the ages than Jerusalem. It still dominates the headlines and political debate.
Jerusalem Today
This year marks the 50th anniversary of Jerusalem's reunification. During 1967's Six-Day War, Israel defeated the Jordanian forces that had occupied the Old City and eastern half of Jerusalem since Israel's War of Independence in 1948. Not only Jerusalem, Israel also won back the Golan Heights from Syria, and the Gaza Strip and Sinai Peninsula from Egypt.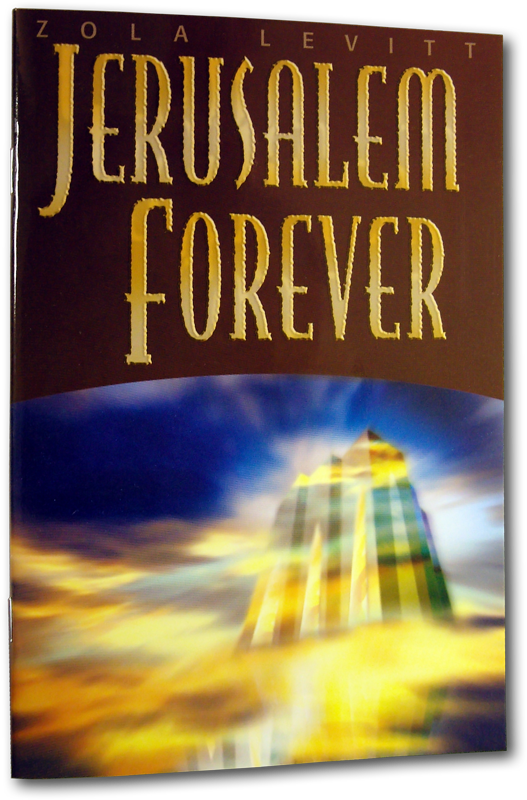 Jerusalem has been a "hot button" in the political arena since… well, since anyone can remember. Through the centuries, the Holy City of God has seen the misfortune of being conquered by an array of foreign armies. See Zola's study booklet Jerusalem Forever for a detailed list of those foreign powers.
In 1995, the U.S. Congress approved moving the U.S. Embassy from Israel's former capital, Tel Aviv, to its new capital, Jerusalem. Successive presidents have delayed that move in six-month waivers. The most recent waiver, signed by President Obama, will expire in June. Perfect timing, don't you think? The American Embassy's move to Jerusalem could climax the 50th anniversary celebration!
Jerusalem to Jesus
Putting aside the current political issues surrounding Jerusalem, let's look at the serious religious and political problems that confronted Yeshua/Jesus. Matthew 23:37–39:
"O Jerusalem, Jerusalem, the one who kills the prophets and stones those who are sent to her! How often I wanted to gather your children together, as a hen gathers her chicks under her wings, but you were not willing! See! Your house is left to you desolate; for I say to you, you shall see Me no more till you say, 'Blessed is He who comes in the name of the Lord!'"
Why did Yeshua lament over Jerusalem? Keep your Bible in hand, and let's backtrack a few verses, so we can put His words in context, beginning with 23:13. Keep in mind that the Pharisees were not the only religious leaders of the day, but along with the Sadducees made up the Sanhedrin — the chief ruling body in Jerusalem. Yeshua clashed mostly with the legalistic Pharisees and the scribes who recorded their false teachings.
Yeshua began pronouncing "woes" on the scribes and Pharisees. The term "woe" can be used to describe misery, such as our phrase, "woe is me." It is also used to express condemnation, such as "cursed," which is its use in these verses.
This first "woe" in verse 13 describes the scribes and Pharisees as hypocrites. Their rejection of Yeshua as the Messiah and their false teachings to others have shut the doors of the Kingdom (of Heaven) to both.
Mark (12:40) and Luke (20:47) also record this lamentation of Yeshua, and both include another "woe" at this point, which some translations of Matthew skip. In essence, Yeshua accuses the scribes and Pharisees of making a great public show of their religion while at the same time foreclosing on the homes of widows.
With the third "woe" in verse 15, Yeshua points out that the scribes and Pharisees had shut the doors of the Kingdom with their false teachings, though they traveled the land and sea to convert gentiles to Judaism. When these zealous, new converts became even more Pharisaic than the Pharisees, they became twice the "sons of hell."
Verses 16–22 condemn the Pharisees for their distorted variation of oaths. They would make oaths that the other party considered binding, but with the Pharisees' perverted view of the truth, the oath meant nothing to them. This is why Yeshua said in Matthew 5, "Do not swear [an oath] at all."
Next, in verses 23 and 24, Yeshua calls out the Pharisees in regard to their hypocrisy in keeping the law. They were careful to pay a tithe of the most insignificant herbs, while at the same time ignoring justice, mercy, and trustworthiness.
With the sixth "woe" (in verses 25 and 26), Yeshua condemns the Pharisees' extravagance in the externals of religion. They lived behind a façade with their ritualistic purification of their dinnerware, while ignoring the fact they had cheated others in order to afford fine tableware and expensive food. In their hearts (the inner cup), they were unclean!
Yeshua again turns their attention to outward appearances in verses 27 and 28. His analogy may have been a reaction to the wealthy adorning their tombs with a white, decorative plaster so it would stand out. Regardless of the tombs' beauty, inside were dead men's bones — a reference to the Pharisees' spiritual deadness.
In His final criticism of the Pharisees (verses 29–36), Yeshua charges them with trying to identify themselves with the prophets by building monuments and decorating the graves of the righteous. They arrogantly denied that they would ever shed the blood of the righteous, but Yeshua knows their hearts and that they are already plotting to crucify Him.
Judgement of Jerusalem
Not only would the Pharisees plot to destroy Yeshua, they also would persecute and destroy other servants of God in the early Church, that assembly of believing Jews and gentiles. Jerusalem's failure to trust God and instead follow the false teachings of the Pharisees constituted a rebellion that would bring down the judgment of God… on all of them!
As Yeshua sorrows over Jerusalem, the tenderness of His love for His people is clear. He desperately wants to gather them to Himself and protect them. He calls to remembrance Psalm 91:4 — "He shall cover you with His feathers, and under His wings you shall take refuge; His truth shall be your shield and buckler." But Jerusalem's rebellion is too great, and in 70 a.d. the Romans destroyed Jerusalem and the Temple.
New Jerusalem
It doesn't end there! Jerusalem is God's city, as noted earlier. Today, Jerusalem is a vibrant, modern city with a future that no other city on Earth can visualize for itself. But, it doesn't end here either. The Jerusalem of today will undergo a major renovation. Let's look quickly at Revelation 21:2–3:
"Then I, John, saw the holy city, New Jerusalem, coming down out of heaven from God, prepared as a bride adorned for her husband. And I heard a loud voice from heaven saying, 'Behold, the tabernacle of God is with men, and He will dwell with them, and they shall be His people. God Himself will be with them and be their God.'"
A vivid description continues in the remainder of chapter 21 and also in chapter 22.
Just as Yeshua warned the Pharisees in Matthew 23, so also the final chapter of the Revelation contains a warning. Revelation 22:18–19:
"For I testify to everyone who hears the words of the prophecy of this book: If anyone adds to these things, God will add to him the plagues that are written in this book; and if anyone takes away from the words of the book of this prophecy, God shall take away his part from the Book of Life, from the holy city, and from the things which are written in this book."
If you want to know if this warning is true, ask the Pharisees!
Zola Tours to the Holy Land
Come and see Jerusalem for yourself. Please join Jane and me — and our new studio hosts of Zola Levitt Presents, David and Kirsten Hart — on the Fall Tour where you will experience the resilient, Eternal City of God: Jerusalem in all its glory! For itinerary details, please contact Zola Tours manager, Sandra, at 214-696-9760, email her at travel@levitt.com, or visit levitt.com/tours.
Fall Tour 2017
| | | |
| --- | --- | --- |
| Deluxe (Israel only) | Oct 22–31 | $4,488 |
| Grand Petra (Israel & Petra) | Oct 22–Nov 3 | $5,688 |
| Grand Athens (Greece & Israel) | Oct 16–31 | $7,188 |
| Ultra Grand (Greece, Israel, & Petra) | Oct 16–Nov 3 | $8,388 |
Spring Tour 2018
Our prices include tips, taxes, & fuel surcharge (subject to change)

| | | |
| --- | --- | --- |
| Deluxe (Israel only) | Mar 10–20 | (price to come) |
| Grand Petra (Israel & Petra) | Mar 11–23 | (price to come) |
TV Programs in June
Please join us in June as we take a break from our newest series Close Encounters with Yeshua to celebrate the Biblical Feast of Pentecost.
Shavuot

Myles and Katharine Weiss explain the origin and significance of Shavuot / Pentecost while providing insight for believers in Yeshua. The airing of this program will coincide with the week of the observance.
Then we continue Close Encounters with Yeshua, which focuses on how Yeshua/Jesus supernaturally came, ministered on Earth, and today calls people to draw near to Him. David and Kirsten Hart introduce this ten-program series from the studio, while Myles and Katharine Weiss teach from Israel.
Prophecy Fulfilled

At a first-century synagogue at Magdala, likely visited by Yeshua Himself, Myles and Katharine remind us that Scripture is reliable. Interview: Pastor Juan Maria Solana, Director of Notre Dame of Jerusalem Center (Catholic) and founder of the Magdala Center.

Living Water

The Pool of Siloam, a recent archaeological discovery, was a place to perform cleansing rituals; there, Yeshua performed a miracle that proved He was a prophet, a priest, and the King we await. Interview: Arab pastor Vincent Shammas (Seeds of Better Life Center in East Jerusalem).

Mountaintop Experience

On the Mount of Transfiguration, the Father honored His Son. Yeshua gave authority to His Disciples and sent them out. Interview: Chaim Singerman of Jerusalem Hills Inn in Abu Ghosh.

Life Laid Down

Yeshua came down the Mount of Olives like a king; but in the Garden of Gethsemane, He surrendered His will to the Father's plan. Interview: Carolyn Hyde, Heart of G-d Ministries.
Check Out Our Scholars
For a look ahead at the Jewish Bible scholars who will speak to our Holy Land tour groups and appear on Zola Levitt Presents, please see David and Kirsten's note on p. 6. And please stay with us financially as we retool to bring you the best of the best.
Standing firm with Israel,


Tony
P.S. Even though Yeshua pronounced "woes" on the Pharisees, He still cared enough to weep for all Jerusalem and to continue to the cross. I, too, can be like the Pharisees, and He did the same for me.
A Note from Kirsten Hart
Dear Friend,
Looking ahead: In July, we'll bring you the concluding programs in our Close Encounters with Yeshua series. Next, David and I share our testimony in the studio with guests Rabbi Marty Cohen and our television producer Ken Berg. Then, we air some programs from our recent Times of the Signs Bible prophecy series. Watch for lots of quality Messianic teaching on the horizon.
Zola Tours: David and I will lead praise & worship for the Holy Land pilgrims this fall. We are reviving Zola's songs to include with modern praise hymns. Well-known Messianic guest speakers are lined up to make this a remarkable study tour while they are filmed for upcoming TV episodes, including:
Well-known Messianic
guest speakers!
Dov Schwarz will speak to our group in his hometown of Tiberias along the beautiful Sea of Galilee. As the director of Watch Therefore Ministries, Dov's end-times message assumes special meaning when you hear him at Megiddo, overlooking the Valley of Armageddon. Dov will also teach aboard the "Jesus" boat as we sail the very waters upon which our Lord walked.
Chaim Malespin, enthusiastic director of the Aliyah Return Center, will join us daily. As a member of the IDF (Israel Defense Forces), he offers insights regarding current events that refute our news media's Middle East biases. From our vantage point in the far north overlooking Syria we'll hear war stories confirming God's sovereign plan for His Land and His People.
This ministry strives to bring you current, factual news about the land and people of Israel, but we need your continued prayers and support to keep the Word going out. The nations need to know that God's land is thriving. Thank you for all that you do through your prayers and financial blessings for this ministry.
Please remember to Sha'alu shalom Yerushalayim! — "Pray for the peace of Jerusalem!" — Psalm 122:6