Dear Friend,
Jane and I recently returned from another of many enlightening, inspiring pilgrimages in the land of Abraham, Isaac, and Jacob. Our new friends from across the United States and Canada were amazed by this "miracle in the desert" called Israel, and so, once again, were we. Each visit is a special privilege in our lives.
Pilgrims often ask me to choose my favorite site or identify what inspires me to keep going back. While every trip has its special moments, my key memory this time arose from a morning of praise and worship with Daniel Carmel on the Sea of Galilee. In particular, I began thinking about the disciples who found themselves in a real dilemma. I would suppose that every Believer can connect with the Twelve in our own modern-life dilemmas.
The story unfolds in Matthew 14 when, after Jesus had fed the 5,000, He tells His disciples to get into a boat and sail to the other side of the Sea of Galilee while He goes elsewhere to pray. The next time New Testament readers encounter the disciples, they are in the middle of a stormy sea. I have witnessed such a storm on the Sea of Galilee, when tumultuous weather moves in surprisingly quickly — calm water one minute, rough sea the next.
Note the conclusion of the story in Matthew 14:27–33.
But immediately Jesus spoke to them, saying, "Be of good cheer! It is I; do not be afraid." And Peter answered Him and said, "Lord, if it is You, command me to come to You on the water." So He said, "Come." And when Peter had come down out of the boat, he walked on the water to go to Jesus. But when he saw that the wind was boisterous, he was afraid; and beginning to sink he cried out, saying, "Lord, save me!" And immediately Jesus stretched out His hand and caught him, and said to him, "O you of little faith, why did you doubt?" And when they got into the boat, the wind ceased. Then those who were in the boat came and worshipped Him, saying, "Truly, You are the Son of God!"
Please look with me at three lessons to be learned from this stormy encounter.
First: Storms
The disciples were being obedient to what Jesus told them to do, and yet they experienced stormy circumstances. As Believers, you and I are not insulated from the storms of life. You can attend your local congregation's weekly services, pray and read your Bible daily, give to the poor, and volunteer your services for worthy causes. Suddenly the doctor's office calls to inform you that your lab results are not good; or your spouse abandons the marriage; or you are laid off, downsized, offered early retirement, etc. In that moment, Jesus/Yeshua is stretching out His hand to hold you up in the power of His might, through your faith. Hold on tight — He is the Good Shepherd!
Second: Act in Faith
Peter stepped out in faith, but his faith was challenged when he saw the effect of the wind on the water. Peter focused on the stormy waters, instead of on the One he identified as Adonai who could calm those waters. I'll admit that it's easy to focus on the problems in life. I fit the phrase, "O you of little faith, why did you doubt?" Don't be afraid to step out in faith, get out of your comfort zone — always keeping your focus on the One who stills the storms and brings shalom (peace) to the soul. Accept the challenge that William Carey gave to any who wanted to be missionaries: "Attempt great things for God. Expect great things from God."
Third: Prayer
Peter reached out for the hand of Jesus. What would have happened had Peter not exercised his faith by calling out to Yeshua? Maybe Jesus would have passed by the foundering boat, walking on to the other side, and the disciples would have continued in their frightful experience. Or, perhaps they would have been lost.
The disciples had a decision to make. They could reach out and take the hand of the One who could save them — as Peter's cry admitted; or they could go it on their own and watch Yeshua pass them by. Thankfully, Peter's boldness saved them!
When the storms of life come — and they will — you needn't go it alone. Reach out and take the hand of the One who calms the storm and brings peace. And if you've never asked Him in faith to be your Savior, then I urge you to do as Peter did — call out to Him, "Save me," and He will. Follow the admonition of the writer of Hebrews:
Where Our Lord Walked on Water
Please consider joining Jane and me on the fall 2017 Israel tour, where we will worship and praise Yeshua on the same Sea of Galilee where the disciples experienced their most picturesque and stormy predicament. Though I cannot promise calm waters, you can be sure that the One who calms the waters will be there with us. Contact our travel manager, Sandra, at 214-696-9760, email her at travel@levitt.com, or visit levitt.com/tours at your earliest convenience.
This Fall Tour is sure to sell out early as we welcome our new ZLM family members, David and Kirsten Hart. As the new hosts of Zola Levitt Presents, David and Kirsten will lead our music and worship on this tour.
Fall Tour 2017
Our prices include tips, taxes, & fuel surcharge (subject to change)

| | | |
| --- | --- | --- |
| Deluxe (Israel alone) | Oct 22–31 | $4,488 |
| Grand Petra (Israel & Petra) | Oct 22–Nov 3 | $5,688 |
| Grand Athens (Greece & Israel) | Oct 16–31 | $7,188 |
| Ultra Grand (Greece, Israel, & Petra) | Oct 16–Nov 3 | $8,388 |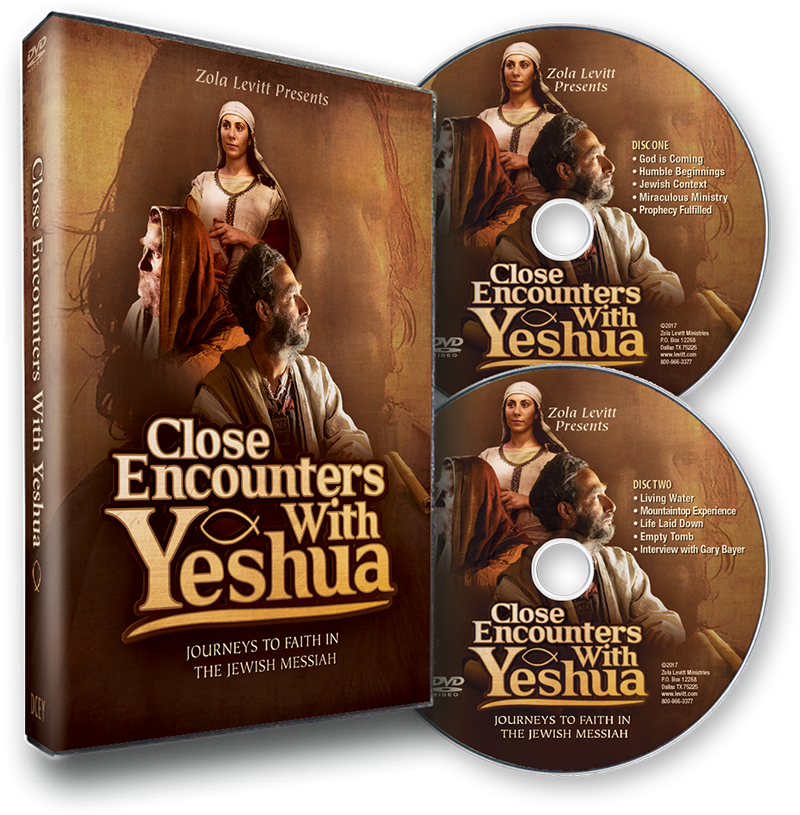 Believers who visit the Land of Jesus come away with a renewed love for the Bible, the Lord, and Israel. Please join us!
Television in May
Our weekly Zola Levitt Presents television program debuts Close Encounters with Yeshua. This ten-part series focuses on how Jesus/Yeshua supernaturally came and ministered on Earth, and today calls all mortals to draw near to Him. David and Kirsten Hart introduce each episode from the studio, while Myles and Katharine Weiss teach in Israel, using dramatic re-enactments and interviews with Believers about their journeys to faith in Yeshua, the Jewish Messiah.
God is Coming

Myles and Katharine recount how Abraham's travels in the desert led him into dependence and relationship with his God. Interview: Dean Bye, Director of Return Ministries; and Chaim Malespin, Director of the Aliyah Return Center in Tiberias, Israel.

Humble Beginnings

In a simple animal stall, Jesus (Yeshua) supernaturally came into the world as a baby, lived to fulfill the Law, and promised to return as the Lion of Judah. Interview: Daniel Sayag, Lead Pastor of Kehilat HaCarmel (Carmel Congregation).

Jewish Context

As a boy, Yeshua came to the Temple to offer sacrifices. Later, after being tempted by Satan, He became the sacrifice, the Lamb of God. Interview: Karen Davis, Worship Director of Kehilat HaCarmel (Carmel Congregation).

Miraculous Ministry

Near the Sea of Galilee, Yeshua performed many signs and wonders that amazed many but disturbed others. Interview: Eric and Terri Morey, founders of The Galilee Experience.
Updating Our Outreach
Zola Levitt Ministries is enhancing its teaching outreach in an increasingly sophisticated and fast-paced world. We ask that you view our exciting transition with an open heart and join us in experiencing what God will do. The phenomenal movement of God at Pentecost occurred because the disciples did exactly what Yeshua asked them to do—they prayed!

Zola Levitt Presents will continue its laser focus on up-to-date teachings from Israel. Our new journalistic format will enable us to feature more Messianic Jewish teachers in Israel and the U.S. than ever before. This revolutionary news magazine approach to Bible teaching (think "60 Minutes") will reach Believers—both Jewish and non-Jewish—as well as non-believers, with solid Bible teaching.
We believe this new approach is a win-win upgrade for everyone.
Although I may not have met you, Dear Reader, I consider you an ally of this ministry. And as such, I urge you to pray diligently and to give in accordance with your ability. Paul's admonition in 2 Corinthians 9:7–8 encourages each of us to give with purpose:
So let each one give as he purposes in his heart, not grudgingly or of necessity; for God loves a cheerful giver. And God is able to make all grace abound toward you, that you, always having all sufficiency in all things, may have an abundance for every good work.
And, please, remember to Sha'alu shalom Yerushalayim!—"Pray for the peace of Jerusalem!" (Ps. 122:6)
Standing firm with Israel,


Tony Derrick
P.S. Whatever travails you may be experiencing in life, reach out to Jesus/Yeshua — the One who calms the storms and brings comfort. Don't let Him pass you by. Call out to Him as Peter did, "Save me!" He cared for His disciples over 2,000 years ago, and He really does care for you and me — He endured the cross to prove it!