Dear Friend,
The Gospel writers attended the same events. However, each writer, inspired by the Holy Spirit, expressed his personality as he sketched Jewish life. Jesus/ Yeshua's prayer of agony is well known. His model prayer, recorded in Matthew 6:9–13, is better known: The Lord's Prayer.
You are familiar with His prayer of agony, right? "Not My will but Yours be done" (Luke 22:42). In the Garden of Gethsemane, the Disciples slept, Judas betrayed Yeshua/Jesus, and His agony was such that sweat and blood mixed during His overwhelming emotional distress. In case you wonder how a man could sweat blood, consider the following quote from the Journal of the American Medical Association (JAMA) (March 21, 1986; Vol. 255, No. 11): Although this is a very rare phenomenon, bloody sweat (hematidrosis or hemohidrosis) may occur in highly emotional states or in persons with bleeding disorders. As a result of hemorrhage into the sweat glands, the skin becomes fragile and tender. Luke's description supports the diagnosis of hematidrosis. Yeshua's profound agony about the penalty He was about to pay for the sins of the world is undeniable.
But John's Gospel records another prayer—one that Jesus prayed before Gethsemane. Readers are not told the specific location of Jesus while He prayed. It could have happened while He was still in the Upper Room with His Disciples, or it's very possible that He stopped at an area in the Temple to offer this prayer, as the High Priest would do for a sin offering. Jesus would soon become that very sin offering for the world. In this earlier prayer, He wasn't offering a prayer model, nor was He agonizing over His own situation. He was praying for you and me!
Grab your favorite Bible translation, a cup of coffee or a cola—or if you live in the South, a glass of sweet iced tea—and join me in considering John 17:1–26, which is known as the "High Priestly Prayer" of Yeshua/Jesus. By the way, I read this prayer to our tour groups during visits to Gethsemane. I believe it is vital to understand that Jesus not only lived in the moment, but also contemplated His future disciples—even as He prepared to die. He already knew our life situations—yours and mine—and "He is a very present help in trouble" (Psalm 46:1).
John 17:1–8
Yeshua began by praying for Himself. "Father the hour is come; glorify Your Son, that Your Son also may glorify You." Jesus knew that He was coming to the conclusion of His earthly ministry of glorifying His heavenly Father. What was the glory? "And this is eternal life, that they may know You, the only true God, and Jesus Christ whom You have sent" (v. 3). He was looking forward to returning to His pre-incarnate glory—His rightful place at the right hand of the Father.
"… this Man (Jesus), after He had offered one sacrifice for sins forever, sat down at the right hand of God" (Hebrews 10:12). Aren't you always happy when you return home from a long trip? Jesus was excited to be going home!
John 17:9–19
He also knew the importance of His Disciples hearing Him pray for them. "I pray for them. I do not pray for the world but for those whom You have given Me, for they are Yours" (v. 9). He had spent a lot of time with these stubborn guys and was offering one last insight into what they were called to do. Jesus had managed to keep them on the right path, except for Judas: "none of them is lost except the son of perdition" (v. 12).
Jesus knew that just as the world hated Him, the world would also hate the Disciples as they proclaimed the Good News. He continued praying (v. 15), not asking the Father to remove the Disciples from a hateful world, but for their protection from the one that would create devious plans to destroy their witness. He continued in prayer, asking that God would "Sanctify them by Your truth. Your Word is truth" (v. 17). "To sanctify" means to set aside something for its proper purpose. The Disciples' purpose: to be His witnesses. Now, they couldn't do that if they were removed from the world, could they? Neither can we!
Yeshua knew that His Disciples and followers added to their number would face a hostile world. Were they ready? Could anything else be done to prepare them for the spiritual battles ahead? Jesus was doing exactly what He knew had to be done: placing them in the hands of His Father!
John 17:20–26
In the final verses of His prayer, He was asking the exact same protection for us. Consider the final verses in John 17:20–26 from the (J.B.) Phillips Modern English Translation (with British spelling).
"I am not praying only for these men but for all those who will believe in me through their message, that they may all be one. Just as you, Father, live in me and I live in you, I am asking that they may live in us, and that the world may believe that you did send me. I have given them the honour that you gave me, that they may be one, as we are one—I in them and you in me, that they may grow complete into one, so that the world may realise that you sent me and have loved them as you loved me. Father, I want those whom you have given me to be with me where I am; I want them to see that glory which you have made mine—for you loved me before the world began. Father of all goodness, the world has not known you; but I have known you and these men now know that you have sent me. I have made your self known to them and I will continue to do so that the love which you have had for me may be in their hearts—and that I may be there also."
Jesus knew what the world in 2017 would be like. He knew how aggressively Satan would press his agenda against all that is holy. If you live with a sense that you do not fit into this world, guess what? You don't! Jesus already informed us in John 16:33, "In the world you will have tribulation." Paul wrote to the church at Philippi, "For our citizenship is in heaven from which we also eagerly wait for the Savior, the Lord Jesus Christ" (Philippians 3:20).
How can a prayer offered over 2,000 years ago help us today? It is a simple and purposeful prayer. This prayer impresses upon us exactly what Believers need in order to live in victory and fulfill our purpose. Here, in a nutshell, is what Jesus prayed (for us):
"that they [us] may all be one" —v. 21
"that they [us] may be with Me where I am" —v. 24
"that the love with which You loved Me may be in them [us]" —v. 26
Our Messiah—Yeshua/Jesus—reminds us that it will take a unified effort of all Believers, with the love of God in their hearts, to move the hearts of men into following Him into the Kingdom. What an inspirational prayer to remember on our journey in this life!
Where Our Lord Prayed
Zola had specific goals in mind when he began touring Israel years ago: to pray in the same place that our Lord prayed; to be in the company of like-minded Believers; to experience the sights, sounds, people, and spirit of Israel; and to make lifetime friends and memories there. Zola used to say, "We do more than just tour Israel. We have fun!"
I am personally inviting you to join Jane and me on the Fall Tour—not just to tour Israel, but to make lifetime memories and friends, and to have anointed fun! To examine my credentials for leading Holy Land tours, see Mark Levitt's Note on page 14 of the March Levitt Letter. Please contact our travel manager, Sandra, at 214-696-9760, or visit levitt.com/tours to select one of our Fall Tour options:
Fall Tour 2017
Our prices include tips, taxes, & fuel surcharge (subject to change)

| | | |
| --- | --- | --- |
| Deluxe (Israel alone) | Oct 22–31 | $4,488 |
| Grand Petra (Israel & Petra) | Oct 22–Nov 3 | $5,688 |
| Grand Athens (Greece & Israel) | Oct 16–31 | $7,188 |
| Ultra Grand (Greece, Israel, & Petra) | Oct 16–Nov 3 | $8,388 |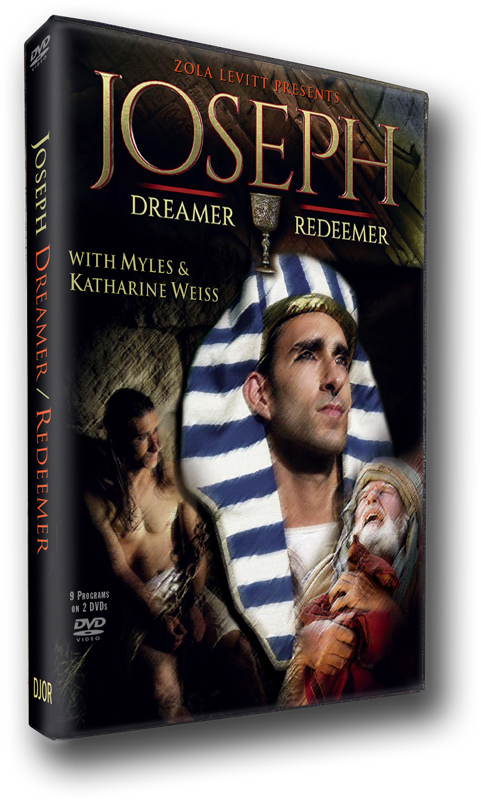 For decades, the Immanuel Tours Agency has been blessing Zola Tours with their loyal and unequaled service to our groups. Their committed staff provides a seamless, safe, and inspirational tour of Israel. When you tour the Holy Land with Zola Tours, you also are pampered by the best hosting agency in Israel, which holds our best interests paramount.
This Month on Television
Our weekly Zola Levitt Presents television programs continue in April with the conclusion of Joseph: Dreamer/Redeemer, as well as two intriguing programs that explore the observances of Passover and Holocaust Remembrance Day. You won't want to miss a moment of these timely programs. Every Believer needs to clearly understand his or her faith and how it connects to Passover; and every Believer needs the reminder of the cost our Jewish friends paid for just being Jewish!
Joseph: Dreamer/Redeemer

The concluding two programs of this nine-part series relate the "Egyptian" (foreign) identity and centuries-long gentile view of Jesus and reveal Him as Yeshua, the Jewish Messiah and Savior of the world.

Longing and Revelation

At home, Jacob longs for the return of his sons; in Egypt, Joseph reveals himself to his brothers. Yeshua reveals Himself through the Scriptures, just as He did on the road to Emmaus. Eitan Shishkoff, Our Man in Haifa, compares Joseph's life to Israel's history.

Substitution and Redemption

Because of the "stolen" chalice, Judah intercedes and offers himself in Benjamin's place. Joseph reveals his identity and reunites the family. Though understood by few at the time, Yeshua was the Suffering Servant whose substitutionary death accomplished God's plan for redeeming the world. Our Messiah will return, but this time as the reigning King.
Passover

Filmed on location in Israel, Myles and Katharine Weiss demonstrate and explain the origin and significance of Passover while providing insight for believers in Yeshua. This program will air to coincide with the Feasts of Passover and Unleavened Bread.

Holocaust Remembrance Day

This stand-alone program airs during the week of Holocaust Remembrance Day in Israel and is dedicated to those who died in that genocide. Myles and Katharine interview three survivors who give their firsthand accounts. Viewer discretion is advised.

New Series and New Faces

Viewers get a preview of Close Encounters with Yeshua, a new series that begins next week. This ten-program series focuses on how Jesus (Yeshua) supernaturally came, ministered on Earth, and calls people to draw near to Him today. While viewers will continue to see Myles and Katharine, this program introduces the new hosts of Zola Levitt Presents.
Since being asked to stand in as the interim spokesperson for Zola Levitt Ministries, I have a new respect and perspective about the mission of this ministry. The mission remains the same in an ever-changing and challenging environment. And our ability to continue providing the inspirational television programs and teaching materials in the current hostile atmosphere is a testament to your faithful stewardship. We ministry workers are thankful for the confidence you place in our calling and fiscal responsibility.
This mission is not optional. The world, both Believers and non-believers, needs to hear the message of Yeshua to guide them through a maze of today's "feel good, self-serving" theology. We cannot broadcast His message without you. Please consider your best gift as you partner with us in this vital ministry.
And, please remember: Sha'alu shalom Yerushalayim!—"Pray for the peace of Jerusalem!" (Ps. 122:6)
Standing firm with Israel,


Tony Derrick
P.S. Isn't it amazing that we—you and I—were on our Lord's mind just hours before His sacrifice on the cross?! Are you willing to express appreciation right now? Fall on your knees and thank Him that you were on His mind, and that He bore the cross to save you!