Dear Friend,
Last month's Personal Letter discussed the names and places that matter to Adonai (The Lord). As promised, this month we address continuing attempts to rewrite history and erase the Jews' connection to their ancient homeland, Israel—the land that Adonai gave to Abraham.
Approximately a decade ago, Katharine, Rosemary Schindler, and I strategized in Gary Bauer's Washington D.C. office, meeting with Jewish and Christian leaders to stop the proposed pullout of Jews from Gaza. It was spring of 2005, and we were unsuccessful. By summer's end, residents of four "West Bank" settlements had been evicted, and over 8,000 people were forcibly ejected from 21 settlements in Gaza, leaving the West Bank and Gaza Strip to our Arab cousins.
Within days, the new Moslem inhabitants of Gaza tore apart the Strip, decimating 30 years of building and growing. Greenhouses and prolific gardens that exported fruit and flowers to Europe became concrete pads for exporting rockets into Israel. Synagogue stones and cemetery headstones became urinals. Gaza was transformed from a place of abundant life into a place of ongoing death under the inept governance of the Palestinian Authority, which was supplanted in 2006 by the cruel hand of Hamas.
Dr. Jim Hutchens chaired that difficult meeting. Jim has an impressive history. He came to faith in Christ while an enlisted paratrooper under the ministry of his unit chaplain during the 1960s. After college and seminary, he returned to the army as a chaplain. Hutchens's decorations for personal bravery in Vietnam included the Purple Heart as the first chaplain wounded in Vietnam. He served with the famous 173rd Airborne Brigade, and later with the Green Berets. Brigadier General Hutchens retired from active duty in 1994 and shares ZLM's love for Israel.
Hutchens agrees with Max Singer of Bar-Ilan University's Begin-Sadat (Besa) Center that, like U.S. presidents before him, newly inaugurated Donald Trump will be advised not to fulfill his campaign promise to move the U.S. embassy from Tel Aviv to Jerusalem because "moving the embassy to Israel's actual capital would provoke Arab anger at the U.S. and lead to protests that might turn violent."
As we've seen in the past, the United Nations is willing to move against Israel, even denying any Jewish connection with the Land. The UNESCO fiasco of fall 2016 proved this uniting the nations against Israel to be true. Only six countries voted against a proposal that denied Jewish history on the Temple Mount.
Thank God, America was one of the six standing with Israel and voting for the truth. As Prime Minister Benjamin Netanyahu declared, "To say that Israel has no link to the Temple Mount is like saying that China has no link to the Great Wall or that Egypt has no connection to the pyramids." He added: "With this absurd decision, UNESCO has lost what little legitimacy it still had."
Unfortunately, soon after the UNESCO vote, the U.S. allowed a UN censure of Israel's settlements, arguing that the settlements impede peace talks. (In 2009, Netanyahu placed a 10-month moratorium on settlement construction in the West Bank, on land that Israel captured in 1967's Six-Day War, but the Palestinians found other excuses to avoid the peace table.)
Today's Palestinian leadership denies any ancient Jewish connection to the land or that a Jewish Temple ever stood on the Temple Mount. Yet this position of denial was not always so. The cover of our September 2016 Levitt Letter explains that one of the liveliest streets in Jerusalem's Old City is actually a small plaza called Omar Ibn Al-Khattab Square, named for the second caliph of the Islamic world, who lived in the 7th century A.D. Omar greatly honored Judaism's holy sites—including the peak on which Solomon erected the magnificent First Temple.
As recently as 1925, the Supreme Moslem Council—also known as the Waqf, which oversees Temple Mount activities—boasted proudly in its guidebook to Al-Haram Al-Sharif (the Arabic name for the Temple Mount) that the site was none other than that of Solomon's Temple: "Its identity with the site of Solomon's Temple is beyond dispute." You can see photos of the guidebook and read the history of this Islamic about-face at wp.me/p87MnB-dz.
We at ZLM hope that the new Trump administration will adhere to the truth regarding Israel and history. The West's acknowledgement of the historical and ancient Jewish presence in the area known as "Palestine" might eventually push that truth past the Palestinian leadership and reach the people.
Dr. Singer also posited: "The U.S. has followed a policy of avoiding truths that are painful or embarrassing to the Arabs for at least 50 years. It hasn't worked. Maybe it is time to try the strategy of telling the truth. Moving the U.S. embassy to Jerusalem, in accordance with the longstanding congressional position, would be a good way for President Trump to make a start on a truth-telling strategy—as well as to fulfill a campaign promise."
Last month, we saw that God cares about His Name and His place! Believers should care as well.
That is why the recent UN actions are so disconcerting. UN Security Council resolution 2334 that reinforces UNESCO's resolution potentially makes Israel a criminal state and Israelis criminals. It may put the holy sites of Christianity and Judaism under the thumb of Fatah, Hamas, and Hezbollah. Recently, archaeologist and tour guide Gabriel Barkay was lecturing to some American students on the Temple Mount. When he referred to their location as the "Temple Mount," the Waqf "security" guards accosted him, and the Israeli police advised him to refrain from using the term.
But the name issue is not new. The Palestine Liberation Organization [PLO] issued a statement in November 2014 advising journalists to refrain from using the term "Temple Mount," reminding reporters that they should "adhere to international law and correct any other existing terminology used."
Personally, I am grateful to Dr. Barkay, the students, and the nations that are rising up and questioning this thuggish Islamic behavior. Zola Levitt Ministries will continue, with your support, to proclaim the truth of the historical Jewish connection to the Land promised to Abraham, purchased by King David, paid for again (in excess) by returning exiles, and defended on the battlefield. It now blooms through the grace of God and the ingenuity, blood, sweat, and tears of Jewish pioneers.
We proclaim today, "Am Yisrael Chai!"—"The people of Israel live!" Why not make history and journey to the Land of Promise? Your destiny with Yeshua will be enhanced as the Word comes alive. Please join with our ministry on an upcoming tour. Zola Tours guides deliver memorable Holy Land experiences.
To visit the land of Israel with this ministry, please contact tour manager Sandra at 214-696-9760, or visit levitt.com/tours.
Fall Tour 2017
Our prices include tips, taxes, & fuel surcharge (subject to change)

| | |
| --- | --- |
| Deluxe (Israel alone) | Oct 22–31 |
| Grand Petra (Israel & Petra) | Oct 22–Nov 3 |
| Grand Athens (Greece & Israel) | Oct 16–31 |
| Ultra Grand (Greece, Israel, & Petra) | Oct 16–Nov 3 |
Christians who visit the Land of Jesus come away with a renewed love for the Bible, the Lord, and Israel. Please join us!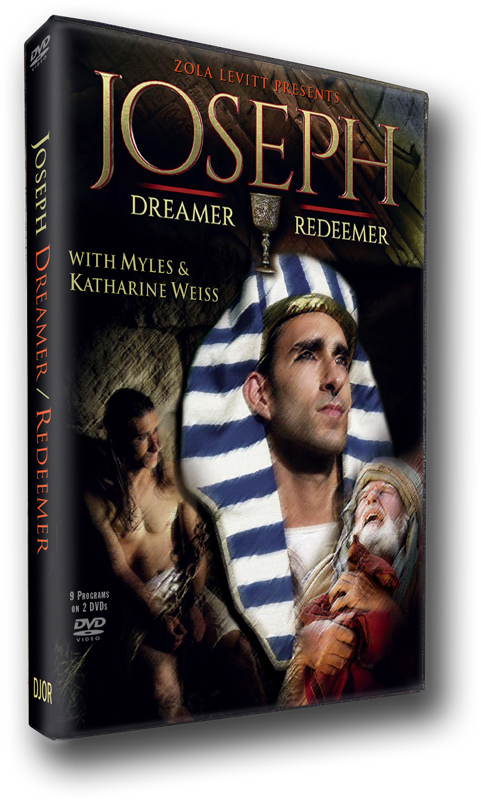 On our weekly Zola Levitt Presents television program in February, we shout the Jewish identity of Jesus with our series, Joseph: Dreamer/Redeemer. This is a timely series, as the people and place of Israel are under attack in the court of world opinion.
Perhaps more than any of the patriarchs in the Bible, Joseph presents us with a clear preview of the Redeemer, Yeshua HaMashiach. From his humble beginnings to his ascendancy as a leader of the known world, Joseph pictures the One to come. Born to humble parents, Yeshua's suffering and ultimate sacrifice as the Lamb of God will lead to His return as the Lion of Judah. In this nine-part series, we lay bare the "Egyptian" (foreign) identity and centuries-long gentile view of Jesus and reveal Him as the Jewish Messiah and Savior of the world.
Jealousy and Rejection

As we begin, we see Joseph tending sheep and wearing his coat of many colors. Jealousy and rejection from his brothers have already begun, but worsen after he tells them of his dreams. Myles and Katharine compare Joseph's treatment by his family to Yeshua's rejection by many in His day, though He was as their Messiah. Ron Cantor talks about his book Identity Theft that traces the loss of Jesus' Jewish identity.

Betrayal and Deception

Joseph's murderous brothers throw him into a pit and then sell him as a slave. Father Jacob mourns the loss of his favorite son. Our Messiah was betrayed for money to those who wanted to kill Him. While some still struggle in coming to faith in Yeshua, Ron Cantor talks about the rise of Messianic Believers in Israel.

Innocence and Accusation

Joseph becomes a slave of the captain of Pharaoh's guard. After a time of prosperity, false accusations condemn innocent Joseph. Yeshua lived a life without sin but suffered for the sins of the world. Eitan Shishkoff talks about the prophetic promise seen in the life of Joseph.

Faithfulness from Prison

While in prison for two years, Joseph patiently yet faithfully ministers to others, such as Pharaoh's butler and baker. During the Last Supper (Passover Seder), Yeshua points His followers beyond short-term difficulties and toward God's glorious plans for them. Eitan Shishkoff reminds us that exile is not our—or Israel's—final destination.
I want to take a moment to honor Don Day, our retiring Art Director. For 25 years, Don has faithfully made the Levitt Letter and Personal Letter beautiful, easy to absorb, and a joy to experience and share. He is a gifted graphic designer, and we will miss him. Todah Rabah (thank you very much), Don. You are a "righteous gentile" and we pray that your days remain full of the wonder and blessings of our Messiah!
Nearly a dozen talented candidates applied to follow Don. The torch has been passed to John Wollinka, a fellow Believer and artist approved by Don and our staff. Welcome, John! We pray for Adonai's blessings and inspiration on your ministerial efforts.
Until next time, please remember: Sha'alu Shalom Yerushalayim!—"Pray for the peace of Jerusalem!" (Ps. 122:6)
Your friend and messenger,


Myles
P.S. Despite the global campaign to rewrite the history of Israel, the truth still stands. The Bible and the very rocks cry out (Luke 19:40). God calls you to cry out as well.