Greetings, Dear Friend,
… and shalom in the name of the Lord!
The approaching Father's Day in America and my recent significant (read: "getting old") birthday got me thinking about those who preceded me in the Messianic movement. Many who came to faith during the renaissance of Jewish Believers in the late 1960s and early '70s are now leaders, ministering around the world. The pioneers who heard the call of Messiah to establish a new presence in Eretz Yisrael now lead many of the Israeli congregations.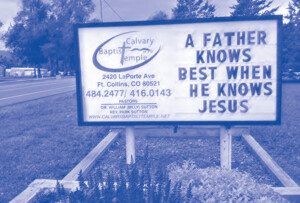 My earthly dad died when I was 19 years old. He and I were estranged, yet his death sent me into a long period of depression with the attendant self-medication and spiritual wandering. While I was on my "Magical Misery Tour" (so-coined by my New York friends with apologies to The Beatles), a genuine spiritual revolution occurred among my Woodstock-generation peers. When I reached age 33, Yeshua blessed me with His presence and faith in His Word.
For Jewish young people, two of the luminaries who revived Jewish belief in Yeshua were Zola Levitt and Moishe Rosen. They were this generation's Fathers in the Faith.
When trying to explain the influence of Zola and Moishe, I often tell friends and family… well, anyone… that God is calling His people to Himself. Zola and Moishe were giants in faithfully teaching Bible truth and calling gentile Believers to love the Jews and Israel.
I characterize their Gospel-spreading efforts thusly: "Zola took it to the airwaves and Moishe took it to the streets."
When this "new" Jewish roots movement started (after all, it is only 2,000 years old dating from Yeshua and 4,000 years from Abraham), it exclusively comprised Jews. A remnant of Jewish Believers in Yeshua has existed in every generation, but toward the end of the 20th century, a revolution exploded. Now we Messianics are everywhere, and many of us (especially in the Western world) felt the effect of Zola and Moishe profoundly.
When Katharine and I travel and minister, people sometimes recognize us from the Zola Levitt Presents weekly TV program. We repeatedly hear:
"Zola was my teacher" about Israel
"I learned about the roots of the faith from Zola"
"Zola impacted the way I read the Bible"
"I have been watching the program and supporting the ministry for __ years!"
These statements gratify Katharine and me. We count it a privilege to carry on the tradition of teaching, Bible-study tours, and quality television programs. Zola's ministry began as a "voice crying in the wilderness" mission. While there were a few TV programs with similar Gospel messages, none, in my estimation, was as influential. Zola's ministry partnership with producer Ken Berg — a truly talented artist — has brought viewers more than three decades of informative and sometimes transformative television teaching. Consider how many Israel- and prophecy-oriented programs air on TV today. Zola was a forerunner! Even our signature end to each program, "Sha'alu shalom Yerushalayim — Pray for the peace of Jerusalem" (Psalm 122:6), can now be heard on many other programs!
Moishe, (below) the bookend giant to Zola, began Hineni Ministries in the San Francisco Bay Area in the early 1970s. Hineni (pronounced hee-NAY-nee) translates as "Here am I" (from Isaiah 6).
After a number of Hineni's tract-handout "sorties," the locals and the media found it convenient to say, "The Jews for Jesus (JFJ) are here again," and the name stuck.
As part of the next generation of Believers, I went on a New York City campaign with JFJ six months after I came to faith.
I had enrolled in Bible College and wanted firsthand interaction with my people in the "old country," NYC. I got it. Through that experience, I grew in boldness and decided that reaching out to my people would be a life-work. Turning the Church toward Israel is the heartbeat of my calling and Zola Levitt Ministries' mission. Displacing Replacement Theology is paramount!
Moishe gave me an effective lesson one day. When a local congregation honored him, he and I chatted during the requisite food and fellowship. Knowing that I was in graduate school studying to become a family therapist, he suggested with wry wisdom: "If it's not the Bible, read it with a pencil!"
I have kept that sage advice — that others may be wrong, but God never is!—in my heart, and it has profoundly influenced my counseling for decades.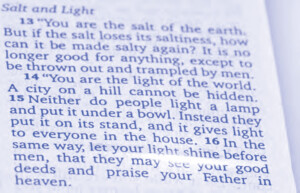 As spokespeople for Zola Levitt Ministries and as leaders in the Messianic movement, Katharine and I are standing on the shoulders of giants, no doubt. And there is good news for all who join with us. Predecessors like Zola and Moishe were human, like us, and their frailties give us hope that we too can each be part of something ever so much greater than ourselves.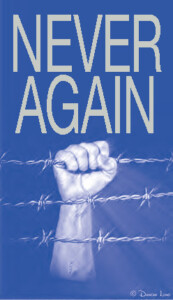 Our ministry's upcoming television series Beauty for Ashes will awaken an entire generation to the horrors of Nazism followed by the grace of God's restoration. While our production crew worked at the Auschwitz death camp in Poland, I joined the young Israelis as our Hebrew guide recounted the nightmare of the genocidal spirit. Then he quoted a rabbinic Talmudic teaching: "He who saves a life—it's as if he saves the entire world" (Mishnah, Sanhedrin 4:5). I was astonished and blessed by this life-affirming capacity that survived in the hellhole of the Nazi concentration camps!
Would you kindly mail us a check or click on "Donations" at www.levitt.com as we face ongoing production invoices for the Beauty for Ashes TV series along with our regular six-figure airtime invoices? You also can call 1-800-966-3377 (1-800-WONDERS) anytime. The summer months are often quite lean for tax-exempt non-profit ministries like ours, so we could use some extra help from you if you're prayerfully inclined.
To witness firsthand the rebirth of Israel and the Believers, join our study tour in Israel! We would love to host you in the Holy Land. Please call Sandra, our Zola Tours manager, to discuss tour options at 214-696-9760. You may also email her at travel@levitt.com, or visit www.levitt.com/tours.
| | | |
| --- | --- | --- |
| Israel | Sep 18–27 | $4,288 |
| Israel & Petra | Sep 18–30 | $5,288 |
| Greece & Israel | Sep 12–27 | $6,988 |
| Greece, Israel, & Petra | Sep 12–30 | $7,988 |

Just announced—Spring Tour 2017 dates:

| | | |
| --- | --- | --- |
| Israel | Mar 12–21 | |
| Israel & Petra | Mar 12–24 | |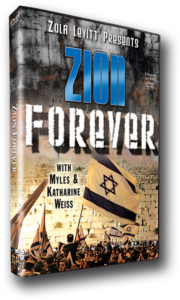 In June, Zola Levitt Presents continues the re-broadcast of Zion Forever, our nine-part series that looks back at Israel's history and forward into prophecy while remembering the present status of the Temple Mount, the most contested real estate on Earth. Throughout the series, Zola's music complements the narrative and scenes of Israel.
Southern Steps

Myles and Katharine walk along the southern edge of the Temple Mount where worshipers would have entered when the Messiah was here. Archaeologist Dan Bahat tells us about the location, and Our Man in Haifa, Eitan Shishkoff, looks to a future time when the knowledge of the Lord covers the Earth (Isaiah 11:9).

Photo by Ken Berg

Kidron Valley

From the Kidron Valley, which lies between the Temple Mount and the Mount of Olives, Myles and Katharine give us the history of Jerusalem. Messiah will enter through the Golden (Eastern) Gate when He comes again.
We break for a special program about the Feast of Shavuot. This program will air to coincide with the week of the observance on June 12.
Shavuot

Myles and Katharine Weiss explain the origin and significance of the Biblical Feast of Shavuot/Pentecost while providing insight for Believers in Yeshua.
We then resume our Zion Forever series.
Elah Valley

Young shepherd boy David slew the giant Philistine Goliath in the Valley of Elah. Here, Myles and Katharine recap the event. We discuss the walls of ancient Jebus (Jerusalem), the Gihon Spring where David's forces invaded the city, and the tunnels at the southern end that may have provided the final resting place for Judean kings.

Ein Gedi

Myles and Katharine recount how David hid from King Saul in a cave near the spring at Ein Gedi oasis. We hear about the discovery of the Pool of Siloam and are reminded that the current King of Israel is Yeshua Himself.
From the bottom of my heart, thank you for your faithful prayers and financial support. Together we can be salt and light in this world (Matthew 5:13–15). And please remember: Sha'alu shalom Yerushalayim! — Pray for the Peace of Jerusalem! (Psalm 122:6).
Your brother and messenger,


Myles
P.S. This month, don't forget to bless a spiritual Father and/or an earthly dad.