Dear Friend,
As Katharine and I prepare for another mind-expanding study tour in God's Land, I am thinking about our sons. The Lord has been very gracious to our family, and we thank Him daily for our two boys' health and strength, their completed college degrees, and gainful employment. I hope they each have internalized whatever parts of me reflect Messiah, and that God (in His mercy!) will spare them my many frailties.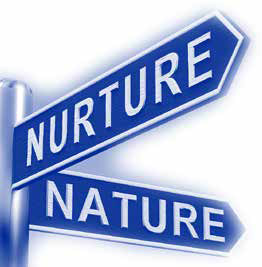 The question of "nature versus nurture" fascinates me, and I can see that both factors are at work in the growth and development of these young men. They each possess distinctive styles that had surfaced before I had a chance to "mold them in my(!) likeness and image." However, their mother and I can also see the ways in which the people closest to each son had a hand in shaping his future.
This observation leads easily to the idea of "modeling," not in the NY Madison Avenue, skinny jeans-wearing, "man-bun" hairdo and bearded, 135-pound, clothes hanger-type model. More in the sense of becoming like the role models we "behold."
Consider the following ten verses. Taken together, they form a pattern: We see a transcendent God making it possible for us to improve, to become more like Him. One sidelong glance at ourselves makes it obvious that without Yeshua's finished work at the Cross, we would remain lost in our own darkness. Thank God for His mercy!
Genesis 5:1

This is the written account of Adam's family line. When God created mankind, He made us in the likeness of God.

Romans 6:4

We were therefore buried with Him through baptism into death in order that, just as Messiah was raised from the dead through the glory of the Father, we too may live a new life.

Romans 8:29

For those God foreknew, He also predestined to be conformed to the image of His Son, that He might be the firstborn among many brothers and sisters.

Romans 12:2

Do not conform to the pattern of this world, but be transformed by the renewing of your mind. Then you will be able to test and approve what God's will is— His good, pleasing, and perfect will.

Romans 13:14

Rather, clothe yourselves with the Lord Yeshua HaMashiach, and do not think about how to gratify the desires of the flesh.

Ephesians 2:10

For we are God's handiwork, created in Mashiach Yeshua to do good works, which God prepared in advance for us to do.

Ephesians 4:23

… to be made new in the attitude of your minds.

Ephesians 4:24

… and to put on the new self, created to be like God in true righteousness and holiness.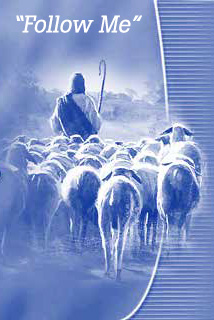 Some form of "modeling" universally takes place in religious endeavors. Following a leader, a guru, or a prophet always seems to be in the mix.
John 8:12

Then spoke Jesus again unto them, saying, I am the light of the world: he that follows Me shall not walk in darkness, but shall have the light of life.

John 10:27

My sheep hear My voice, and I know them, and they follow Me.
Rav Shaul (Apostle Paul) continued the pattern:
1 Corinthians 11:1

Follow me, as I follow Messiah.
With the above scriptural wisdom in mind and my wonderful sons in my viewscreen, I came across a striking article by Francis Frangipane: "The Radical Christian." You can read it in its entirety at: http://wp.me/pieUD-2pk.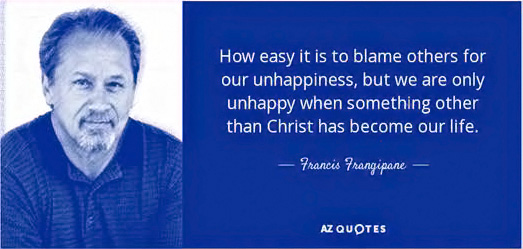 Frangipane applies a linear, logical extension to both Christians and Moslems in following the mandates of their respective prophets.
Start with a nominal follower.
His holy book inspires him (or her, to be sure) in a new way with renewed spiritual fire.
The believer determines to become more like his leader. Jesus declared: "The works that I do, (My follower) will do also." (John 14:12)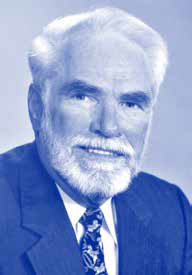 Paraphrasing Frangipane:
Nominal Christian + Bible + Desire to follow Jesus in a radical way

= Increased capacity for Sacrificial Love

Nominal Moslem + Koran + Desire to follow Mohammed in a radical way

= Increased value as a Military Leader
If even a tiny percent of Moslems aspire to radical adherence in the ways of Mohammed, that is a "tiny percent" of well over 2.1 billion people (as of 2011)!
I have the privilege of knowing Dr. William Wagner, a veteran missionary who spent 30 years in the Islamic world. Over 10 years ago, he gave me a copy of his seminal book, How Islam Plans to Change the World (William Wagner; Kregel Publications; Grand Rapids MI, 2004).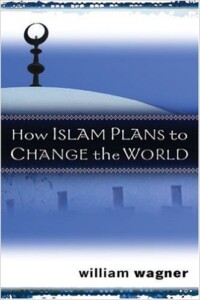 His work constitutes a virtual guidebook for Westerners on the world of Islamic thought and practice. With restraint and wisdom, Dr. Wagner lays out the current version of Islam's 1,400-year-old plan to dominate our planet.
The three-fold strategy includes:
Da'wah = missions
Mosques = presence
Jihad = holy war
That incredible misguidance is why this ministry prays for Moslems. We stand with Israel, we report on the plight of Christians under Islamic rule, and always — always — lift up the Name of Yeshua!
One very tangible way Believers can incorporate into our lives these ideas that have the potential to change the world: walk in the Land of Covenant—Israel. Katharine and I would love to host you in the Holy Land. Please call Sandra, our Zola Tours manager, to discuss tour options at 214-696-9760. You may also email her at travel@levitt.com, or visit www.levitt.com/tours.
Select your trip from the upcoming Fall Tour options:
| | | |
| --- | --- | --- |
| Israel | Sep 18–27 | $4,288 |
| Israel & Petra | Sep 18–30 | $5,288 |
| Greece & Israel | Sep 12–27 | $6,988 |
| Greece, Israel, & Petra | Sep 12–30 | $7,988 |
As spring blossoms with new growth, we too are excited to roll out some new television programs on our weekly program, Zola Levitt Presents. To see our national airing schedule or to watch us 24/7, please visit www.levitt.com/schedule.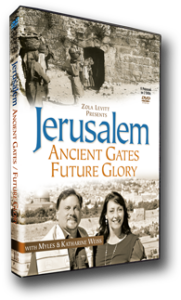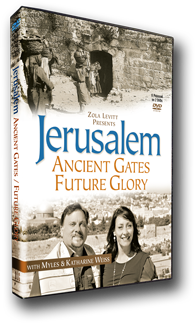 In April, we finish our encore presentation of Jerusalem: Ancient Gates / Future Glory, featuring the music of Messianic vocalist Marty Goetz. After the Gates programs, watch for a new program during the week of Passover/Unleavened Bread, which this year begins at sunset and ends at sundown on .
Herod's Gate

Herod's Gate dates back to the time of Herod the Great. The historical site of many attacks, it represents today's ongoing spiritual battles. Guests include gates expert Tamar Hayardeni and our friend Rosemary Schindler, a lover of Israel and the Jewish people.

Lions Gate

Lions Gate, also known as "Saint Stephen's Gate," is where the Israeli army entered to retake possession of the Old City in 1967. This program will inspire you to pray for the Lion of Judah, Yeshua HaMashiach, to return as the King of Glory. Tamar Hayardeni, and David Dolan with Colonel Shimon Cahaner are the featured guests.

The Eastern Gate

The Eastern Gate has been closed since Byzantine times in a Moslem attempt to thwart the Jewish Messiah's Second Coming. The Eastern or Golden Gate will open again when the King of Kings returns. Guests include Shimon Gibson and Tommy Waller of HaYovel.
Special Holiday Program
Passover

Filmed on location in Israel, Myles and Katharine demonstrate and explain the origin and significance of Passover while providing insight for Believers in Yeshua. This program will air to coincide with the Feasts of Passover and Unleavened Bread.
Church Heroes in China Special
Back to Jerusalem

Even as communism held 20th-century China in its grip, a Biblical worldview arose to call the Chinese people into end-times ministry. In this program, we interview heroes of the underground Church in China and learn about the Back to Jerusalem missions movement.
Katharine, the film crew, and I just completed the studio portions of nine new TV programs! I believe the content and quality of this on-location Bible teaching will bless you immensely. Please pray for us as we head to Auschwitz in Poland to produce a unique series on the Holocaust and the prophecy that God fulfilled with the ingathering of Jews and the rebirth of Israel.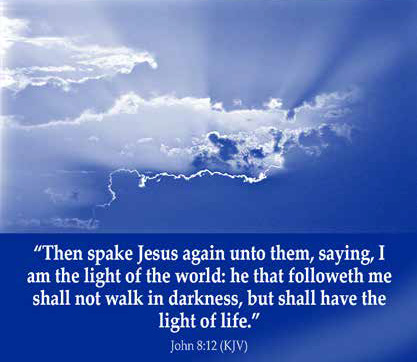 Katharine and I thank you for your gifts of funds, which make possible all aspects of our ministerial outreach. We covet your prayers as well. As I approach my 65th birthday this May, I am thankful to the Lord that He allows … no, encourages… me to proclaim Him to my Jewish people and to all who have "ears to hear" (Mark 4:9). What a privilege! Please keep us in your hearts as we reach for His best.
And please, remember: Sha'alu shalom Yerushalayim — Pray for the peace of Jerusalem! (Psalm 122:6)
Your brother in the service of Mashiach,


Myles
P.S. The military conflicts in the headlines today are almost ALL connected with Islam. We Believers must pray more earnestly than ever!