Dear Friend,
Shalom Haverim v' Mishpochah! (Warm greetings, friends and family!) As 2016 progresses, I hope this letter finds you healthy, prospering, and enjoying a renewed faith in God and our Messiah. Thank you for standing with us as we proclaim the Lordship of Jesus, connect you and others with Israel, and warn about the global jihad-at-large.
For a season, I have considered the Messianic movement (of Jews toward belief in Yeshua) as a prophetic trend in search of a label. Many people have pre-conceived notions about Jews and Jesus. Pastors in particular have been blindsided by Jews who claim to be "Messianics" but who wind up displaying "messy-antics" and demonstrating distance from orthodox, faith-filled Christian doctrine and practice. For many years, Katharine and I have been committed to building bridges wherever possible between Believers.
Our ministry often receives letters decrying "too much emphasis on Torah and Hebrew Scriptures." They arrive in the same bag with letters that accuse us of "not enough emphasis on Torah and Hebrew Scriptures." This conflict is very familiar to us Jewish followers of Jesus. We are accustomed to being told we are "too Jewish" or "not Jewish enough."
True, there exists a wide range of expressions in how we choose to worship God, especially in our congregational settings. Some Messianic services are almost indistinguishable from a traditional synagogue service, albeit with the inclusion of Yeshua as the central object of worship. Others are more like Jewish-flavored church services. Yet, we all relate to the Hebrew Scriptures and the Newer Testament as our guide for faith and practice.
As Believers in Yeshua, we should thank God for the Older Testament, which revealed the God of Abraham and called the sons of Israel to separate themselves from the muck and mire of polytheistic pagan worship that was the order of the day. The Hebrew Scriptures show that the mighty God who delivered the children of Israel from their bondage in Egypt is more powerful and greater than any other god. They also reveal Him to be the only true God. We hear this daily in the central prayer of Hebrew life, the Shema: "Hear, O Israel: the Lord our God, the Lord is One" (Deuteronomy 6:4).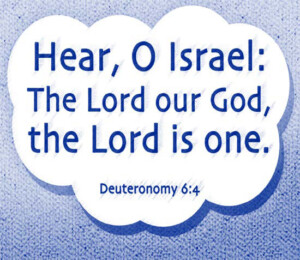 Jesus repeatedly taught about the humanly unattainable holiness of God. "Why do you call Me good? No one is good, except God alone" (Luke 18:19), and "I tell you the truth, the Son can do nothing by Himself; He can only do what He sees His Father doing; because whatever the Father does, the Son also does" (John 5:19). These are two of many instances of Jesus confessing the kingship of God the Father. We know that He also identified Himself as "one with the Father" (John 10:30).
The faith-filled proclamation of John 3:16—"For God so loved the world that He gave His one and only Son that, whosoever believes in Him shall not perish but have eternal life"— could not have been made without prior understanding of a holy God's desire for relationship with His fallen creation.
Yeshua is grace in its most majestic form.
Grace is not a New Testament original. An objective view of Scripture reveals grace throughout the Hebrew Scriptures, especially in the Psalms. The Torah is revered as a sign of God's loving protection over Israel. Psalm 119 refers to the Torah as "complete and unblemished." It lauds the Torah as being full of wonderful things, as bearing God's grace, as precious, and as carrying with it the blessing of God's peace to those who love it. Such expressions of devotion should put to death, once and for all, the notion that the Law is nothing more than an impersonal taskmaster. Rather, the praises of the psalmist indicate a genuine joy on the part of the worshiper, and a deep appreciation of the privilege of obeying the law of God. Please note that within this love psalm to God, the persistent theme of the relationship between Torah and salvation crops up, as in vs. 166: "I wait for your salvation, O Lord, and I follow your commands" and in vs. 174: "I long for your salvation, O Lord, and your law is my delight."
The Hebrew Scriptures reveal the Torah as not only letter of the law but also as the object of genuine devotion akin to that of lover to beloved. In Katharine's and my friendship with modern Orthodox Jews, we hear this sentiment repeated; they do not experience the burden as much as the privilege of attempting to follow the commands of Torah. The concept that Torah is a burden to be cast off misunderstands and mistranslates it as "law" when it is more clearly understood as "teaching" or "guide." We pray daily that the Word, which the Jews love, will lead them to the Living Word who loves them!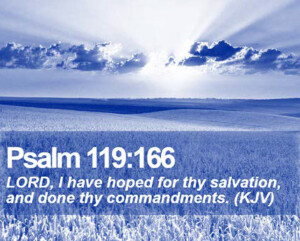 Historically, within Judaism, there came a parallel development of both the identity of the Torah in terms of an object of love, and the role of Torah as an agent of salvation. In this division, the rabbinic writings played a large role in detaching Judaism from its biblical foundation. But the detachment was partly in response to Christian teaching.
Handing over activity from God to Torah is particularly evident when it comes to the doctrine of salvation. Rather than accept the "living Word" (Yeshua), the rabbis decided that Judaism would look to the Torah alone to explain man's need for, and God's way to, salvation. Remember, the early Believers were all Jewish, and faith in Yeshua grew in the context of Jewish life. It was not until Acts 10 that gentiles (non-Jews) received the gift of salvation through Yeshua.
Between 70 and 132 A.D., Yavne (on the coastal plain, south of Jaffa) was considered the city of scholars and rabbis. Most of the teachers of that period taught there and Rabbi Gamaliel was buried there. Yavne produced the Mishnah/Talmud (Jewish oral traditions and rabbinic teachings) as an attempt to continue Jewish religious life without the Holy Temple. Over 40% (247) of the 613 mitzvot (Torah commandments) concern the ceremonial laws of the Mishkan (Tabernacle). When the Second Temple was destroyed in 70 A.D., the rabbis replaced the role of the priesthood with that of the sage (i.e., rabbi) and redefined central concepts of the written Torah. The rift between those who accepted Yeshua as Messiah and those who did not remains to this day. We Jews who follow Him do not accept the rabbinical descendants as having authority over our lives.
The "Oral Law" claimed that study, prayer, and good deeds replaced the need for sacrifices at the Temple, disregarding the clear statements from the Torah itself. This holds no authority over the life of the believer in Yeshua. Rabbinical Judaism, not Christianity, has a problem here, since according to Yeshua, the once-and-for-all true sacrifice is His body offered up upon the cross. Hallelujah!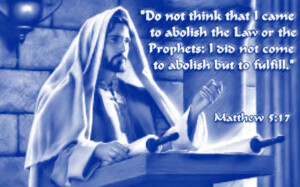 The relationship of Jesus to Torah is best expressed in Matthew 5:17 and verse 18:
18 "For truly I tell you, until heaven and earth pass away, not one letter, not one stroke of a letter, will pass from the law until all is accomplished."
Although these verses appear in the context of Jesus' teaching on the Kingdom, Yeshua clearly teaches that there is no ignoring the Torah.
We find the explanation of this meaning in Jesus Himself. Acting on behalf of Israel (and all of us!), He does what Israel would not and could not do: obey God. In doing so, He fulfilled the law.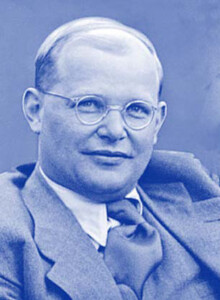 German Lutheran anti-Nazi dissident Dietrich Bonhoeffer observed, "Jesus, the Son of God, who alone lives in perfect communion with Him, vindicates the law by coming to fulfill it." Jesus (not the law) as the living Torah stands between God and mankind.
The recognition that we Believers are not intended to keep the Law of Moses today does not mean that Christians believe in lawlessness! The specific commands of the Law of Moses each reflected something of the nature of God, and behind each commandment is a principle. Those principles—reflecting God Himself— are still incumbent on all Christians today. We are subject to the highest law:
Love God and our neighbors! (see Luke 10:27)
We are clearly dependent on the finished work of Yeshua and the indwelling Holy Spirit to even attempt this high adventure!
To experience the Word in an extraordinary way, please join us in the land of its origin. Our Holy Land pilgrims consistently remind us that Zola Tours study tours are life changing, and we know that walking in Israel would strengthen your faith and lift your spirit. We would love to host you in the Holy Land. Please call Sandra, our Zola Tours manager, to discuss options at 214-696-9760. You may also email her at travel@levitt.com or visit www.levitt.com/tours for more information.
SELECT YOUR TRIP FROM 2016'S STUDY TOUR OPTIONS:
SPRING TOUR OPTIONS:
| | | | |
| --- | --- | --- | --- |
| Deluxe Israel | (Israel only) | Mar 13–22 | $4,288 |
| Grand Petra | (Israel & Petra) | Mar 13–25 | $5,288 |
FALL TOUR OPTIONS:
| | | |
| --- | --- | --- |
| Deluxe Israel | (Israel only) | Sep 18–27 |
| Grand Petra | (Israel & Petra) | Sep 18–30 |
| Grand Athens | (Greece & Israel) | Sep 12–27 |
| Ultra Grand | (Greece, Israel, & Petra) | Sep 12–30 |
Our ministry has been receiving wonderful feedback about our television programs. One well-known Messianic leader and TV broadcaster told us, "I rarely watch Christian TV, but when I see you and Katharine as I surf the channels, I stop and watch your program."
Thanks to your gifts of funds, we are able to bring you these programs from the land of Israel.
In February on Zola Levitt Presents, we conclude our brand new series Times of the Signs.
New Heaven, New Earth

Many signs point toward the return of the Messiah: Knowledge has increased, technology is changing rapidly, exiles from the Diaspora return to their ancestral homeland, and Messianic congregations are multiplying around the world. Though the Tribulation and Armageddon are coming, so is Yeshua for His bride, and we want no one to miss out.
Then, we bring back favorite programs whose messages are timelier than ever. Join us as we showcase two interviews with Ron Cantor, a Messianic leader in Israel. His novel Identity Theft reveals the restoration of the "Jewishness" of Jesus, a necessary preparation for His return. Ron candidly shares the truth of the New Testament and its logical, seamless connection with the Tanakh (Old Testament).
Ron Cantor

An American by birth, Ron felt called to move his family to Israel, where he shares his faith in Messiah. Ron tells us about his book Identity Theft.

More with Ron Cantor

Myles asks Ron to describe family life in Israel. Ron shares more from his book Identity Theft and gives us a fresh and encouraging perspective.
We also reprise Jerusalem: Ancient Gates / Future Glory, the series that takes viewers on a walk around the Old City of Jerusalem and the Temple Mount to inspect the contemporary Gates of Jerusalem, which possess dramatic histories and provide spiritual insight. Leaders of the underground Church in China were captivated by this eight-part series and are using it as a Bible study! We begin the study at:
The Dung Gate

Besides serving as a passage for carrying refuse out of the city, the Dung Gate leads to the Western Wall of the Temple Mount, Judaism's holiest place on Earth. Guests include archaeologist Shimon Gibson, with music by Marty Goetz.

The Zion Gate

The Zion Gate has seen its share of military action, and was a focal point in the history of the modern Zionist movement. David Parsons, from the International Christian Embassy Jerusalem (ICEJ), explains the eschatological (End Times) connection between Jews and Christians.

The Jaffa Gate

Repeatedly destroyed and rebuilt, the Jaffa Gate opens to the West and symbolizes the Gospel going out to the gentiles. Our guests include faith-filled Holocaust survivor Phillip Meyers (right).
As we see darkness increase in our world, ministries like ours that spread the Good News of salvation through Yeshua become more vital. This spring, we hope to travel to Auschwitz and develop an eight-program series to show the power of God's restoration. Working title: Out of the Ashes. We need your financial support to create this important testimony on behalf of the remaining survivors of the Holocaust. Too soon, they will be gone and it will be left to us to counter the growing number of Holocaust deniers who prefer to blot out the memory of their fathers' shameful acts. Thanks in advance for prayerfully considering a gift. Please remember, Sha'alu shalom Yerushalayim! — Pray for the peace of Jerusalem! (Psalm 122:6)
Your brother and messenger — Myles

P.S. Whatever your worship style, please remember to keep Yeshua at the center of it!

Note:
The following websites contributed passages and concepts to this letter: JewsforJesus.org, Community.Beliefnet.com, Hebrew4Christians.com.