Dear Friends,
Greetings from Myles, "Our Man in Israel" (short-term).
Wow! I am more impressed than ever with the quality of this ministry. This tour has been a joy. Our time in Greece was saturated with the profound contrast between Greco-Roman culture and the heavenly culture of the Gospel of Yeshua. While in Greece, we watched firsthand as the economic woes of the world peaked and focused on the Greek people. Their national strike and deadly protests surrounded us.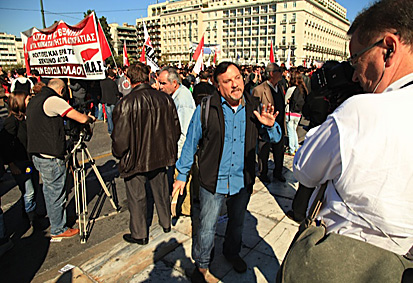 The TV crew and I grabbed this opportunity to convey prophecy related to the End Times and the coming of the "man of lawlessness" (2 Thessalonians 2:1–12). Our interviews with the protestors yielded a common, spoken desire for a Superhero to enter the world stage and "fix" everything. What a confirmation of Scripture and another strong example of the headlines "catching up" to the Bible. The news media eventually stumble over what biblical students already know.
World history is unfolding exactly as the Bible predicts. Paul was a genuine hero of the faith; yet as we "walk where Paul walked," we can see the personal transformation that he endured as a friend of Jesus. It reminds us of the call on his life, when Jesus spoke to Ananias and said, "For I will show him (Paul) what things he must suffer for my sake" (Acts 9:16). The apostle was changed over time. Thank God for His keeping power and His commitment to us! (2 Timothy 1:12)
As we were preparing for Greece and Israel, I believe the Lord showed me something I have never previously seen in Scripture. Paul's life mirrored the sections of the Tanach (Hebrew Scriptures). The Hebrew Bible comes to us in three main divisions: the Torah (the Law), the Neviim (the Prophets), and the Ketubim (the wisdom books). Wasn't it so with Paul's life?
He began as a man of the law, went on to be a prophetic voice for Yeshua, and ended his life full of wisdom! In fact, Paul himself documents his path, beginning as a self-proclaimed "apostle, not less than any other;" later, the "least of the apostles;" and finally, the "chief of sinners" 2 Corinthians 11:5, 1 Corinthians 15:9, 1Tim 1:15 ).
Paul allowed the Lord to shape him into a sharp threshing instrument. He was able to bring the Word in power, and ended his life with grace. What a testimony of the goodness of Yeshua, and a wonderful model for us.
Here in Israel, we see many wonders as we lead 100 pilgrims through the Land and simultaneously tape several TV shows. For Katharine and me, one amazing revelation has been our new appreciation of the stewardship employed by Mark and the financial management team of Zola Levitt Ministries. We use the donated funds scrupulously, getting double duty out of every dollar. It is taxing on us to feel split between the tour and the taping, but very worth it. These shows are produced at 1/8 the cost of similar "on-location" TV programs. Very impressive.
Although we are new to ZLM, Katharine and I have been in ministry for 30 years, and this is the most judicious use of funds I have ever experienced. It is an honor to be associated with the legacy that Zola built and Jeff Seif carried after Zola's "graduation."
The TV shows that we taped during the summer are now airing around the USA and on the Internet. The series Ruth—Your People Shall Be My People was a joy for us to produce. As you know, the story of Ruth is our story. Katharine, a gentile, told me, a Jew, about Jesus (our Boaz). Now she calls me her Boaz, praise the Lord, as we just celebrated our 25th wedding anniversary. Upcoming Zola Levitt Presents shows include these episodes from our Ruth series:
Finding the Redeemer.

From Kibbutz Nan during the Feast of Shavuot/Pentecost, Myles and Katharine Weiss tell of Naomi and Ruth's arrival in Bethlehem at harvest time. The romance between Boaz and Ruth begins to blossom. We hear music from our friends Sasha and Anya.

Breaking of Bread.

Boaz asks Ruth to break bread with him. Our heavenly Father invites us into relationship with Him through His Son, Jesus (the Bread of Life). The story of Ruth and Boaz bears a similarity to the relationship of Myles and Katharine—Jew and gentile in the harvest field with the Lord.

Virtuous Woman.

On location in Israel, we hear how Ruth prepares to reach out to Boaz, with a dramatic boldness that defies cultural norms. We also enjoy the music of our friends Sasha and Anya.

Kinsman Redeemer.

Boaz has feelings for Ruth and desires to be her husband and provider. However, as a man of honor, he reveals that there is a closer relative who must be consulted according to the Mosaic law of the day. Arie Bar David describes the homes of this time period.

A Significant Year—2011.

From the Mount of Olives, Myles and Katharine review this year's programs and explain how the Lord orchestrated their coming to this ministry.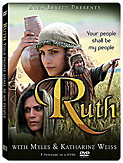 The Ruth series was an auspicious beginning for us. We are currently working on Acts: Then and Now … the Story Continues. In this series—also filmed on location in Israel—we highlight Greece and Israel, including interviews with present-day Messianic leaders in Israel. This is a timely and important show. The Body of Christ in Israel is becoming increasingly visible, which is a blessing but also brings persecution. There have been many positive reports in the Israeli news about the Believers in the Land. One unfortunate result: as the "Name above all names" (Philippians 2:9) is on the lips of Jewish people, the resistance to the Gospel also is on some lips.
Most Israeli Believers count it a joy to suffer for Yeshua's sake. The battle for the minority rights of the disciples of Jesus continues in the courts of Israel. The Jerusalem Institute for Justice—an outstanding organization—faithfully stands for what is right. In truth, when most secular Israelis have contact with Believers, they come away impressed with the quality of these "Yeshua-freaks" (my appellation). The faith community serves in the national army—often as officers—and contributes to Israeli society in many positive ways.
We personally enjoyed our trip to Arad to tape a show about sculptor Rick Wienecke. You—and the whole ZLM community—will be awestruck by the story of Rick's sculpture "The Fountain of Tears." In it, he portrays the two most-significant events in Jewish history: the crucifixion of Yeshua and the Holocaust. As unreal as it may seem, Rick has juxtaposed these two iconic events of suffering and created the most challenging piece of artwork I have ever seen. Government leaders come down to this desert location (some at night, like Nicodemus! John 3:2) to investigate this unusual work of art. Watch for it in the upcoming season of Zola Levitt Presents.
Another great joy for Katharine and me on this Greece and Israel Tour was traveling with Sandra Levitt-Turner, former co-host of our TV show. Her companionship and expertise were great strengths and a comfort to us as the new hosts of the program. I am happy to report that she was blessed as well: At one point, with tears in her eyes, she stated that she could rest, knowing that God had sent us to carry on the work that Zola began so many years ago. Though Zola's request that she continue the ministry has been a (joyful) assignment for her, she visibly relaxed as I taught the pilgrims on tour.
By the way, what a sanctified group gathered from all over the U.S! Some are veterans of touring Israel and others are first-timers. All have expressed gratitude to ZLM for the first-quality journey of a lifetime. For Katharine and me, although we have led many tours, this has been incredibly fresh because of the history that ZLM has with the Land and People. Many of our pilgrims recount how Zola impacted their lives. For several, he was their first introduction to things Jewish and to the centrality of Israel in God's plans. We are truly standing on the shoulders of giants.
As I write, rockets are falling here in the southern area of Israel. The group Islamic Jihad has taken credit for the most recent barrage. Of course, any Israeli answer "by fire" is what makes the world news. The delegitimizing, demonizing, and disinformation surrounding the news about the Middle East still amazes me. It is relentless, and provides just another reason why we need to be fervent about the ministry and getting the truth out.
Here is a perfect example: We were taping shows last evening in a Jerusalem park while Israeli families were picnicking nearby. The Jewish families were laughing, playing soccer, and enjoying the sunshine. They would periodically glance over to see what we were doing. While Katharine and Sandra were on camera, I walked and prayed, preparing for my next segment. At one point, an Israeli mom stopped me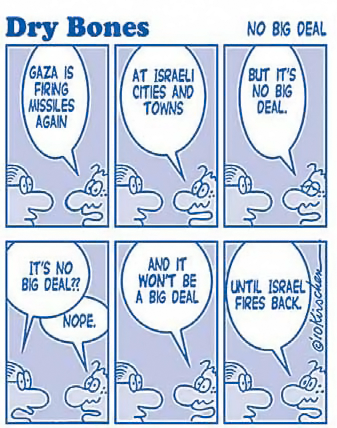 and asked who we were and what we were filming. She assumed we were from CNN or some news network, in Israel to broadcast complaints to the world about "the occupation, the West Bank, and the settlements." I told her, "No, we are Christians and Jews who love Israel and are making shows to help Americans and the West understand our religious debt to the Jewish people and our need to love and support the Land." Her eyes welled with tears and, with her voice cracking, she said, "That is so unusual and so beautiful to hear. I wish you much luck." Later, her friends came by to offer us dessert.
"We heard what you are doing and we want to thank you. We rarely hear of anyone standing on our side like you. Thank you … thank you."
That is another aspect of what you are helping us to create. Not only TV shows, but also goodwill among the beleaguered Jewish people who feel that they are friendless in the world. You can express your love and support of the Holy Land by coming here yourself. Our two spring tours depart on March 11 and return on March 21 and 25. The dates of our summer Discovery Tour, which includes an archaeological "dig for a day," are June 3–23. Please email our travel manager Tracie at or call her at (214) 696-9760. Our answering service takes messages 24/7 at 1-800-966-3377 (1-800-WONDERS).
Todd Baker's efforts have been another encouragement during our time here. ZLM's staff theologian is here as part of our evangelistic outreach, "To the Jew First." Traveling with Todd is Zola's childhood friend, Harvey Zion. Together these two are out every day witnessing and preaching to folks in whatever town the tour is visiting.
They are bearing fruit for the kingdom—planting, watering, and watching God bring the increase. Nightly, they regale the pilgrims with stories of the Good News going forth in God's Land. These two men build bridges of love with their clear presentation of the Gospel.
As for the TV team, one great gift has been our opportunity to spend much time with our driver, whom I will call "O." This tall, strong, young Israeli is a security expert and former Special Forces soldier in the IDF (Israel Defense Forces). He is "wide open"—he has never before heard of Jews following Jesus! As we interviewed pastors in Carmel, "O" was able to hear the Good News in Hebrew from a Sabra (a native-born Israeli). For several hours, he listened to talk about Yeshua and the plan of salvation. We followed up with a gift of some Gospel tracts and a Hebrew Tanach and Brit Hadashah (OT and NT). Katharine asked him if he needed prayer, and several times since then, we have stopped and prayed for him in Hebrew and English with our Israeli friends. Please keep him in prayer as the love of the Lord reaches for him in a profound way.
As you can tell, this season on the frontlines is invigorating and very challenging. I am writing to you from a 4-wheel-drive vehicle, coming up to Jerusalem from the upper Negev Desert. Israel is dark, as night covers this tiny country. This people—called by God as a light to the nations—is being pressed from every side. God intends the pressure to cause His People to turn to Yeshua. Since He is not willing that any should perish (2 Peter 3:9), the same is true for our Arab neighbors and even our fellow Americans. Pressure is building to see if men will seek to save their own lives or yield their lives to Yeshua Ha Mashiach/Jesus the Christ.
Please continue to uphold our efforts with your tithes, offerings, and prayers, not to mention word of mouth. Our mission is a team effort that would be quite impossible without you. It is an honor to serve the Lord on your behalf because as we embolden your spiritual walk, that same teaching also reaches and benefits many others who never contact this ministry. Thank you for standing with us in this great adventure with the King!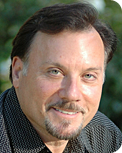 Your messenger,



Myles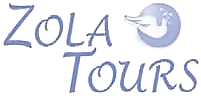 P.S. We will watch to see what the near future holds, although we readers of the Bible know the end of the story.
Feedback
Dear Myles,
We must have the Bible's roadmap in order to understand what lies ahead for Believer and unbeliever alike during the End of Days.