Letters to Zola
Zola,
I just wanted to tell you that I stand with you against Catholic teachings. I was a Catholic for 30 years until I was born again. Then I was a Christian.... I left [the Catholic Church] and started going to . . . a Christian church who's on fire for Jesus, and they stick to the Bible, not their own teachings. . . .
I wish I'd known what [the Catholic Church] was teaching me wasn't true. No, I won't go to hell for kissing a boy in the eighth grade. No, I don't have to be perfect or God will hate me. No, I don't have to work my sins off, which is the biggest lie of all. I realize all Catholics don't teach all this garbage, but that's what I was taught. Two years ago when my Dad died, all the Catholic family on my Mom's side called me up and insisted I go to his rosary service. I didn't want to go because I don't pray to Mary, something my Dad used to get really mad at me for not doing, but I told him we are supposed to pray to Jesus . . . he wouldn't ever listen. . . .
. . . the things they taught me were wrong, and I wasted most of my life getting too frustrated with trying to be perfect. I feel a lot of peace now, knowing that He can and will do all things for me. And in my weakness, He is made strong. And the best part of all to me is that He actually loves me when no one else would. For that I will love Him forever. No one else was ever there for me, let alone dying for all my sins.
I just appreciate it that you stick to your guns, even amidst heavy gunfire from still-trapped Catholics. I pray God will use you to open their eyes and set them free. I was a slave, but now I'm set free, and it feels SOOO good!!! God bless you always.
— His servant
---
Dear Zola and staff:
[We] very much enjoyed attending your prophecy conference. The sessions were interesting and informative, and they provided the basis for some really enjoyable discussion in our rooms and at home afterward. We enjoyed the opportunity to meet you, Tom, Moishe, and [Todd] as well as some of your staff. I have also really enjoyed reading Testimonies of Jews Who Believe in Jesus by Moishe's daughter, Ruth Rosen. [My wife] has been waiting to get at it when I am through. We hope all went well with your move to your new office space, and we are all looking forward to your fall conference.
On returning home, I read the May Levitt Letter, which had arrived just before we left for the prophecy conference. The number of letters taking issue with you regarding your statements about denominational churches prompts me to add this note to the writers of those letters as much as to you. Normally, [my wife] and I don't make much of an issue about which church we attend, as we both feel that the only thing that really matters is to follow our Lord, Jesus. But since we are speaking of denominations, I will say that we attend a Lutheran Church, specifically a congregation of the Evangelical Lutheran Church in America. The name is something of an oxymoron, because in our experience Lutherans as a denomination have long ago forgotten how to be evangelical (hopefully, we can learn again). We have also a fair amount of experience with the Baptist denomination . . . and with Assembly of God . . . We have also attended Roman Catholic congregations on occasion and know something of their doctrines.
Zola, what you say about denominational churches is, based on our experience, right on track. The wheat and the tares are definitely being allowed to grow together until the time of the harvest. But God continues to reserve a faithful remnant in the denominational churches just as He does in Israel. There are many of us working within the denominational churches who understand that we cannot love Jesus and have anything other than love in our hearts for His chosen people, the Jews. And even though we may not be able to afford to go to Israel until we all go at government expense, we still know that God has given that land to the Jewish people forever, so we also feel an attachment to the land of Israel and the city of Jerusalem as God's special place for the Jewish people, as well as for those of us who have also been made heir to the promises through Jesus.
We can sometimes begin to feel like Elijah when he thought he was the only one left who followed the way of the Lord, and if Jezebel had her way there would be none left. Then again we can sometimes, unless we really stay abreast of everything that is going on within our denomination, get the idea that everything that is happening in our denomination is pleasing in the Lord's sight. In reality, of course, neither extreme is correct. The truth is that there are believers in Jesus, who sincerely want to learn what God teaches us in scripture and who truly want to follow in His ways, scattered throughout all the various denominations, sometimes more in spite of the denominational churches than because of them. Many of us feel a calling to keep working within our denomination and our local congregation to correct error, to promote the correct understanding of scripture, and to produce an environment that will actually help the Holy Spirit bring people to Jesus rather than hinder the process. Sometimes it feels like a losing battle, and other times we sense some moderate success, usually at the congregational level, and always due far more to God's efforts than ours.
Just one final thought. I don't recall that Jesus ever included the idea of building a church organization in the great commission. It seems that He had the idea that He, along with the Holy Spirit, was fully capable of organizing the whole evangelical process and of keeping us working, worshipping, and celebrating together as believers. It would seem that once we decided that we needed to organize this whole thing under human leadership, we did much as Israel did when they told Samuel that they wanted a real king, a human king like the other nations had. Human organizations have a way of tending toward deterioration, and only with the greatest effort can they be prevented from becoming harmful.
Zola, may God continue to bless you and your. . . ministry greatly. You are doing more to promote the work of the Kingdom than you can ever know until Jesus tells you one of these days.
— Shalom, C. & J.
---
Zola,
Please discontinue sending me the "Levitt Letter" and your other newsletter.
I am a born-again Christian who attends a Messianic Jewish synagogue, also attend a Christ-centered, Spirit-filled nondenominational Bible church. I support Messianic Jewish ministries and a Messianic Jewish friend who evangelizes to her people and to the Moslem people in Israel. I pray for Israel and Jerusalem every day, and I pray that the eyes of the Jewish people will be opened to the Gospel and to their Jewish Messiah, Yeshua. Does this make me better than you or anyone else? No. I'm just trying to do what the Lord has called me to do, as I'm sure you are. I understand you want to open people's eyes to the truth, but you do it in a very blunt, attacking-sort-of way. For someone who wishes to teach the truth of the Gospel, you certainly teach it in a way that shows you have a lot of anger inside. I have never heard you teach (at least in writing) with the love of our Lord, Jesus Christ. On your show, you are much more toned down and show some love and compassion, but in your letters, you have a great deal of hate and prejudice toward all who are not of Jewish heritage, regardless of whether they are born-again. I cannot read such hate-filled words any more.
Regardless of the point you're trying to get across, there is a better way than the way in which you do it. So please discontinue the mailings.
— Thank you, L.L.
For we were all baptized by one Spirit into one body — whether Jews or Greeks, slave or free —and we were all given the one Spirit to drink. (1 Cor. 12:13)
---
Way to go, Zola!
Thank you so much for hitting the bullseye and not backing down. When I first read your comments regarding the problems in many religious denominations, I thought, "Ouch. That stings." Then I read the comments from some readers in the last newsletter and thought, "OK, NOW I get it!" This is what I feel you are trying to say to the people reading your newsletter:
STOP being devoted to your denomination and be devoted to G-d!!
So many people get wrapped up in religion and don't look deeper into their own personal relationship with the Father. They don't even know what beliefs their denomination is supporting! Many people get involved with cultic religions and have no idea what doctrines they are ascribing to. I know that when you talk about the doctrines of certain denominations, you are not condemning EVERY church and person associated with the denomination. However, you MUST by virtue of your calling as a minister point out erroneous doctrines. We don't need to stick our heads in the sand in regard to the doctrines of our denominational leaders. If we don't know what is going on, how can we let our voices be heard? Just because I as an individual do not agree with what is being done in my church government, does not excuse me from anything. I have an obligation to stand up for what is holy, right, decent and above all Scriptural. If I do not, I have sinned against G-d. Silence is often the worst offense. Didn't we learn this from the Holocaust? So come on people, stand up for what is right! First LISTEN to what is being condoned by your church and its leadership. STUDY what the Word of G-d has to say about the matter. PRAY for wisdom to discern. ACT on what you know is right.
Hey Zola —did I get it?
— S.E.


---
Editorial

The following shocking article ran last summer in THE NEW YORK POST. We suspect Arafat has kept the same policies.
Summer Camp in Arafat Land
NEW YORK POST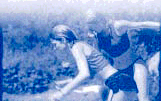 Once upon a time, kids went to summer camp to swim and play. Not so in the West Bank and Gaza, where Yasser Arafat's Palestinian Authority (PA) runs a network of children's military and political training camps straight out of Mao's Cultural Revolution.

And the PA isn't exactly bashful about these facilities. Palestinian TV has proudly broadcast scenes showing dozens of youngsters— some no more than 9 or 10 years old—jumping through rings of fire and playing commando by engaging in hand-to-hand combat.

Nor is this merely physical exercise. The children are lectured on such subjects as how to use a rifle and how to use nails, plaster and tires for self-defense. Another training program for young teens is held in coordination with the PA Naval Police.

And then there is the propaganda— endless, unceasing calls for jihad (holy war) and the need to exact revenge for the creation of a Jewish State. It's chilling to watch these youngsters, some wearing t-shirts adorned with cartoon characters, chanting at the top of the lungs: "My children are in the suicide squad. With stones and bullets I will come to you, my country. Young men and women and stones protect you."

What sort of folk songs do these youngsters sing? Here's one selection: "I come to you with my sword in hand. We will oust [Israel] out to the sea. Your day is coming, my country, when we will settle accounts. Our accounts are unending in stones and bullets."

In between the mock commando raids, the youngsters are constantly drilled by their trainers with the language not of peace and reconciliation but of hate and war. Through songs, posters and other activities, the "campers" are taught one message: Israel is Palestine and the Jewish State must be destroyed.

Why haven't you heard about these horrifying kiddie camps? Because the media, intent on portraying Arafat and his ministers as meaningful partners in peace, refuse to cover any activities that might threaten the carefully cultivated image of Arafat as peacemaker. Even an activity like the summer camp program, in which the PLO takes great public pride.

Next time you hear criticism of Israeli Prime Minister Benjamin Netanyahu's legitimate security concerns, think long and hard about the PLO's summer camps. And remember that it's impossible to take seriously professions of peace from someone who is busy training the next generation of Palestinians to launch a war against the Jewish state.


---
Editorial
Arafat's Autocrats
KENNETH C. LEITER, THE DALLAS MORNING NEWS
Before members of The Dallas Morning News editorial board line up to congratulate Yasser Arafat on his coup of creating a Palestinian state, I think a reality check is in order. Do we as a democracy-loving people really want to congratulate Mr. Arafat on the kind of state he and the PLO are planning to perpetrate upon the Palestinian Arabs? It is a thoroughly autocratic state run largely by Mr. Arafat and his security forces. It is a state where torture is endemic in Palestinian Authority jails, where in the last four years 18 people were killed. Not one of those killed by the PA security forces was a terrorist. Mr. Arafat has used his "war against terrorists" as a front for arresting, torturing and killing political opposition.

Reporters are routinely arrested and beaten. When a university television station broadcast meetings of the PA Council, Mr. Arafat pulled the plug. Although the PA Council exposed corruption in Mr. Arafat's government and forced the resignations of some members of his cabinet, it endorsed the torture and killing of Palestinians in jails, endorsed the restrictions on free speech and press, and endorsed the killing of real estate dealers who sold land to Jews.

The kind of state Mr. Arafat and his backers are celebrating is nothing less than a terrorist state. Is that the kind of state that will produce peace in the Middle East? I think not.



---

Return to Index

Return to Levitt Letter Archive Index

Return to Home Page
---