Letters to Zola
Dear Mr. Levitt,
I'm an ex-Catholic who absolutely agrees with your assessment. I was in the Catholic Church (now a cult in my opinion) for 20 years. I had years of Sunday school as a kid and went to a Catholic grade school through 8th grade. In all that time they NEVER taught from the Bible. Instead they taught from Catholic textbooks.
At the age of 25, God opened my eyes, and after studying the Bible for a few months, I realized that the Catholic Church taught a large amount of ungodly garbage.
They basically have made up their own parallel gospel of: faith, penance, with sacramental practices being essential for further forgiving of sins, worship of a goddess called Mary (see The Marian Movement Doctrine), and many ungodly rules and regulations.
You were right when you stated that the church claims that to be saved a person must be a member of the Roman Catholic Church. This is actually in their church law. (They justify this by saying the Roman Catholic Church is the only body of Christ on the earth.)
I think you were actually kind in your statements.
The Catholic Church did indeed preserve the writings of the faith and then murdered those who translated the Scriptures into the language of the common man.
I'm a born-again believer by the grace of God, and I'm absolutely disgusted with the Catholic and the miscellaneous Protestant churches who refuse to stand up for God's truth and have sold out to the politically correct movement and allow sin to fester uncorrected among their membership.
Thank you, Zola Levitt, for the wonderful truths you have declared. You have opened my eyes over the years. Please keep it up! Someone has to declare the truth, no matter how hard it steps on people's toes. That's what all true Christians are supposed to do. They are supposed to be points of bright spiritual light in this dark world. Sadly, it appears many have become "dim bulbs."
It really is the Scripturally ignorant who cry the loudest when God's truth is declared! What's that saying about throwing a stone into a crowd. . . the one who yells the loudest is the one who got hit.
God bless you,
E.K.
Brother in Yeshua

---
Zola,
I hope that I am wrong, but until I am proven wrong this is the way I truly feel. The way I see it, the defeat of Bibi [Netanyahu] means that the people of Israel have chosen the path of slow national suicide and national cowardliness and disgrace. Zola, these are a people I can't stand with or in any way support. Now, I will not stand with them nor will I stand by a nation of suicidal cowards. — R.M.
Dear R.M.,
Well, we don't have that option. You cannot stand against Israel, because that would be standing against God. He has not given up on them, nor shall He ever. After all, He has seen that nation through the most awful periods and the most terrible leadership and has always loved them to this day. So should we all.
— Zola
---
Our ministry recently received a communication from old friends. I remember the writers below as people to whom it was difficult to witness. As musicians, they acted sophisticated and worldly. They listened in a detached manner, seeming almost bored. I talked to them until 2 a.m. For some reason I just couldn't stop testifying.
There were no discernible results at that time, but others sowed seeds — and look at the results!
Always testify. We never know what an eternal difference we could possibly make.
Shalom Zola,
It was about 19 years ago that we first met you on a cruise ship where we were entertainers. Both of us are from Jewish backgrounds, Lenny from England and Varda from Israel. You were the first Jewish person who shared with us the belief of Jesus being the Jewish Messiah. Your tour group spent 10 days with us on that cruise and sowed a seed that changed our lives for all eternity. We have never been the same since, having accepted and followed our Messiah for the last 13 years. The Lord has turned our lives upside down as entertainers. Four years ago He transformed our God given talent for His glory alone.
We look back to meeting you with great appreciation and since you have played a major role in our salvation experience we wanted you to be one of the first to hear our new music. . .
All our love and blessing "cruise" your way.
B'Shem Yeshua [in the name of Jesus],
L. and V. H.
---
Dear Zola:
I am writing this letter to you directly, personally, in hopes that you will acknowledge it with your response which I'd appreciate having so very much at this time, as am desperate for direction, guidance, advice, thoughts, concern, consideration, care, prayers, and for love that is so badly needed at this time in my life. Zola, my dear, sweet, loving, adorable, kind, considerate, uncomplaining, praying, Christian wife Dorothy, went to be with Lord, Jesus, just a couple of weeks ago, and the grieving process, mourning devastation, the pain, hurt, the anger, frustration, the loneliness, the emptiness, the yearning for her presence and closeness is overwhelming, after being together for 57 years, as I am lost, afraid of being alone, the fear is setting in deeply, for a beautiful, outstanding, forgiving, always concerned about others, her smile was overpowering, which was also expressed in her eyes, an adorable praying Wife, Mother, Friend, Lady, Woman, that was truly one of God's Warriors. Zola, when my dearest wife left me to be with the Lord, Jesus, she was in my arms and said that she did not want to leave me, and I said that I was not ready to give her up, but followed through by saying that she was tired, but that She Would Be Safe In The Arms Of Jesus, and she was gone, presume that it was her spirit and soul. My wife Dorothy has repeatedly spoken to me about the vital importance of accepting the Lord, Jesus, and I very foolishly procrastinated, thinking like many of us that there is plenty of time for this later, not realizing that we never know from day to day when the end is coming. My deepest regret at this time, which is painful and hurting me deeply, sobbing continually, crying out for her, why didn't I listen to her when she was here with me and gone ahead to do what she wanted through her guidance and direction, as this would have made her life complete, happiness beyond expression, a beautiful smile that would not have quit, strengthened her love for me that much more, and now feel deeply with anguish, hurting, regretting with deep heartache, that I let her down by not taking this step when she was with me. Zola, please let me know if I will see my dearest wife Dorothy again in heaven, and will she be waiting for me, as I am looking forward to it with great anticipation? Please help, as I need your immediate acknowledgment, am afraid and alone. Love,
A.M.
Dear A.M.
Not only your dear wife but also Abraham, Isaac, Jacob and the prophets await in heaven for all of us who believe. We will see them and all believers of all ages eventually in Heaven or the Kingdom to come.
You indicate that you procrastinated about accepting Jesus Christ. This is not a major undertaking. God knows your heart; just speak to Him about this. The Lord is "not willing that any should perish" (II Peter 3:9).
All of us who believe rest in the sure knowledge that we will be together with our loved ones in the life to come. Compassion like yours is rare in anyone. I look forward to seeing you there, too.
— Zola

---
Editorial
Exporting Kosovo
A.M. Rosenthal
Syndicated Columnist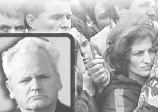 Buoyed by their role in helping turn a Balkan civil war into shivering, desolate crowds of refugees, a political booby trap for America unmatched since Vietnam, a perversion of NATO purpose and a planning debacle, the 15 nations of the European Union are now trying to export their collective political wisdom to shape the Mideast, which may God in Heaven forfend.

Of course, the European Union did have great assistance in the Kosovo tragedy—the abominable thug who is Serbia's dictator, and a Kosovo Liberation Army with a yearning itself for ethnic expulsions, of Serbs.

Particularly important has been President Clinton. He was elected nude of experience in or feeling for foreign and military matters. But in six years in office he has reached new heights of ineptitude, exhibiting the attachment to truth and candor that became his trademark at home.

Still the E.U. came up with ideas guaranteed to bear fruit—of tragedy. Europe's mind-set about the Mideast is pretty much the same that brought the fall into the pit of Balkan war. They are telling Israel that all of Jerusalem, not merely what the Palestinians claim as their capital for the while, is a corpus separatum, separate international entity, not an inch of it legally under Israeli control. They are telling Israelis and Palestinians that nobody has the right to try and stop the establishment of a Palestinian state.

Palestinian independence and Jerusalem are supposed to be decided during the final series of Israel-Palestinian talks. So there is not much reason to go ahead with it, is there? Just let the two sides fight it out to the death, while the European Union thinks up more great ideas.

Don't be surprised at these proposals —the European nations are simply selecting a time that could do most damage to disinter their old vicious gambit that the U.N. partition resolution of 1947 still stands.

The Jews agreed to partition and an internationalized Jerusalem in desperate pursuit of acceptance of their homeland by the Arabs. The Arabs rejected the resolution and fell on the Jews then and throughout the next half a century. Israel declared the resolution nullified.

Why do the Europeans commit this act of public grave-robbing now? One—Europe's mercantile policy toward the Arabs; oil and weapons contracts in feudal Arab countries are put far above profits to be made with high-tech Israel. Centuries of warfare among European tribes have dulled their brains. Two—they don't, well, care for Israel very much.

In Israel, Likud and Labor told Germany, current president of the E.U., to stuff the proposals. But Palestinians are already using them as a pressure point against Israel. If they go on too long, they will kill negotiations permanently and invite war. Kosovo will seem a merry little place.

The Europeans have no "plan" for Mideast agreement. Neither do they, NATO or Washington have one in Kosovo.

Bernard Trainor, retired Marine lieutenant general, put it best on MSNBC; all they have in Kosovo is a script. So, when the Serbs did not follow the script by surrendering and instead drove more Albanians out of Kosovo, NATO spokesmen looked all sad and hurt.

Where were the supplies for the refugees that should have been stockpiled? Coming; show check in mail.

The script treats the Serbs as inferiors who would docilely give up under bombing —which neither they, nor the British nor the Russians did in World War II.

Will the world be upset about Germans bombing children and grandchildren of the million Serbs the Nazis killed? Drop bombs, cut upset shot.

If Serbs lose Kosovo they will return to combat soon. They may prefer to fight on somebody else's land for a change —like neighboring Hungary. Now it is a NATO member entitled to full NATO protection —"full" meaning including nuclear.

What to show? Nothing; cut from script. What about from our minds? Shut up. Bill Clinton, no golfing today, says carry on.

Write new scene. Bring in troops, persuade some refugees to return, guard them. But for how long, chief?

Could we show us helping others to attain liberty— Iraqis, Kurds, Tibetans, Sudanese? And please, please, could we show a policy? Then we could have an honest plan. But what does a policy look like? I forget. Shut up and get on the team.



---

Return to Index

Return to Levitt Letter Archive Index

Return to Home Page
---