"A trip to Israel is worth ten years of Sunday School." —Zola
Fall Tour
Join us for our Fall Tour, when the temperatures are mild, and the fall harvests provide bountiful feasts for the table.
In addition to our ten-day Israel tour, you can opt to include an extension to Petra, "the rose-red city half as old as time," or our Greece extension with a cruise to Patmos, Mykonos, Rhodes, and Ephesus. We also tour Athens (including the Acropolis, the Parthenon and Mars Hill) and Corinth, where one finds a "bema"—perhaps the one where Paul was taken.
For this fall tour, you may choose Israel only, Israel with the Petra extension, Greece and Israel, or an all-inclusive tour of Greece, Israel and Petra.
Upcoming dates
2016: September 12–30
| | | |
| --- | --- | --- |
| 12–19 | 18–27 | 27–30 |
| Greece | Israel | Petra |
2017: October 9–27
9–16
15–24
24–27
(tentative dates)
Greece
Israel
Petra
Fall Tour Itinerary
Greek Cruise Information
General Tour Q&A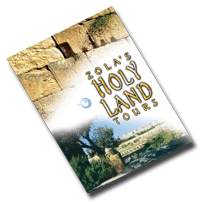 For further information:
View or download our brochure:

(registration form and prices not yet available)

Request information be sent in the mail.
Ready to register?
Call Zola Tours at 214-696-9760 during office hours (M–F, 9am – 5pm Central Time) or 1-800-WONDERS (1-800-966-3377) anytime.