Death of a Salesman
Editorial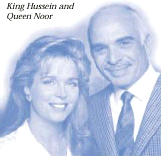 Everyone is falling over one another trying to say kind things about the late King Hussein of Jordan. He was wise, he was patient, he was a peacemaker, he was honest, etc., etc.
My memory is too long for that. When King Hussein blew up 56 synagogues in Jerusalem's Old City while Jordan ruled the place from 1948 to 1967, he became just another terroristic Arab dictator in my mind. No Jew was allowed in the Old City, period. Thus, the original home of ancient Judaism, it's temple site, was the only place in the world where Jews were not allowed to even walk down the streets. Gentiles who wanted to visit Jerusalem, like our tourists, were obliged to come in from the east, from Jordan, on the pretense that there was no Israel and the entire country was Arab owned.
It would be a terrible crime if any individual blew up one synagogue, one church, or one mosque anywhere in this world. Fifty-six houses of worship destroyed may be a record for all history.
King Hussein also seized tombstones out of a Jewish cemetery on the Mount of Olives to pave roads. Jewish peoples have, for centuries, been buried there because they recognized that, "... His feet shall stand in that day upon the mount of Olives, which is before Jerusalem on the east..." (Zech. 14:4). (They did not necessarily expect Jesus Christ as the Messiah, but in any case, they believed in the resurrection and they wanted to be right up front when it happened!)
He also had a four-lane highway built from Amman to Jerusalem so that he could enjoy zooming around in his sports car, a hobby pursued also by the new king on his Harley Davidson motorcycle. The new king, Abdullah, also shares his father's preference for beautiful Western wives and is married to a knockout, who also enjoys the Harley Davidson. King Hussein had three Western wives, including the American Queen Noor.
King Hussein's lasting legacy was his invention of the curious term "West Bank" for the half of arable Israel that the Palestinians claim to be their own. What salesmanship! Persuading the world that only a riverbank was in question, Hussein proceeded to occupy a huge portion of Israel. It's as if someone would refer to the Atlantic Coast but mean that it ends at the Mississippi River and takes in all land in between.
It was a brilliant idea, as far as propaganda goes. Perhaps only the invention of the term "Palestinian" for the sundry Arabs who migrated to Israel during the Jewish rebuilding did greater favors for the pretenders on the land.
The Hussein family — ordinary people, not particularly descended from royalty — have lived lives of such ease and ridiculous spending that they beggar the Arabian Knights of legend. I once examined the 500-person yacht, a 20,000 ton vessel, which belonged not to King Hussein but merely to his brother, the crown prince. This was during a reign when the average Jordanian lived in total poverty and unemployment was rampant. Lavish palaces at Acaba, Jerusalem, and elsewhere allowed the king to live a life enviable by monarchs anywhere.
About all I can give King Hussein credit for is standing up to the PLO, first in 1980 with "Black September," when he ushered a whole gang of Palestinians out of Jordan and into Beirut. The PLO has fomented war wherever it resided, whether Jordan, Lebanon, or Israel. King Hussein vied with Arafat about the Temple Mount and insisted on control of that site, considered holy to Moslems. Presently, during this "peace process," he has conducted friendlier relations with Israel than his grandfather, who was assassinated for trying to make peace with Israel in the early '50s. A total dictator, he owned all the land, and all the people, until his dying day and he even picked the new king when he could barely raise his hand to point.
In connection with King Hussein's funeral, Bill Clinton visited with the Syrian dictator, Hafez el Assad. Assad won a new seven year term in a recent "election" by 99.98 percent of the vote. The other .02 percent could be held in the same cemetery. Those two really deserve each other — a black-hearted dictator oppressing one of the most backward police states in the world — and the President who will bow before anybody if it will get him the slightest approval in the polls.
Three U.S. presidents may have attended his funeral, but I'll go with A.M. Rosenthal of the New York Times, who described Hussein as, "The King of Jordan; never for sale, but always for lease."

---

Return to Index

Return to Levitt Letter Archive Index

Return to Home Page
---