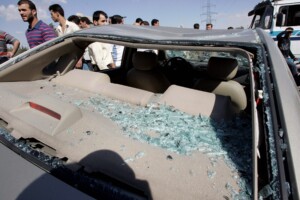 by Claude Salhani www.WashingtonPost.com
Syria has long claimed it is tied to Lebanon in more ways than one. Over the last two weeks this statement has proven to be far more on the money than Syria would have ever imagined — or hoped for — as the wave of terrorist attacks that reared its ugly head in Lebanon has now exported itself to Syria.
Terrorist acts in Syria have been rare, but over the last two weeks a number of bombs have exploded in and around the Syrian capital. The government in Damascus remains tight-lipped, as always, when it relates to security matters; however, statements by President Bashar Assad allude to the origin of those attacks as Salafi groups based around the northern Lebanese port city of Tripoli.
Needless to say, Mr. Assad's statements have set off warning bells in Beirut as the pro-Western government of Prime Minister Fouad Siniora looks with great trepidation at the statements from Damascus as well as the recent deployment of about 10,000 Syrian troops backed by armor and rotary-wing aircraft along the Lebanese border, even if the official government line is to tone down those fears.
Speaking to this reporter, a Lebanese government spokesman repeated what the Syrians have been saying, that Syrian troops have deployed to the border area to fight smugglers. Asked if there was reason to worry, the spokesman told this reporter that the "Syrians are free to deploy their forces on their side of the border." He added, however, that the government in Beirut has asked the Lebanese army to establish liaison with the Syrian military.
Lebanon has good reason to worry. Syria has long eyed Lebanon as a rebellious province rather than as an independent country. Damascus has yet to open an embassy in Beirut, despite promises by Mr. Assad to French President Nicolas Sarkozy last July when the Syrian president was brought out of years of isolation and invited by Mr. Sarkozy to attend the Bastille Day military parade in Paris. Yet, instead of one ambassador arriving in a shinning limousine, there are fears in Beirut that Damascus instead may dispatch several thousand envoys armed with AK-47s and traveling aboard T64 Soviet-era tanks.
How did the security situation deteriorate in Lebanon to this point? Things started going bad for Lebanon on two fronts. First is the growing strength of the Salafi movement in the country, but primarily in the north around the port city of Tripoli. This new development has Syria, which long has battled the Islamists, very worried.
Second is the growing power and influence of Hezbollah and absence of the Lebanese state's authority in the country's south. This has Israel very worried.
Washington is taking those fears seriously. The Pentagon is preparing to install X band radars in Israel's Negev Desert early next year. The X band radar, once fully installed, would give Israel 2 or even 3 times the range in which it could track inbound Iranian and Hezbollah missiles. It also would give Israel the possibility of attacking Iran and Hezbollah without too much worry about retaliation.
And if Syria and Israel can agree on any one thing, it most likely would be that the weakness of the Lebanese state and its inability to control its own internal security are detrimental to the security of both Syria and Israel.
Speaking at a conference in Geneva last month organized by the International Institute for Strategic Studies, Maj. Gen. Giora Eiland, a former director of Israel's National Security Council, told delegates that he advised that the Israeli Cabinet need not view negatively the re-entry of Syrian troops in Lebanon. His reasoning was that, with Syria in charge of security in Lebanon, Israel would have a return address to any terrorist activity coming its way across the Lebanese border. Damascus would be liable to retaliation and therefore would ensure that Hezbollah followed the new guidelines. A case in point is the calm that has existed on the Golan Heights since Syria and Israel signed a truce in 1973. Whereas with Hezbollah on its own in south Lebanon, retaliation, as demonstrated during the Second Lebanon War two summers ago, remains futile.
Having said that, Israel appears to be rearming its air force with new weapons designed to fight this new type of nonconventional war. Israel is acquiring 25 F-35 fighter jets made by Lockheed Martin. The plane comes in three versions: the conventional type, a carrier type, and the VTOL — vertical take-off and landing. This advanced technology would allow Israel to deploy its aircraft relatively closer to the Lebanese border, to protect conventional airfields — a difficult task, given that conventional airstrips would be prone to Hezbollah rocket attack.
While a renewed Syrian incursion into Lebanon would be a setback in terms of establishing democracy in the Middle East, it would address one of Syria's and Israel's major problems. Of course, Syria might not act on its urge to cross that international frontier into Lebanon without at least a tacit green light from Washington. And just how likely is Washington to turn the other way, given that Mr. Siniora's government is considered pro-American?
Suffice it to remember one of Winston Churchill's famous lines: "We have no lasting friends, no lasting enemies, only lasting interests."
The Lebanese have been unable to consider themselves a unified nation, behaving instead as feuding clans. They have allowed outside political influences to give credence to another saying, from the Latin: "Divide et impera," or divide and rule.
Claude Salhani is editor of the Middle East Times.