By LIOR AKERMAN / JPost.com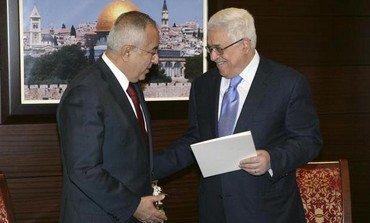 Last week, one month after resigning as prime minister of the Palestinian Authority, Salam Fayyad publicly announced to the international media what senior officials in the Palestinian Authority have been saying for years: The current Palestinian leadership lacks the foresight and ability to make strategic decisions.
In an interview with The New York Times, Fayyad said that Palestinian leaders (namely, Yasser Arafat and Mahmoud Abbas) possess tactical capabilities alone, and throughout the years have clung to the antiquated rhetoric whose sole result is to bring about the collapse of Fatah.
The content of Fayyad's recent public admission has been espoused by senior Palestinian officials for years, though this is the first time it was announced in an official statement. This sentiment was heard before the second intifada broke out in 2000, during it, and for years to follow. It was discussed by senior Palestinian officials, as well as Israeli officials who held regular meetings with the Palestinians.
The Palestinians carefully chose the words they used in meetings with Israeli representatives, which have taken place all over the world, but Palestinian security leaders, namely Muhammad Dahlan and Jibril Rajoub, both of whom participated in coordination meetings during the second intifada, were much more blunt and direct in their discussions with Israeli counterparts.
A lack of leadership – in addition to his inability to make decisions or implement changes – characterized Yasser Arafat's leadership style. For many years now, unfortunately, Mahmoud Abbas has been displaying an extremely similar style. However, these two leaders are completely different from each other.
Arafat was more extroverted and charismatic. He was also a natural orator and had great determination.
These qualities helped him become the leader of Fatah and the revered symbol of the Palestinian struggle in Israel. But these characteristics alone were not sufficient to make Arafat a political leader who could articulate and realize this vision.
Until his last day, Arafat remained the mediocre military commander who always wore a keffiyeh.
He was extremely talented at spewing nationalistic demagoguery every chance he had and was quite adept at giving commands (or worse: not giving them) to terrorist cells. Even after his security chiefs warned him that his lack of determination and failure to make decisions would lead to anarchy and a deterioration in relations, he did nothing, preferring to fly around in his plane from country to country to participate in useless political meetings. More than once, Dahlan and Rajoub complained that Arafat's lack of involvement and his failure to make necessary decisions would inevitably lead to the collapse of the PA and to chaos.
Arafat chose to ignore these requests and to let fate take its course.
He simply did not know how to do anything else.
When it was time, Abbas took up the post from lack of choice. The Palestinians had no viable alternative to Arafat and Abbas was the only natural candidate.
Abbas has a bland personality, no charisma or determination whatsoever, and to top it off no management or leadership skills. The only hope was that he would let the operational body he headed promote Palestinian interests properly. And so, the appointment of Salam Fayyad as prime minister was an excellent idea.
Fayyad, who was born in the West Bank, is an experienced academic, an esteemed economist, and a politician with Western backing. He created a strategic plan to build infrastructure in the PA, raised funds and even prepared a political negotiation plan. However, lacking the support and understanding of the Palestinian leadership (read: Abbas) there was little chance that Fayyad would succeed in implementing his plan.
Last month, Fayyad finally had had enough and resigned. He subsequently – and for the first time – said publicly what many PA leaders have been thinking for years: There is no leadership, no vision, no direction. Fayyad is not the only one who will suffer from this loss. It is a loss for the entire Palestinian people, as well as for all of those living in the region. Our fates will always be irretrievably entwined together.
The writer is a former brigadier-general who served as a division head in the Shin Bet (Israel Security Agency).