By Ryan Jones www.IsraelToday.co.il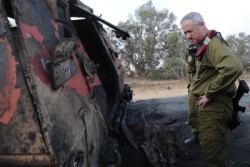 Suspected members of the global jihad movement, in which al-Qaeda plays a leading role, attempted a bold infiltration of southern Israel Sunday night that left 16 Egyptian soldiers dead.
The terrorist cell started by attacking an Egyptian army post at the point where the Egypt, Israel, and Gaza borders meet. Not far from that point is the Israeli kibbutz of Kerem Shalom, which is believed to have been the intended final target of the assault.
As the terrorists entered the Egyptian post, they detonated suicide bombs and opened fire on Egyptian troops before taking control of two armored personnel carriers and making a run for the Israel border.
The Israeli Air Force destroyed one of the vehicles as it crossed the border into southern Israel. The second vehicle never made it that far, after presumably being disabled by Egyptian forces.
Israeli officials said they had intelligence on a possible cross-border attack and had already put their forces on alert.
The attack came just days after Jerusalem warned all Israeli travelers to immediately leave the Egyptian Sinai, which has become a hotbed of jihadist activity in recent years. Apparently acting on the Israeli intelligence, the U.S. issued a similar warning to American tourists in Sinai.
The events in Sinai prompted Egyptian President Mohammed Morsi to publicly vow to reestablish firm Egyptian authority over the territory. On Monday morning, Egyptian media reported that government forces had "laid siege" to the Sinai-Gaza border town of Rafah, where the perpetrators of the attack were believed to be hiding.
Israeli Ambassador to the U.S. Michael Oren linked the attack to Iran, stating in a Twitter post that "the thwarted attack underscores the lengths to which the extremist regime in Iran will go to kill innocent Israelis." Other Israeli officials said they expect more cross-border attacks of an even more ambitious nature.
"There's no doubt that the terrorists took a huge risk in engaging Egyptian security forces," former IDF anti-terror chief Nitzan Nuriel told Army Radio on Monday. "It seems that global jihadists are becoming a beacon for regional terror and that is very troubling."
Meanwhile, Palestinian terrorists operating out of the Gaza Strip took advantage of the situation to launch their own assault on southern Israel by raining down dozens of mortar shells on local communities and opening fire on Israeli border patrols.
Israelis residents living in the area were instructed to spend the night in their bomb shelters as the IDF engaged in a lengthly exchange of fire with the terrorists. No Israeli injuries were reported.