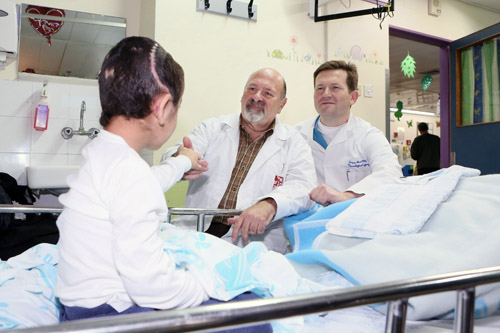 By Anav Silverman / SDJewishWorld.com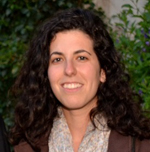 HAIFA, Israel–An estimated 130,000 people have been killed in Syria, and millions displaced during the past three years of the civil war. During that time, Israel has been at the forefront of providing medical care to wounded Syrians -– with some 700 Syrians having received medical treatment in Israeli hospitals as well as at the IDF {Israel Defense Forces} field hospital along the Israeli-Syrian border. [Learn more about this medical facility on the cover of the April 2014 Levitt Letter.]
Six weeks ago, a Syrian father and his 6-year-old son, "K," who was in critical condition, arrived to Rambam Health Care Campus, following a devastating explosion that destroyed their Syrian home. K's sister and mother were fatally wounded and died of their injuries in Syria.
Accompanied by his father, K was evacuated with his 11-year-old brother from Syria, to the border, to Rambam Health Care Campus. On the way to Rambam, K's brother died from his injuries.
Only K and his father remained alive.
Upon arrival at Rambam, K was rushed into surgery where the doctors spent hours fighting for his life. The force of the explosion had caused severe swelling of K's brain, leading to severe intracranial pressure. Subsequent surgeries over the following days required removal of parts of the skull bone to make room for K's swollen brain and allow it to heal. For almost three weeks, K lay unconscious in the pediatric intensive care unit at Rambam, carefully monitored by the concerned staff. Slowly the brain's pressure subsided. K finally regained consciousness and began to communicate.
"When the child came to Rambam, he was comatose and almost dead," says Dr. Sergey Abeshaus, a senior neurosurgeon at Rambam, who also performed the surgery on K. "I remember, I met with K's father before surgery and he said to us, 'Do all you can to save him, he is all I have left."
After undergoing two more surgeries to reattach the bones in his skull, K was moved to the pediatric surgery unit. A speech therapist, nose-ear-throat specialist, physiotherapist, and others then worked with K via a variety of exams and therapies to help him regain as much function as possible.
Three days ago, K was released into his father's care, standing and walking on his own.
"As the only Level 1 trauma center for Northern Israel, and one of the largest hospitals in the country, Rambam has a lot of experience dealing with these types of injuries," Dr. Abeshaus shares.
"Unfortunately we treat a lot of children with head injuries as the result of traumatic accidents such as falling from great heights. In this case we used our experience to save a little boy who came from a war zone when he was hovering between life and death. Like all the families of the children we treat, we parted from K's father as good friends. Eventually, we did exactly as he had asked -— we did all we could do to save K. We hope he has a very long and happy life."
***
Anav Silverman is a staff writer for the Tazpit News Agency in Israel.