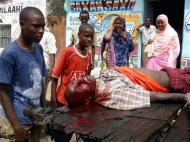 A wounded Somali civilian is carried on a donkey cart after he was wounded in clashes between Somali government troops and the insurgents spearheaded by al-Shabab, in Mogadishu, Sunday, Nov. 9, 2008. At least five civilians were killed in the fighting and more than twenty others were wounded. (AP Photo/Farah Abdi Warsameh)
By Elizabeth A. Kennedy Associated Press
NAIROBI, Kenya (AP) — An increasingly powerful Islamic insurgency is advancing toward Somalia's seaside capital, capturing town after town and seizing territory from the weak U.N.-backed government often without firing a shot.
But analysts say the hardline militants cannot achieve their ultimate goal of laying siege to Mogadishu, the capital, while powerful Ethiopian troops remain stationed in the once-beautiful city on the shore of the Indian Ocean.
Somalia's two-year insurgency has already killed thousands and will likely continue as fighters consolidate territory, undermining peace talks between more moderate opposition members and the government. The U.N. has tried to advance the talks, but a recent deal seems only to have worsened the violence.
Militants from al-Shabab — which the U.S. considers a terrorist organization — have refused to take part in the peace talks, saying Ethiopians troops that support the government must leave first. The group aims to impose sharia law on Somalia.
Somalia has not had a functioning government since 1991, when warlords overthrew a socialist dictator and turned their clan-based militias on each other. After decades of violence, half the population is expected to be dependent on aid by the end of the year.
The United States worries that Somalia could be a terrorist breeding ground, particularly since Osama bin Laden has declared his support for the Islamists. It accuses al-Shabab of harboring the al-Qaeda-linked terrorists who allegedly blew up the U.S. Embassies in Kenya and Tanzania in 1998.
On Wednesday, al-Shabab added the town of Merka, 56 miles from the capital, to its list of conquests after poorly paid government fighters simply ran away.
The group now controls most of the country's south, with the crucial exceptions of Mogadishu and Baidoa, where the parliament sits.
"Nearly 200 heavily armed fighters loyal to al-Shabab, with several vehicles mounted with machine-guns, have moved into our town early this morning unopposed," witness Abdi-Nur Haji Muridi said in an interview from Merka.
Al-Shabab was part of the Islamic militia that controlled Mogadishu and much of southern Somalia for six months in 2006 before Ethiopian troops arrived to drive them out with the tacit support of the United States.
The group quickly fractured into hardline and more moderate factions. Al-Shabab's hardliners are at the heart of the insurgency, which has killed thousands of civilians caught up in roadside bombs, grenade attacks and mortar fire.
The U.S. sent some special operations troops with the Ethiopian forces in 2006 and in early 2007 conducted several airstrikes in an attempt to kill suspected al-Qaeda members.
Meanwhile, al-Shabab has been setting up its own administrations that adhere to strict Islamic law. In Kismayo, Somalia's third-largest city, fighters recently stoned a girl to death before thousands of spectators, accusing her of adultery.
Human Rights Watch, citing the girl's father, later reported she was a 13-year-old rape victim.
Even in Mogadishu, where the government is nominally in control, al-Shabab fighters recently used leather straps to lash accused thieves in front of hundreds of people. It was a clear message that the government has failed to stop crime.
The capture of Merka could be disastrous for food shipments as the city's port and airstrip are key conduits for aid workers. Peter Smerdon, the Nairobi, Kenya-based spokesman for the U.N. World Food Program, said the situation in Merka was calm Wednesday and WFP (the UN's World Food Programme) planned to continue using the port to ship in food.
Taking the capital would be the Islamists' ultimate victory, but the al-Shabab militants know the Ethiopians' superior firepower would devastate them. In 2006, the Islamists simply scattered into the bush or went underground rather than face Ethiopia's helicopter gunships.
Instead, al-Shabab appears to be settling for taking as much territory it can get, chipping away at the Ethiopian and Somali soldiers bit by bit. Earlier this week, the Islamists captured two towns in southern Somalia, Qoryoley and Bul Marer, and a town lying on a strategic crossroads in central Somalia.
Rashid Abdi, an a Nairobi-based analyst with the International Crisis Group think tank, said al-Shabab is clearly a "potent military force" but the Ethiopians' firepower is a looming deterrent.
"Most of the towns they have taken recently are soft targets," he said. "They are not as heavily defended as Mogadishu and Baidoa. It is too early to say this new al-Shabab faction will now march toward Mogadishu."
The Ethiopian regime says it wants to withdraw, but its opponents say it has calculated that an open-ended occupation of Somalia is better than having a radical Islamist regime next door.
Many Somalis consider al-Shabab far more disciplined than government soldiers, and some enjoy the relative calm the Islamists bring. The insurgents frighten people into submission with public executions but also cut down on theft and other petty crime.
"They don't point their guns at us, like the government soldiers do," said Ahmed Duale, a resident of Merka.
Another resident, Abdi Yusuf Jimale, said the militants leave people alone if they submit to Islamic law.
"And," he said, "they don't steal our mobile phones like the government soldiers do."