A third of children aged 10 to 13 don't know that Christmas celebrates the birth of Jesus
Parentdish UK
By Keith Kendrick, December 08, 2014
Campaigners blame political correctness for erosion of nativity message.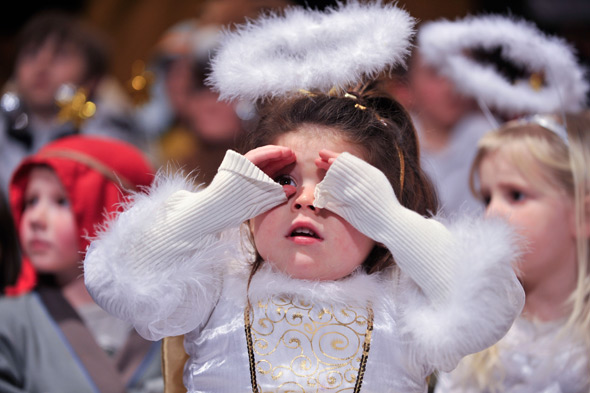 A third of schoolchildren don't know that Christmas celebrates the birth of Jesus, according to a survey.
Campaign group Christmas Starts With Christ surveyed 2,000 British families and found that children between the ages of 10 and 13 were ignorant about why we give each other presents every December 25 — and political correctness is to blame.
The survey also found that half the population considers Jesus's birth irrelevant to their festive celebrations, while only one adult in 10 is able to state four facts about the Nativity.
Francis Goodwin, from CSWC, said: "Britain is fast becoming one of the world's most secular countries.
"As nations get richer, they think they no longer need God and may only come back to him in a crisis."
He added: "There is a problem with political correctness in schools. They think they should not focus on the Christian roots of Christmas because of inclusivity.
"But it is misguided. People of other faiths are not offended.
"In a multi-faith, inclusive society, children can learn about the Muslim festival Eid, for example, as well as Christmas."
Last week, a mum revealed she's canceled Christmas to teach her three sons a lesson about the meaning of gratitude.
Lisa Henderson said her boys Caleb, 11, Davis, eight, and Beckham, five, had become ungrateful and disrespectful and so, to teach them that it's better to give than to receive, they won't be getting any presents.
She says that while the family weren't canceling 'putting up decorations, celebrating the birth of our Savior, or any of our other heart-warming traditions', but they would be going without 'presents, Santa, and stockings'.