Lawmakers on right and left praise Rivlin after win
Likud MK's win commended by Peres, PM, opposition leader Isaac Herzog, Tzipi Livni, and ultra-Orthodox MKs; EU, US envoys tweet congrats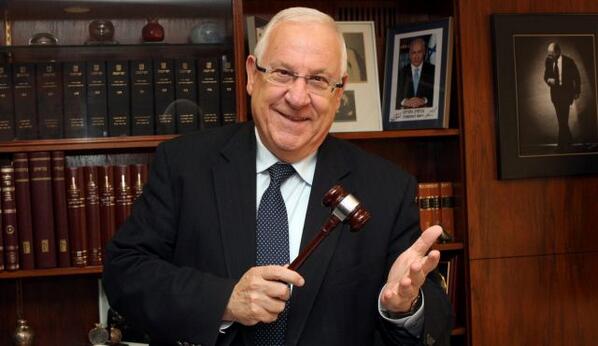 By Marissa Newman / TimesOfIsrael.com
Reuven Rivlin's election to the presidency — by a 63 to 53 margin — was greeted by unwavering support from both right-wing and left-wing politicians on Tuesday.
Prime Minister Benjamin Netanyahu, who tried repeatedly in past months to abolish the post and is rumored to have a rift with the new leader, congratulated his fellow Likud lawmaker shortly after the results were announced.
"A Likud man, and a member of the national camp has won," the prime minister said in a Facebook post. "I look forward to collaborating with the president-elect toward unifying the nation of Israel and the citizens of Israel."
Netanyahu also praised Rivlin at a toast for Rivlin following the victory, calling him "a man of Jerusalem and a man of the land of Israel."
President Shimon Peres called Rivlin to congratulate him on Tuesday afternoon.
"As President your role is to serve, not to rule and in my eyes there is no greater honor than to faithfully serve your nation and your people," Peres said. "You have all the qualities to do just that. I wish you luck and I am confident that you will succeed in your future, which is also the future of the State of Israel."
Rivlin replied that he was "stepping into big shoes," and thanked him for his support.
Rivlin, a hawkish former Knesset speaker, also drew praise from Economy Minister Naftali Bennett, head of the right-wing Jewish Home party.
"We got a president who believes in the right of the people of Israel to its land, and is not afraid to say so," Bennett said, in a reference to the new president's opposition to establishing a Palestinian state in the West Bank and Gaza.
Left-wing politicians, including Justice Minister Tzipi Livni and opposition leader Isaac Herzog, also extended the new leader their congratulations, despite their political differences.
"It's no secret that I didn't vote for Ruby [Reuven] Rivlin," Livni wrote in a statement. "But he and I are from the same movement — Jabotinsky's movement, which originally and at its true core believes in democracy and statehood. This is a day of celebration, and the State of Israel has a president that I'm certain will represent it with dignity."
Herzog called him "a unifying president, who will preserve the high standing of the presidency."
Ultra-Orthodox MKs also expressed their satisfaction with the appointment of the new president.
"The people need a unifying figure — and the nation got a unifying figure," Shas MK Eli Yishai said. The State of Israel will be represented by a "worthy man who knows how to connect different groups, to bridge conflicts, and represent the face of Israel to the world," he said.
US Ambassador to Israel Dan Shapiro, and EU Ambassador to Israel Lars Faarborg Anderson tweeted congratulations to the new president as well.