By Richard Wolffe. www.TheDailyBeast.com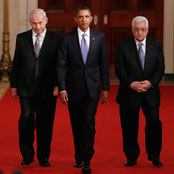 The summit generated some positive PR for an embattled White House. But the president's team remains skeptical about the chances for a peace deal.
President Obama earned positive press for jump-starting the moribund Middle East peace talks this week with the first direct talks between Israeli and Palestinian leaders since the end of 2008.
As a public relations matter, Obama's aides believe the Washington talks were broadly encouraging. But inside the White House, there was little confidence that an agreement—any agreement—would emerge anytime soon.
Moreover, Obama's advice to his national security team at the start of the week was to scale back their hopes and expectations of the two parties.
"There are tough challenges coming up," Obama warned his staffers, "and we can't want this more than the parties. They are going to have to make some tough decisions for this to have a chance of success."
Obama appears unlikely to mediate talks at any stage in the near future, leaving primary responsibility for the peace process with Secretary of State Hillary Clinton and special envoy George Mitchell. However, his aides say he will engage as necessary in the future.
The president's warnings appeared to contrast sharply with the approach of both his most recent predecessors, who made no secret of their desire for their peace talks to conclude by the end of their terms.
Both Presidents Clinton and Bush seemed confident of peace deals in the latter part of their presidencies, although they took vastly different approaches to negotiations.
While Clinton engaged intensively and personally in negotiating at Camp David with Israel's then-prime minister Ehud Barak and then-Palestinian leader Yassir Arafat, Bush left the talks to his secretary of state Condoleezza Rice. Neither approach succeeded, opening both presidents to claims that their efforts had actually damaged the prospects for peace.
Obama appears to be striking a middle path between the two: neither mediating like Clinton, nor entirely delegating the task to the State Department like Bush.
The president's dinner at the White House earlier this week was in the intimate setting of the Old Family Dining Room, but included an expanded group beyond the immediate parties. Joining in were the Egyptian president, the Jordanian king, Hillary Clinton, and the international quartet's envoy, Tony Blair.
Obama's aides say the atmosphere between Israeli Prime Minister Benjamin Netanyahu and Palestinian Authority President Mahmoud Abbas was surprisingly warm and encouraging. Obama himself has told aides that the leaders seem committed to a sincere effort for peace.
Still, the most concrete achievements of the week's diplomacy were pretty basic. First, the talks proceeded despite Tuesday's attack by Hamas gunmen, leaving four Jews dead in the West Bank. Second, the leaders agreed to meet again in two weeks in Egypt.
Few people inside the White House believe the week's summit amounted to much more than an opening gambit. "Altogether it was a positive couple of days," said one senior White House official. "But there are hurdles that must be overcome by bold decisions by the parties."