By Michael Fletcher www.examiner.com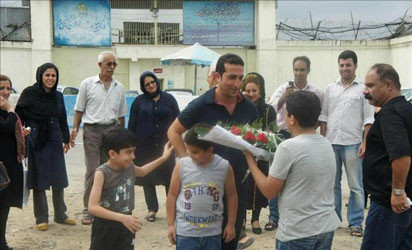 Originally sentenced to death for his Christian faith, Pastor Youcef Nadarkhani of Iran has been acquitted of apostasy charges and released from custody. After a six-hour hearing, he was released and able to return to his family.
Sources report that, while he was cleared of charges of apostasy, he was charged and convicted of attempting to evangelize Muslims. The sources report that he was sentenced to three years, but credited with time served.
The story of Pastor Youcef has traveled around the Internet, Facebook, and Twitter for months, often with false reports of his death. He was arrested in 2009 and charged with apostasy. In 2010 he was sentenced to death and the Supreme Court of Iran upheld the sentence. Islamic Sharia Law gives an apostate three days to recant.
Pastor Youcef stood firm in his belief of Christ and refused to recant his faith.
While Pastor Youcef has been released, in Commentary Magazine under the title "Nadarkhani Released, but Iranian Christians Still Persecuted," Ben Cohen writes: "The Iranian regime's apologists in the United States, among them Trita Parsi, head of the National Iranian American Council, will certainly trumpet Nadarkhani's release as proof that Tehran is amenable to outside overtures. That is why we should remember, before we get too carried away with the image of a kinder, softer Iran, that Nadarkhani is not the only Christian who has been imprisoned for his beliefs."