By Maureen Donnelly www.SILive.com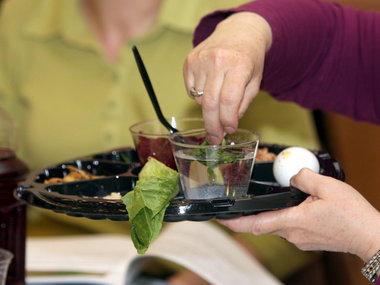 STATEN ISLAND, N.Y. — Jews around the world will mark the beginning of Passover at sundown tomorrow by taking joy in the practice of shared tradition — as if they themselves were part of the exodus from Egypt.
At the Seder table, guests will recount the story of their escape by tasting foods that symbolize the bitterness of slavery, the mortar used during that enslavement, the tears shed and the renewal of life and their eternal existence as a people.
They will eat matzo — or unleavened bread — to remember that those fleeing Egypt had no time to wait for the bread to rise. And they will set aside a glass of wine for Elijah who prophesied the coming of the Messiah.
"Passover is a celebration of our redemption from Egyptian bondage and ancient times, but the purpose of recalling that is to prepare ourselves for history repeating itself," said Rabbi Judah Kogen of Congregation B'nai Jeshurun, West Brighton.
"We look to the past, but also to the future and await the coming of the Messiah as announced by Elijah."
Passover, an eight-day festival that this year ends on April 25, is a time of family gatherings filled with special foods, songs and customs.
It tells the story of the enslavement by the Pharaoh, of Moses asking the Egyptian ruler to let his people go, the Ten Plagues that fell upon Egypt when the Pharaoh refused and the miraculous parting of the Red Sea that led to freedom.
And it's a time to pass on those stories to the children.
Rabbi Kogen noted that the asking of the four questions — usually by the youngest member at the table and designed to make the children feel involved and curious about their past — is the most enduring aspect of any Passover Seder.
"We don't just tell a story about something that happened to our people a long time ago," the rabbi said. "We make a reenactment of our personal experience through the text of the Seder and it becomes a masterful educational tool."