Israel Hayom
By News Agencies and Israel Hayom Staff, March 13, 2015
Rasmieh Yousef Odeh, 67, failed to tell U.S. authorities that she had been imprisoned in Israel for two bombings, one of which killed two people • She was sentenced to 18 months' jail by a District Court judge, and will be deported, likely to Jordan.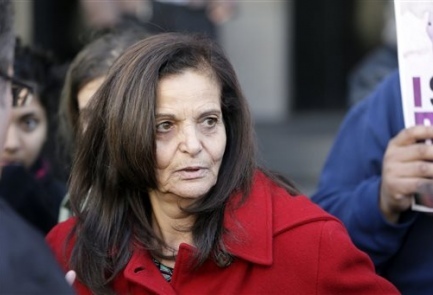 A Palestinian woman was sentenced to 18 months in a U.S. prison on Thursday for immigration fraud for failing to tell authorities that she had been convicted and imprisoned for two bombings in Israel, one of which — a 1969 supermarket bombing — killed two people.
Rasmieh Yousef Odeh, 67, will be deported, likely to Jordan, after serving her sentence as a result of last year's conviction in a Detroit federal court of unlawful procurement of naturalization.
Before sentencing, Odeh told U.S. District Court Judge Gershwin Drain, "I'm not a terrorist. I'm not a bad woman."
But Drain said the offense was about lying to federal immigration official and under oath, and denied defense claims that the prosecution was political. Drain said the case was not about politics, community service or the Middle East.
"This case is about honesty and being truthful and saying the right thing under oath," he said. "We in this country expect people to tell the truth about things, especially under oath."
Drain said Odeh's history does include some terrorist activities, but also acknowledged her work in the United States in helping immigrant women in Chicago.
Odeh lived almost two decades in the United States and served as associate director of a Chicago-area community organization called the Arab American Action Network.
Federal prosecutors said she failed to reveal her criminal history when she immigrated from Jordan in 1995 and again when she was naturalized as a U.S. citizen in 2004.
She insists that she believed the questions about a past criminal record on the visa and citizenship applications were related to U.S. crimes, although the forms specified "ever."
Odeh and members of the Popular Front for the Liberation of Palestine were convicted by an Israeli military court for the supermarket bombing and for placing a bomb at the British Consulate in Jerusalem.
She was released from Israeli prison in a 1980 prisoner swap deal.
Defenders of Odeh filed dozens of letters in her support and also gathered outside the courtroom on Thursday. Her supporters have protested the conviction, alleging she had confessed to the bombing under torture.
Assistant U.S. Attorney Jonathan Tukel said Odeh is seen as an "icon" among terrorists and that her work in Chicago was irrelevant.
Odeh's attorneys had argued that she not be imprisoned at all, citing her age, poor health, and chronic post-traumatic stress disorder.
"This is a blow, of course, but we have to remember that the government wanted the judge to lock Rasmieh up for half a decade or more," said Muhammad Sankari of the national Rasmea Defense Committee, in a statement, using an alternative spelling of her first name.
Odeh will be free on bond and will return to Chicago while her attorneys appeal the verdict.
The Israel Law Center, which said it helped U.S. prosecutors in the case, said Odeh received a fair trial.