Reuters
Prime Minister Benjamin Netanyahu contacts Nigerian president, expresses Israel's "deep shock" at the crime, offers Israel's help in finding the kidnap victims and fighting terror • No details available on what form the assistance might take.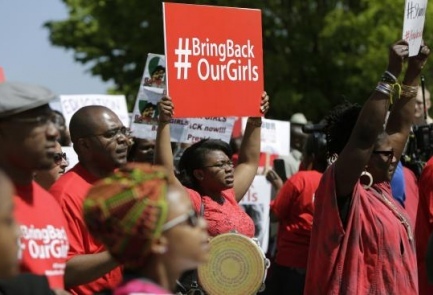 Nigerian President Goodluck Jonathan has accepted an Israeli offer to help the search for the 276 Nigerian girls kidnapped last month by the Boko Harum terrorist group.
"Nigeria would be pleased to have Israel's globally acknowledged anti-terrorism expertise deployed to support its ongoing operations," said a statement from State House in Abuja.
Prime Minister Benjamin Netanyahu spoke on Sunday with the Nigerian president and told him that "Israel expresses deep shock at the crime against the girls."
"We are ready to help in finding the girls and fighting the cruel terrorism inflicted on you," Netanyahu said.
The statement did not elaborate on how Israel might help the search, in which British and U.S. experts and other nations are also taking part. A spokesman for the Foreign Ministry said he knew of no cooperation efforts underway.
Israel has defense ties with Nigeria, and has provided it in the past with surveillance drones.
Last September, Israel was among several countries that sent advisers to Kenya to assist in a standoff with Islamist gunmen who attacked a mall in Nairobi.