Instability in Ukraine prompts 70 percent rise in Ukrainian immigration • Jewish Agency head Natan Sharansky says there is "symbolic significance" to the immigrants' arrival just ahead of the holiday that celebrates freedom.
By Yori Yalon / IsraelHayom.copm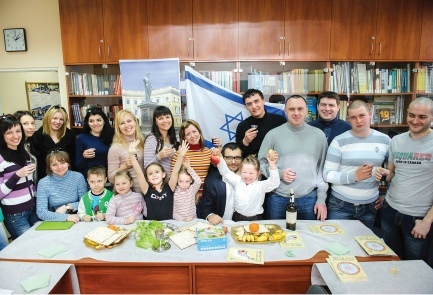 Immigration to Israel from Ukraine has risen 70 percent in 2014 due to the instability in that country. According to figures from the Jewish Agency for Israel, 375 new immigrants from Ukraine arrived in Israel in the first three months of the year, compared to 221 in the same period of 2013.
Last week, dozens of new immigrants from Odessa–including medical professionals, engineers, and economists–arrived and for the first time will celebrate Passover in Israel. Odessa is the fourth-largest city in Ukraine, and some 30,000 of its residents have the right to move to Israel under the Law of Return. Over 100 new immigrants from Odessa alone have come to Israel since the start of 2014, three times the number who came in the first three months of 2013.
The Jewish Agency and the International Fellowship of Christians and Jews in Odessa hosted a model Passover seder like the one the new immigrants will attend here. The new arrivals were also briefed on life in Israel.
Miriam Blonovsky, a dental hygienist who is moving to Israel with her husband Vitaly (a mechanical engineer) and their six-year-old daughter, said that she and her family visited Israel a few months ago and understood that this would be their home.
"When we went back to Ukraine, we starting getting ready to emigrate [to Israel]. Now our dream is coming true," she said.
In light of the instability in Ukraine, Jewish Agency head Natan Sharansky and IFCJ head Rabbi Yechiel Eckstein recently announced that Ukrainian Jewish communities would be receiving extra aid. Eckstein stressed that he was impressed by the strength of the community, which had gone through a difficult time, and promised to keep providing them with financial help to emigrate to Israel.
Sharansky said that "the immigrants' choice to come to Israel on the eve of Passover and build their home and their children's future has symbolic meaning."