The Dallas Morning News via The New York Times
It had disappeared from memorial site of death camp in 2014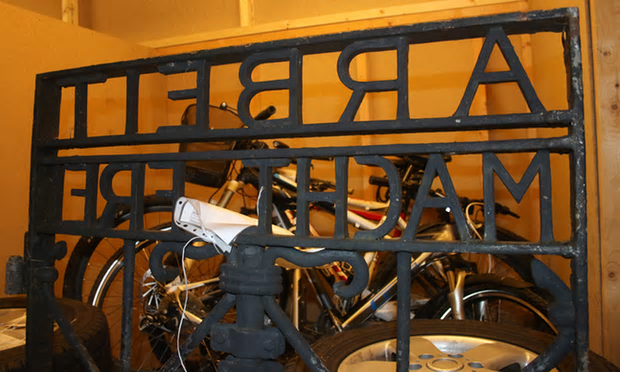 Oslo, Norway – A notorious wrought-iron gate stolen from the Dachau concentration camp in southern Germany possibly has been found in a suburb of Bergen, Norway, police said Friday.
The gate bearing the phrase "Arbeit Macht Frei," or "Work Sets You Free," was one of the most photographed symbols of the camp.  It was stolen in November 2014. An anonymous tipster alerted Norwegian police this week to its location.
Margrethe Myrmehl Gudbrandsen, a police spokeswoman in Norway, did not give the exact location of the discovery.
Bavarian police who investigated the theft said they were working with their Norwegian counterparts to determine whether the gate was, indeed, the one from Dachau.
The Dachau gate was made by prisoners in the camp shortly after it opened, and prisoners who entered the camp passed through it.
Survivors of the camp, where the Nazis imprisoned about 200,000 people over 12 years, welcomed the discovery. Jean-Michel Thomas, president of the Comite International de Dachau, an organization of former camp prisoners, described the theft as a "desecration of this important memorial site."
An estimated 41,500 people met their deaths at Dachau before it was liberated by U.S. troops in the final days of World War II in Europe in May 1945.