JewishPress.com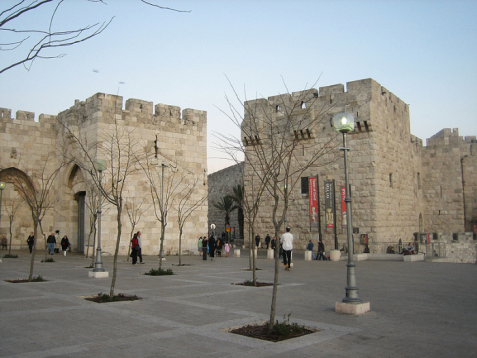 Omar Alfaruk Abidiyah, 22, from Jabel Mukaber, a predominantly Arab neighborhood in south-eastern Jerusalem, was charged November 9 by the Jerusalem District Attorney with smashing the head of an Israeli female tour guide with a glass bottle, on Jaffa Road in Jerusalem. The indictment is for causing injury with aggravating circumstances and attempted grievous bodily harm in aggravated circumstances.
On November 2, the tour guide, a resident of Efrat, met with a pair of tourists from the U.S. at the outdoor plaza near the Jaffa Gate in the Old City of Jerusalem, to start the day's guided tour.
A few minutes later, Abidiyah arrived from the direction of the IDF Square, armed with a glass bottle. He noticed the tour guide standing with the tourists in the plaza, and decided to attack her because she was Jewish, according to the indictment.
As you watch the video below, you can see Abidiyah in the lower right approach the tour guide, who is busy speaking to her two clients about the area. He walks slowly toward the group, pausing, as he waits for the right moment to carry out his plan. Eventually, Abidiyah says, "Slihah" (Hebrew for Beg your Pardon) so that she turns to him, and begins to hit her head several times using the glass bottle. As a result of the blows the bottle breaks, the guide drops to the ground, and Abidiyah flees the scene. He is caught a short time later by the Border Police.
The Prosecutor's office emphasized that Abidiyah's attack on the tour guide was racially motivated — solely because she was a Jew. They seek his remand to prison until the completion of the legal proceedings against him.