By Yori Yanover / JewishPress.com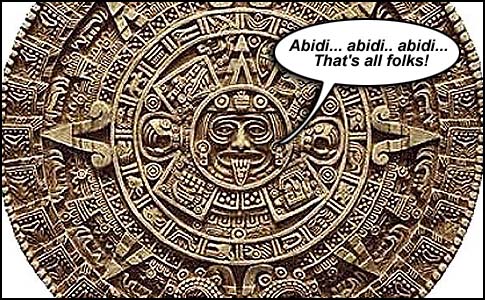 We've reached the end of the 5,125 year Mayan calendar, December 21, 2012, and much like the debate that was reportedly being held on Christopher Columbus's fourth ship (the one that fell over the edge), we today are engaged in a debate—-a short lived one by definition-—over whether or not the end of the Mayan calendar marks the end of the world.
I wonder if they'll have similar debates as the year 2240 approaches. That would also be the year 6,000 on the Jewish calendar. Hopefully, more Jews than ancient Mayans will have survived by then. I looked up the year 6000 on my Kaluach (Hebrew date converting) calendar, which continues generating calendars past the year 6000 without a problem.
By the way, Rosh Hashana 6000 falls on Monday night, October 1, 2239. That means a really late Sukkot. Hope it won't rain on your sukka.
But, seriously, don't you think the Internet (assuming print will no longer be an option – you might just install a chip in your brain and browse stuff by squinting and blinking) will be full of Messianic predictions? Heck, it's 5773 and we're doing the Messianic on occasion –- imagine how fervent we'll be when the big 6 comes around?
Of course, our tradition says that Moshiach can arrive at any time in the sixth millennium, but only if we're ready for Him. Let's hope we won't have to retool our doctrine come Monday night October 1, 2239.
According to a new poll cited by Reuters, almost 15 percent of us worldwide believe the world will end during our lifetime, and 10 percent think the Mayan calendar could signify it will happen in 2012. That's December 21, 2012, to be precise.
The Australian Herald Sun, where they receive the new day ahead of us, has reported this morning: "The 13th b'ak'tun has ended. The Mayan calendar has expired. We're still here. So is New Zealand -– and they're two hours ahead of us."
The HS continues: "There are no reports of Planet Nibiru looming suddenly above our atmosphere. No 100 ft tall apparitions of Mayan gods have started eating populations here or anywhere else so far covered by the 14th b'ak'tun date-line."
Nevertheless, according to the Australian NT News, "hippies from all over Australia have gathered at Uluru (also known as Ayers Rock, a large sandstone rock formation in the southern part of the Northern Territory, central Australia) to see the world end."
"Hippies?" Seriously?
Nomadic healer John, 53 -– who says he hasn't had a surname "for years" -– had a message for Territorians worried about the end of the world: "Have no fear."
"It will be the Ending of Time and the Beginning of Time," he said.
"There will be a shift in the world but it happens every 26,500 years and NASA will tell you that."
John's doomsday resolution, according to NT News, is: " I will just open my heart and be honest and love everyone. That's when the wars will stop."
Hey, you stick with what works.
According to experts on spiritualism cited by the AP, "a galactic bridge has been established -– spirals of light are entering your head." As we speak.
In Mexico, which by rights be at the center of the action, some are waiting for midnight, Mexico time, (you figure it out) and the start of the new b'ak'tun over the ruins of the Mayan civilization.
Others predict the end will come at exactly 11:11 PM –- wherever you may be at the time (which makes absolutely no sense with a sphere-shaped planet, but appears logically sound on a flat Earth).
December 21 is the Winter Solstice, when the sun goes as far south as it ever does. From this point on, the days will get longer and the nights shorter. That news you can take to the bank. As to the apocalypse – when it happens, if it does, at 11:11 at night in the New World, we here, in Netanya, Israel, will be well into Shabbat morning, some of us probably already engaged in Shachrit davening.
Keep us posted. Come back to this page for an update Saturday night -– if you still have Internet service.
—————-
About the Author: Yori Yanover has been a working journalist since age 17, before he enlisted and worked for Ba'Machane Nachal. Since then he has worked for Israel Shelanu, the U.S. supplement of Yedioth, JCN18.com, USAJewish.com, Lubavitch News Service, Arutz 7 (as DJ on the high seas), and the Grand Street News. Now he's at JewishPress.com.