By Ian Black, www.Guardian.co.uk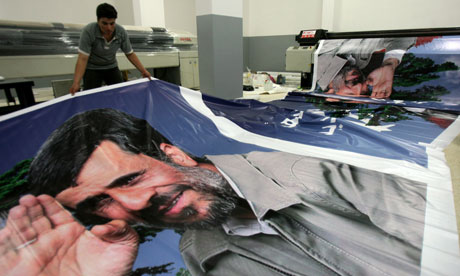 Lebanon looks set to allow the Iranian president, Mahmoud Ahmadinejad, to make a highly controversial visit to its border with Israel this coming week.
The U.S. has been leading diplomatic efforts to persuade the Beirut government that Ahmadinejad's presence in strongholds of the Shia movement Hezbollah in south Lebanon will pose a security risk that could provoke serious violence. But the signs are that the trip will go ahead, diplomats said.
According to some reports Ahmadinejad will symbolically throw stones across the border fence into Israel, which he regularly attacks as an illegitimate entity, as well as questioning the truth of the Nazi Holocaust. Israel is also concerned by Iran's nuclear energy program, which it claims is intended to produce nuclear weapons which would challenge its own undeclared atomic arsenal.
The reported two-day itinerary for Ahmadinejad's first state visit to Lebanon includes Kana, where he is to lay a wreath on the graves of Lebanese killed by Israeli forces. Another likely stop is Bint Jbeil, the scene of heavy fighting between Hezbollah and Israel in the 2006 war.
Posters welcoming Ahmadinejad in Arabic and Persian have already appeared in the area amid reports that the Iranian leader, with a business delegation in tow, will bring investment, financing for oil exploration, and a controversial offer to sell weapons to the Lebanese army.
Iranian embassy officials in Beirut have refused to confirm details of the southern leg of the trip, but Hezbollah is said to be massing supporters to welcome Ahmadinejad as a hero of the resistance.
Hezbollah, which is supported by Iran, has warned that the U.S. and Israel have no right to oppose the visit, which its TV channel al-Manar hailed as "a non-conventional bomb in the face of enemies wherever they are".
Representations have been made to the Beirut government by the U.S., France and the UN. Britain believes a direct appeal to cancel the visit to the border would be counterproductive as it could be seen as infringing Lebanese sovereignty. But it and other western governments have urged the exercise of caution in a highly volatile area.
Hillary Clinton, the U.S. Secretary of State, raised the issue with Lebanese President Michel Suleiman at the UN in New York last week. U.S. officials also stress that Iran is undermining Lebanon's sovereignty by backing Hezbollah. The Shia organization has refused to yield its largely-Iranian supplied weaponry to the Lebanese armed forces and is listed by the U.S. as a terrorist organization.
Israel is urging that the visit should be cancelled as it will undermine regional stability as well as strengthen the axis between Iran, Syria and Hezbollah.
The well-informed Beirut daily an-Nahar reported that Ahmadinejad's visit would go ahead despite objections. But observers in Beirut said one possibility was that he would only visit Iranian-financed reconstruction projects and not go right up to the Israeli border for the stone throwing — on obvious security grounds. Iran's foreign minister, Manouchehr Mottaki, insisted on Tuesday that it was natural for the president to visit such projects.
Ahmadinejad is due to meet Suleiman, Prime Minister Saad al-Hariri, Speaker Nabih Berri, and Hezbollah leaders.
Supporters of Hariri's March 14 group have attacked the visit as a bid to underline Iran's ability to disrupt regional peace efforts. Hariri's bloc is also concerned about Hezbollah maneuvering around the tribunal investigating the 2005 murder of his father Rafiq.
Israeli officials say they fear the visit will go ahead and are ramping up border security following an armed clash in August that left five dead. Aluf Benn, a respected liberal columnist with the Haaretz newspaper, has suggested that Ahmadinejad be abducted and tried in Israel for incitement to genocide and Holocaust denial.