www.online.WJS.com   Wall Street Journal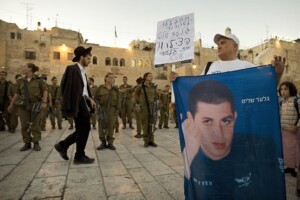 JERUSALEM — An Israeli soldier seized by Palestinian militants more than three years ago described his captivity as an "intolerable and inhumane nightmare" in a handwritten 2006 letter to his parents made public on Wednesday.
In carefully printed script, Sgt. Gilad Shalit reported deteriorating health and deep depression, and made an anguished appeal to the Israeli government to release him from his "closed and solitary prison."
Sgt. Shalit, now 23 years old, wrote the 14-line letter three months after gunmen affiliated with the Gaza Strip's Islamic Hamas rulers captured him in a cross-border raid. The existence of the letter had been known, but his parents hadn't published its contents.
It was leaked to the Israeli media ahead of the publication of a new book that purports through militant sources to chronicle his captivity and Israel's unsuccessful efforts to trade him for Palestinian prisoners it holds.
Sgt. Shalit's captors haven't allowed anyone to see him. Three letters and an audio tape relayed to his parents have been the only signs of life from him since he was seized.
"My health is deteriorating from day to day, particularly my mental health, and this causes me much depression," Sgt. Shalit wrote in the letter, which was carried by Israeli media outlets. "I am waiting for this intolerable and inhumane nightmare of mine to end, to be released from this lonely and closed prison."
"I ask of my government … to do everything it can to win my release as quickly as possible, because everyday that passes hurts me more," he added.
Some of the letter's contents may have been dictated by the militants holding him. Sgt. Shalit refers to his captors as "mujahedeen," writing the Arabic word for "holy warriors" in Hebrew letters. He also uses the Arabic name for the border crossing where he was captured.
In exchange for Sgt. Shalit, Hamas officials have demanded that Israel release hundreds of long-serving Palestinian prisoners, including masterminds of attacks that killed Israeli citizens. Israel has so far balked, and three years of negotiations through Egyptian and more recently, German, mediators have failed to wrest a compromise.
Hamas officials had no comment Wednesday on the indirect negotiations.