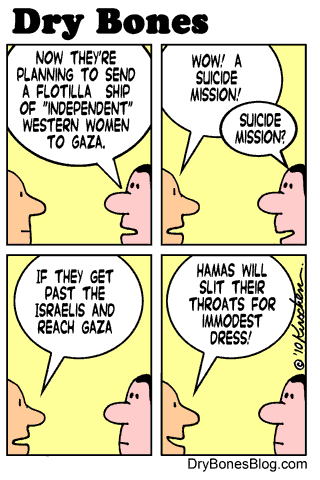 www.IsraelToday.co.il
A Lebanese ship preparing to set sail from Beirut to break the Israeli maritime blockade of Gaza is crewed entirely by women.
Dubbed the "Mariam" in honor of the Virgin Mary, the ship will carry 50 women, most of them Christian and the rest Muslim, along with cancer medication. Many of the women are also suffering from cancer.
The ship's leader, Samar Alhaj, told the Nazareth-based Israeli Arab radio station Radio A-Shams that using women in such a way is "the new secret weapon" against what she described as "the thieving enemy."
Alhaj insisted that Israel, which has warned it will not allow the ship to reach Gaza, will use unprovoked violence against the female crew. When Israel intercepted a five-ship flotilla from Turkey earlier this month, the boarding party was forced to resort to deadly force against the crew of the largest ship, the Mavi Marmara. However, the other four ships were seized and redirected to Israel without violence, as their crews did not attack the Israelis.
The Lebanese ship is being sponsored by Hezbollah. The group's leader, Sheik Hassan Nasrallah, personally tasked Alhaj with leading the mission. Alhaj is the well-known wife of a Lebanese security officer believed to have participated in the assassination of former Lebanese Prime Minister Rafik Hariri, who was an opponent of Hezbollah and the group's Syrian allies.
Israeli Ambassador to the UN Gabriela Shalev sent a letter to UN Secretary-General Ban Ki-moon noting that Israel will intercept the ship, and that if the international community wants to avoid the possibility of another loaded confrontation, it should preempt the provocative flotilla.