Recently, we observed the 43th anniversary of the 1969 Apollo moon landing, so this is a great time to look back on Jews in space.
No, not the Mel Brooks version–rather, bona fide Jewish astronauts who have translated the ancient, nomadic ways of the Jewish people into a passion for exploration among the stars.
=================================


Judy Resnick
April 5, 1949 – January 28, 1986)
Number one on the list: can be none other than Judy Resnick, who was the first Jewish astronaut to go into space. She served as mission specialist on the maiden voyage of the Space Shuttle Discovery and also on the Challenger.
She died tragically when the Challenger broke apart shortly after liftoff for its 10th mission (1986). [Personal note by B. Raab: I was privileged to meet Judy Resnick at a conference and was impressed by her beauty and intelligence. I later learned that she consulted a rabbi about lighting Shabbat candles aboard the Space Shuttle. Of course, an open flame was not permitted, but she was advised to use electric lights at the proper hour corresponding to the onset of Shabbat at their home base in Houston . As far as I know, she did so.]
====================================
Jeffrey Hoffman
(November 2, 1944 – )
Jeffrey Hoffman was the first Jewish man in space and the first person to ever bring a Torah into space.
http://www.chabad.org/kids/whatif/default_cdo/aid/902757/jewish/What-If-the-Torah-Was-Given-on-the-Moon.htm
He did this during his 1996 mission on the Space Shuttle Columbia.
==========================================
David Wolf
(23 August 1956 – )
Another Jewish astronaut, David Wolf, was in orbit during Hanukkah (1997) and though he couldn't light his menorah due to the hazards of fire in an oxygen-rich atmosphere, he did take advantage of zero gravity when spinning his dreidels.
"I probably have the record dreidel spin," he later said, "it went for about an hour and a half until I lost it. It showed up a few weeks later in an air filter. I figure it went about 25,000 miles."
===================================

Gregory Chamitoff
(6 August 1962 – )
Gregory Errol Chamitoff, an engineer and NASA astronaut, was assigned to Expedition 17 and flew to the International Space Station on STS-124, launching 31 May 2008. He was in space 198 days, joining Expedition 18 after Expedition 17 left the station, and returned to Earth 30 November 2008 on STS-126. Chamitoff served as a mission specialist on the STS-134 mission.
===================================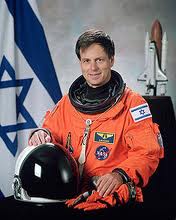 Ilan Ramon
(June 20, 1954 – February 1, 2003)
Israeli-born Ilan Ramon was an Israeli fighter pilot in the Israeli Air Force, and later the first Israeli astronaut. Colonel Ramon was the space shuttle payload specialist of STS-107, the fatal mission of Columbia (2003), in which he and six other crew members were killed in the re-entry accident. Shortly before Columbia's takeoff, Ramon, a son of an Auschwitz survivor, asked Yad Vashem Holocaust Memorial Museum in Jerusalem to pick an item he could take with him to honor the victims of the Holocaust. The museum sent a copy of Moon Landscape, a linoprint Petr Ginz made just before he was transported to the Czechoslovak concentration camp at Theresienstadt in August 1942. (Ginz died two years later at Auschwitz.) The picture represented the 14-year-old's vision of what our planet might look like from the moon.
http://isurvived.org/InTheNews/PetrGinz-diaries.html
Ramon is the only foreign recipient of the United States Congressional Space Medal of Honor.
=======================================

Gary Reisman
(February 10, 1968 – )
Last but not least on this list is Gary Reisman, who was the first Jewish astronaut to live on the International Space Station (2007), and brought a memento from Ilan Ramon's widow with him. Reisman and Ramon had become friends during astronaut training.
He left right before Passover and asked if he could bring matzah with him, but alas, mission control thought the crumbs would be uncontainable. (Reisman claimed to extend the Colbert Nation into the "Colbert Universe" and had a cameo appearance on the series finale of Battlestar Galactica).
=====================================

Boris Volynov
(December 18, 1934 – )
Actually, Boris Volynov was the first Jew in space according to Wikipedia. He was the commander of the Soviet Soyuz 5 in January 1969.
Judith Resnick was the first American Jewish astronaut. She flew on the 12th shuttle mission in 1984 and later died in the Challenger (1986).
So there you have it… Jews in space.