Additional reading for "Dealing with Arab Christians" in the March 2012 Levitt Letter.
Palestinian Media Watch www.palwatch.org
Rewriting history
Rewriting the history of the Land of Israel in order to deny Israel's right to exist is central to Palestinian Authority (PA) policy. Long before it started the PA Terror Campaign (the "Intifada," 2000-2005), the PA was fighting a history war – erasing Jewish history and replacing it with a fabricated Palestinian history. This rewriting has two central goals:
1- Erase the Jewish nation's 3,000-year history in the Land of Israel;
2- Invent ancient Palestinian, Muslim, and Arab histories in the land.
The goal of this historical revision as a political strategy was first expressed publicly at a conference of Palestinian historians in 1998, when rewriting history was linked to the political goal of denying Israel's right to exist:
"Dr. Yussuf Alzamili [Chairman History Department, Khan Yunis Educational College] called on all universities and colleges to write the history of Palestine and to guard it, and not to enable the [foreign] implants and enemies to distort it or to legitimize the existence of Jews on this land… [History lecturer Abu Amar] clarified that there is no connection between the ancient generation of Jews and the new generation." [Al-Ayyam, Dec. 4, 1998].
Erasing Jewish history in the Land of Israel is followed by the PA's invention of ancient and modern histories that support its political ideology and claim to the land of Israel. The Holocaust and other aspects of Jewish history are alternately denied, downplayed, or distorted. Another distortion is to hide from Palestinians that Jesus was a Jew who lived in the Land of Judea/Israel. PA leaders repeatedly define Jesus as a Palestinian who preached Islam, thus denying not only Jewish history, but also the history and legitimacy of Christianity.
Citing numerous examples, this section will document that these and other historical revisions are an integral part of Palestinian policy and are used to create political ideology.
Jesus misrepresented as "Muslim Palestinian"
As part of its ongoing attempt to invent a Palestinian history, the Palestinian Authority tries to hitch a ride into the past with Jesus. Whereas the historical Jesus was a Jew living in Judea/Israel, the PA turns him into a "Palestinian": "We must not forget that Messiah [Jesus] is a Palestinian, the son of Mary the Palestinian." [Al-Hayat Al-Jadida, Nov. 18, 2005] This is not only a distortion of Jesus' personal history, but also an anachronism. The Romans changed the name of Judea/Israel to "Palestine" 136 years after the birth of Jesus, to punish the Jewish nation after their unsuccessful rebellion.
In another anomaly, Jesus is turned into a shahid -– a holy Martyr of Islam. Whereas Islamic teachings do view Jesus' Gospel as part of the Islamic prophetic tradition, nowhere does Islam refer to him as a shahid.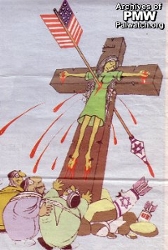 This cartoon (r) demonstrates the misappropriation of the Crucifixion as a Palestinian symbol. The word on the cross: "Palestine." ["Intifada", supplement to Al Hayat Al Jadida, Dec. 11, 2000]
The following are more examples of the revision of the history of Jesus. View them in full at http://www.palwatch.org/main.aspx?fi=505
Jesus was the first Palestinian Martyr
Source: Palestinian TV (Fatah), Dec. 3, 2010
Religious program on PA TV: This is our religion
Author: "The Shahid (Martyr) President Yasser Arafat used to say: "Jesus was the first Palestinian Shahid (Martyr)." I heard him say that sentence many times."
PA TV Host: "He [Jesus] was a Palestinian; no one denies that."
Author: "He [Jesus] was the first Palestinian Shahid (Martyr). He (Arafat) attributed this Martyrdom to Palestine, as well."
Fatah proud of "Palestinian" Virgin Mary
Source: Fatah website, Mar. 8, 2010
Fatah Communications and Education Authority statement in honor of International Women's Day from the official Fatah website:
"If we are proud of the holiness of our land, then we are proud and pride ourselves that the first and most important holy woman among the nations and peoples is from the holy land: The Virgin Mary – the woman of love and peace – is of the nation of Palestine, whose roots are grounded in the depths of history. Our movement takes note of its pride in all the women Shahidas (Martyrs), prisoners, Palestinian fighters, who have become a model of sacrifice and a school that teaches the meaning of giving and of sacrifice." [http://www.palvoice.com/index.php?id=23043]
PA MP: Jesus was a tortured Palestinian
Source: Palestinian TV (Fatah), Dec. 24, 2009
Mustafa Barghouti:
"We always remember that Jesus was the first Palestinian who was tortured in this land."
Jesus is a Palestinian prophet
Source: Palestinian TV (Fatah), June 9, 2009
Dr. Tayseer Al-Tamimi, PA Chief Justice of Religious Court, and Chairman of Supreme Council of Islamic Law:
"Jesus is the only Palestinian prophet."
Jesus and Mary- Palestinians "par excellence"
Source: Palestinian TV (Fatah), May 12, 2009
Palestinian Authority Mufti, Muhammad Hussein:
"Jesus was born in this land; he took his first steps in this land and spread his teachings [of Islam] in this land. He and his mother [Mary], we may say, were Palestinians par excellence."
Palestinians "the people of the Messiah"
Source: Al-Hayat Al-Jadida, May 9, 2009
"The Pope's visit is an opportunity for the Palestinian leadership to present its cause… so that His Honor [the Pope] will assume his religious and political responsibility towards the people of the Holy Land, the Arab Palestinian people, the people of the Messiah [Jesus]."
Jesus was a Palestinian prophet of Islam
Source: Palestinian TV (Fatah), Apr. 21, 2009
The PA Mufti, Muhammad Hussein:
"We're talking about an ongoing chain [of prophets of Islam], from Adam to Muhammad, representing the call for monotheism and the mission of Islam… The prophets were all of the same religion [Islam]… [e.g.] Jesus was born in this land in Bethlehem… He also lived in Nazareth, moved to Jerusalem, so he was a Palestinian … We respect Jesus, we believe in him [as a prophet of Islam], just as we believe in the prophet Muhammad."
Messiah [Jesus] is Palestinian
Source: Al-Hayat Al-Jadida, Nov. 18, 2008
"We must not forget that the Messiah [Jesus], peace be upon him, is Palestinian, the son of Mary the Palestinian, who is sanctified by hundreds of millions of believers in this world."
Jesus was Palestinian, first in long line of suffering
Source: Al-Hayat Al-Jadida, Apr. 30, 2008
"Palestinians are used to death like this. The suffering of the first Palestinian – the Messiah – started with the Last Supper."
Christianity was born in an Arab country
Source: Al-Hayat Al-Jadida, Oct. 28, 2006
"Christianity was born in our Arab countries and the Messiah [Jesus] is a Syrian Palestinian, born in Nazareth."
Lord Messiah [Jesus] and his mother are both Palestinians
Source: Al-Hayat Al-Jadida, Mar. 9, 2006
"It was quite natural that the Palestinians rose to save their sanctuaries [in Nazareth in Galilie]… since lord Messiah [Jesus] and his mother [Mary] are both Galileans and Palestinians."
The Bible used word "Palestine" to refer to land of Israel
Source: Al-Hayat Al-Jadida, Nov. 18, 2005
"They [Christians] read in the holy book [the Bible] the name of 'Palestine' and the real [Palestinian] names of our villages and cities… We must not forget the Messiah [Jesus] is Palestinian, the son of Mary the Palestinian."
[PMW Comment: The PA assumes that few Palestinians read the Hebrew and Christian Bibles. For were Palestinians to read the Bible they would learn that Jesus was a Jew, there was no "Palestine," and the Hebrew names used by Israel today, including the name "Land of Israel," are the names found in the Bible.]
Jesus was first Palestinian Shahid (died for Allah)
Source: Al-Hayat Al-Jadida, Jan. 17, 2005
"The Shahids (Martyrs) will cry, 'We shook the palm trees alongside Lady Earth and the lady of the people, the Virgin Mary, and with her son the first Palestinian Shahid (died for Allah)."
Jesus turned water into wine in Palestinian Galilee
Source: Al-Hayat Al-Jadida, Dec. 14, 2004
"The Palestinian Galilee village [in Israel] of Kfar Kana takes pride in the fact that here the Palestinian Messiah [Jesus] succeeded in turning water into wine."
Present-day Palestinians portrayed as Jesus
Source: Palestinian TV (Fatah), July 21, 2000
Yasser Abu Ciedo, Palestinian artist:
"Our struggle today against the other (Israel) is an eternal one. It started 2000 years ago and continues until today. I demonstrate this through the figure of Jesus, who came to the world with a message of justice and the other side did what they did to him. Here [he shows a painting] I demonstrate the following idea: the Israeli soldiers are wearing army uniforms while Jesus has nothing except for the truth. This is the Palestinian from the beginning of the struggle until its end – if it will ever end…"
The Jews murdered Jesus, the first Palestinian
Source: Al-Hayat Al-Jadida, Jan. 24, 2000
Headline: "Nazareth: The city where the Jews murdered the first Palestinian of its [Nazareth's] sons."