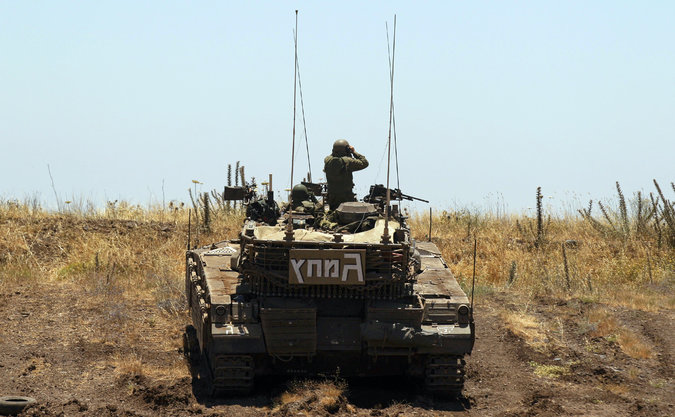 By Jodi Rudoren / NYTimes.com
JERUSALEM — A youth was killed and two men were wounded in an attack on an Israeli defense contractor's vehicle in the Golan Heights on Sunday morning, the first fatality on the Israeli side of the Syrian border since Syria's civil war started more than three years ago.
The identity of the dead youth, whom officials said was 15, was not released, and it was unclear what he was doing in an Israeli water tanker operating near the fence along the disputed border. Some news reports suggested that, with school out for the summer, he had gone to work with his father, who was one of the two men wounded.
The Israeli military responded immediately with tank fire on Syrian Army positions, though a spokesman acknowledged he did not know whether the attack stemmed from Syria or from rebels whom he said have "an extensive presence" in the area.
"This was an intentional attack, this was not errant fire – they wanted to hit an Israeli vehicle," the spokesman, Lt. Col. Peter Lerner, told reporters in a briefing about an hour after the 11:30 a.m. attack. "This is the most substantial incident we've had on the border with Syria since the beginning of the civil war."
Colonel Lerner said he did not know whether an explosive device, rocket, mortar, or tank fire was used in the attack, but said that "it was fired directly from east to west," and that Israeli soldiers later found a hole in the border fence.
The Golan Heights attack came hours after two Palestinian men were fatally shot in confrontations with Israeli troops in the West Bank, bringing to four the number of Palestinians killed in Israel's aggressive crackdown following the June 12 abduction of three teenage yeshiva students. A fifth Palestinian, who is 20, remained in critical condition in a Jerusalem hospital after being shot in the head Friday morning.
Though Israel's arrest campaign has slowed significantly, with 10 people detained overnight compared to 80 a week earlier, the violence around it has escalated. A Palestinian who entered Israel from the Gaza Strip with a hand grenade was caught early Friday, after a week of nightly rocket fire from Gaza into Israel and Israeli airstrikes on the Gaza Strip. Also, for the first time on Friday clashes occurred between Palestinians and the Palestinian Authority security forces, whose coordination with Israel in the search for the missing students is the source of deep tension.
Witnesses reported that protesters smashed at least four Palestinian police cars in the West Bank city of Ramallah early Sunday. Palestinian news organizations said that activists also raided a police station in the central Al Manara Square around 5:30 a.m. after Israeli troops left the city, and that the Palestinian police fired live bullets in the air to disperse the crowds.
President Mahmoud Abbas of the Palestinian Authority has stated repeatedly in recent days that his security forces are helping in Israel's search for the three students, drawing intense criticism from many Palestinians and from the militant Islamic Hamas movement, which Israel blames for the abduction.
While Israel's search has been concentrated around Hebron, the West Bank's largest city and the region from where the yeshiva students disappeared as they tried to hitchhike home, Sunday morning's killings happened miles away, in Ramallah and Nablus.
Palestinian health officials said that Ahmad Said Saoud Khaled, 27, bled to death after being shot in the abdomen, back, and thigh by Israeli troops he encountered while en route to a Nablus mosque for dawn prayer. In a separate incident, Muhammad Mahmoud Atta Ismail, 31, was slain on a Ramallah rooftop at dawn by an Israeli sniper on top of another building, according to an emergency-room doctor.
Prime Minister Benjamin Netanyahu of Israel acknowledged Sunday that the ongoing operation "entails a certain friction" with West Bank residents.
"We have no intention of deliberately harming anyone, but our forces are acting as necessary for self-defense," Mr. Netanyahu said at the start of Israel's weekly cabinet meeting on Sunday. "From time to time there are victims or casualties on the Palestinian side as a result of the self-defense actions of our soldiers."
Mr. Netanyahu, who first declared Hamas responsible on Monday, but faced criticism from Mr. Abbas and others for not providing evidence linking the group to the abduction, said on Sunday, "We have unequivocal proof."
"We are sharing this proof and information to this effect with several countries," he added. "Soon this information will be made public."