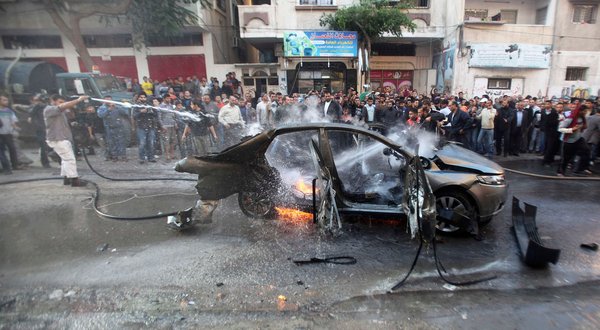 By FARES AKRAM and ISABEL KERSHNER / New York Times
GAZA — The Israeli military carried out multiple airstrikes in Gaza on Wednesday and blew up a car carrying the commander of the Hamas military wing, making him the most senior official of the group to be killed by the Israelis since their invasion of Gaza four years ago. Hamas announced that Israel would "pay a high price."
The death of the commander, Ahmed al-Jabari, 52, who was on Israel's most-wanted list of Palestinian militants, was confirmed by Hamas and Israeli officials. The Israeli military said it had ordered the airstrikes as part of a response to days of rocket fire launched from Gaza into Israeli territory.
Mr. Jabari's death signaled a further escalation in the renewed hostility between Israel and Hamas, the militant organization regarded by Israel as a terrorist group sworn to Israel's destruction. The Israeli attacks could also further complicate Israel's fragile relations with Egypt, where the new government has established closer ties with Hamas and had been acting as a mediator to restore calm between Israel and Gaza-based militant groups.
Hamas reacted furiously, saying in a statement that it considered the Israeli attacks to be the basis for a "declaration of war" against Israel. A spokesman for Hamas, Fawzi Barhoum, said the Israelis had "committed a dangerous crime and broke all redlines," and that "the Israeli occupation will regret and pay a high price."
Military officials in Israel, which announced responsibility for the death of Mr. Jabari, later said in a statement that their forces had carried out additional airstrikes in Gaza targeting what they described as "a significant number of long-range rocket sites" owned by Hamas that had stored rockets capable of reaching 25 miles into Israel. The statement said the airstrikes had dealt a "significant blow to the terror organization's underground rocket-launching capabilities."
Yisrael Katz, a minister from Israel's governing Likud Party, issued a statement saying that the operation had sent a message to the Hamas political leaders in Gaza "that the head of the snake must be smashed. Israel will continue to kill and target anyone who is involved in the rocket attacks."Hamas and medical officials in Gaza said both Mr. Jabari and a companion were killed by the airstrike on his car in Gaza City. Israeli news media said the companion was Mr. Jabari's son, but there was no immediate confirmation.
The Israel Defense Forces said in a statement that Mr. Jabari had been targeted because he "served in the upper echelon of the Hamas command and was directly responsible for executing terror attacks against the state of Israel in the past number of years."
The statement said the purpose of the attack was to "severely impair the command and control chain of the Hamas leadership as well as its terrorist infrastructure."
The statement did not specify how the Israelis knew Mr. Jabari was in the car but said the operation had been "implemented on the basis of concrete intelligence and using advanced capabilities."
Hamas has controlled Gaza since 2007, a year after the Israelis withdrew from the territory captured in the 1967 Arab-Israeli war. But Israeli forces went back into Gaza in the winter of 2008-09 in response to what they called a terrorist campaign by Palestinian militants there to launch rockets into Israel. The three-week military campaign killed as many as 1,400 Palestinians, including hundreds of civilians, and was widely condemned internationally.
Israel has long said it would hold Hamas responsible for attacks launched from Gaza on its forces and population, regardless of which group was behind them. Like the United States and Europe, Israel defines Hamas as a terrorist organization. Hamas refuses to recognize Israel's right to exist.
Mr. Jabari became the acting leader of the Hamas military wing after Israel had severely wounded Muhammad Deif, the top commander, in an assassination attempt in 2003. Mr. Jabari had survived several previous Israeli raids. In 2004, Israeli planes attacked his house killing one of his sons and three other relatives.
Shin Bet, the Israeli security agency, considered Mr. Jabari responsible for what it called "all anti-Israeli terror activity" emanating from Gaza.
He was also known for having played a major role in negotiations that led to the release of Gilad Shalit, an Israeli soldier captured by Gaza militants in a cross-border raid in 2006. Mr. Jabari personally escorted Mr. Shalit to a handover to Egyptian intermediaries last year as part of a prisoner exchange for hundreds of Palestinians held in Israeli jails. Video of the handoff to Egypt showed Mr. Jabari standing near Mr. Shalit.
Lt. Col. Avital Leibovich, a spokeswoman for the Israeli military, acknowledged Mr. Jabari's role in that prisoner exchange during a conference call with journalists on Wednesday announcing the airstrike on Mr. Jabari's car. She also said Mr. Jabari had "a lot of blood on his hands."