The Wall Street Journal
By Laurence Norman and Joshua Mitnic, September 29, 2014
Israel's Prime Minister Warns Focus on Tehran's Nuclear Program Is Blurred by Islamic State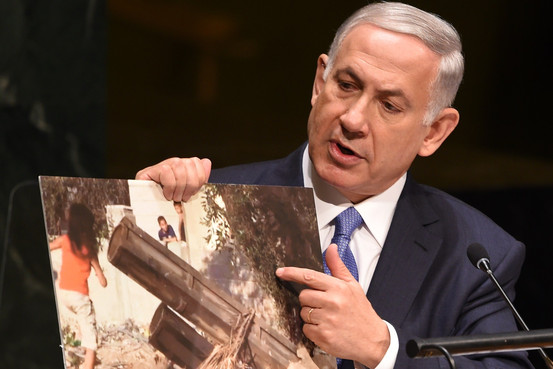 Israeli Prime Minister Benjamin Netanyahu said defeating the radical group Islamic State but allowing Iran to move to the brink of nuclear weapons would be akin to losing the war against Islamic extremism.
Speaking at the United Nations General Assembly, Mr. Netanyahu equated Islamic State, also known as ISIS, with Hamas, Boko Haram in Nigeria, the Iranian regime and al Qaeda.
"The Islamic Republic is now trying to bamboozle its way to an agreement that will remove the sanctions it still faces and leave it with a capacity of thousands of…centrifuges to enrich uranium. This would effectively cement Iran's place as a threshold military nuclear power," he said.
Israeli PM has berated world leaders who condemned Israel for the conflict with Hamas, while praising the U.S. president for attacking Islamic State. WSJ's Mark Kelly reports
"Make no mistake—ISIS must be defeated," he said. "But to defeat ISIS and leave Iran as a threshold nuclear power is to win the battle but to lose the war."
Iran is negotiating a comprehensive nuclear agreement with six powers to constrain its nuclear activities in exchange for a phased lifting of sanctions.
Tehran, which has been supporting the Syrian regime and the Iraqi government in their fight against Islamic State, denies it is seeking nuclear arms.
Mr. Netanyahu and Israeli officials have expressed concern in recent weeks that Western powers will make concessions to Iran in talks to gain its support in the battle against Islamic State.
The six-power group—the U.S., Germany, France, the U.K., Russia and China—have already accepted that Tehran should have some kind of future uranium enrichment program. In recent weeks, they have floated solutions to Iran, according to Western diplomats, which could leave some additional centrifuges in place but remove the infrastructure that makes them work.
U.S. officials have insisted any agreement must significantly lengthen the time it would take Iran to obtain enough fissile material for a nuclear weapon.
Israel has long demanded a solution that would leave Iran with no enrichment capacity and without the infrastructure of a nuclear program.
The international community shouldn't be "fooled by Iran's manipulative charm offensive," Mr. Netanyahu warned.
"Once Iran produces atomic bombs, all the charms and all the smiles will suddenly disappear. And it's then that the ayatollahs will show their true face," he said.
"There's only one responsible course of action to address this threat: Iran's nuclear capabilities must be fully dismantled."
Mr. Netanyahu argued that Islamic State, Iran, and the Palestinian militant group Hamas should all be considered part of the same "indivisible" threat of extremist Islam, which he said aims to spread throughout the globe like a "cancer."
Turning to Hamas and Israel's recent war with the Islamist rulers of Gaza, he lashed out at the United Nations Human Rights Council, which recently commissioned an inquiry into allegations of war crimes by the Israeli army. Holding up a poster-size picture purporting to show rocket launchers near Gaza children, he charged that the U.N. body was ignoring violations committed by Hamas, making it a "terrorist rights council."
The picture reflected Israel's repeated allegations that Hamas shielded its weapons and fighters in civilian areas of Gaza during the war.
With peace negotiations with the Palestinians mothballed since the breakdown of U.S.-mediated talks in May, Mr. Netanyahu suggested that pushing rapprochement between Israel and pro-Western Arab states could serve as a new paradigm.
"Many have long assumed that an Israeli-Palestinian peace would facilitate a broader rapprochement between Israel and the Arab world. But these days I think it may work the other way around," Mr. Netanyahu said.
"Namely that a broader rapprochement between Israel and the Arab world may help facilitate an Israeli-Palestinian peace. And that to achieve that peace, we must not only look to Jerusalem and Ramallah, but to Cairo, Amman, Abu Dhabi and Riyadh and elsewhere."
The overture to the Arab world echoed Mr. Netanyahu's remarks during Israel's fight with Hamas that the conflict had opened new possibilities for cooperation and even a "diplomatic horizon" with other countries in the region opposed to the militant Islamist rule of Gaza.
However, such a development would require Saudi Arabia and the United Arab Emirates to depart from their long-standing practice of shunning open normalization of ties with Israel before progress is made with the Palestinians.
Egypt was the only Arab state to make peace with Israel with no progress on Israeli-Palestinian ties.
Mr. Netanyahu's proposal to overhaul Israeli-Arab peacemaking efforts mirrors an initiative for a peacemaking overhaul by Palestinian President Mahmoud Abbas.
During a strongly worded address to the U.N. General Assembly on Friday, Mr. Abbas called on the Security Council to impose a deadline for talks on the creation of a Palestinian state in the West Bank and Gaza—an effort to pressure Israel on withdrawal and a step away from U.S.-led mediation.
Palestine Liberation Organization Executive Committee Member Hanan Ashrawi said Mr. Netanyahu's outreach to Arab countries was an effort to sidestep the need for an Israeli withdrawal from the West Bank. Ms. Ashrawi added such a move would mean "buying more time to create facts that will destroy the chances of peace for the foreseeable future."
Mr. Abbas accused Israel of waging a "war of genocide" in Gaza. He said Israel had committed war crimes during the seven-week conflict and warned that without a clear timeline for talks in place, there was little point in resuming peace talks.
Mr. Netanyahu responded on Monday to Mr. Abbas by calling the allegations "shameless."
A U.S. State Department spokeswoman said Mr. Abbas' remarks were "counterproductive" and included "offensive characterizations" of Israel.