By Larry Rich, www.Israel21c.org
At Israel's Emek Hospital, it doesn't matter if you're Jewish, Christian, or Muslim.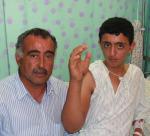 On Thursday, June 3, just three days after the Gaza flotilla raid, 15-year-old Muhammed Kalalwe was working in his family's fields. They live in Jenin, a Palestinian city in the northern West Bank, bordering Israel's Jezreel Valley and the city of Afula. The boy noticed a deadly viper snake and tried killing it with a rock, but the dangerous creature struck out and bit his right palm.
Screams and panic ensued and within minutes, the boy's father, Hafed, grabbed his stricken son and rushed him to the Jenin Hospital. They were ill-prepared to treat the boy, had no anti-serum and decided to send him by ambulance to the Emek Medical Center in Afula, Israel.
Emek, which was founded 86 years ago, is a community hospital that serves a culturally rich population that is equally divided (50/50) between Jews and Arabs. It has a mixed medical staff of Jews and Arabs, and its guiding philosophy is coexistence through medicine.
Hafed later related that he was genuinely afraid to be taken to Emek because he was sure that they would be ignored and not even spoken to. His son's palm and arm were critically swollen and the pain was unbearable.
The humanitarian reality of Emek shocked both the father and son as they were immediately greeted in Arabic, rushed into the ER where Emek's multi-ethnic staff administered life-saving anti-serum and brought the boy back from the brink of death.
Muhammed lay for the next two days in the pediatric intensive care unit and is now resting comfortably in Emek's pediatric surgical department from where he will be released in the next couple of days.
I asked the father how he felt now about Emek Hospital and the Israelis he has come into contact with. "Our people do not know the truth about you and our medicine has a long way to go," he told me. "My son and I are not the same as we were before this happened and I will share this with my family and friends."
As he spoke, he gesticulated determinedly in a classic Middle Eastern style and when we shook hands as I wished them both well, the grip was firm and real. I have shaken many such hands and gazed into many Palestinian eyes that have seen a reality here at Emek Medical Center that they never expected to see.
Larry Rich is the director of development at Emek Medical Center in Afula.