www.Haaretz.com
Israel stood still on Monday morning as a siren sounded to commemorate fallen soldiers on Israel's Memorial Day. The country grinds to a halt at the sound of the siren, with cars stopping on the highway so that people may stand and pay their respects to the country's fallen soldiers.
Memorial ceremonies took place on Monday at the country's 44 military cemeteries, to commemorate the 22,867 Israelis killed in service to the state. They began shortly after the Memorial Day siren sounded, at 11 A.M.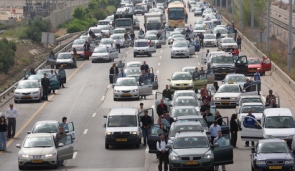 The main official ceremony is held at Mount Herzl in Jerusalem, in the presence of President Shimon Peres, Prime Minister Benjamin Netanyahu and Chief of Staff Benny Gantz. Defense Minister Ehud Barak is attending a ceremony at Tel Aviv's Kiryat Shaul military cemetery.
Netanyahu said at the official ceremony that "22,867 of our sons and daughters fell in Israel's wars. It's hard to evaluate the full cost that has been taken from us with their death."
Every one of us has a way of coping with the agony of bereavement, the hellish torment" the prime minister said, adding that he knew how great the pain can be.
"I wish I was able to give advice to those of you who became one of the bereaved families in the past year. I know that the entire nation mourns with you," Netanyahu said.
In an interview with Army Radio on Monday morning, Barak said his heart was "with the families and friends of the fallen."
"The moments that were hardest for me during a life in the military were standing in front of a door and knowing that on the other side, were people that I had to tell that their son or husband or father would not be coming back.," Barak said.
Memorial Day began on Sunday evening, with an official ceremony held at the Western Wall in Jerusalem.
Speaking at the ceremony was President Shimon Peres, who said that today, Israel is stronger than ever.
"We did not look for wars. They were forced upon us. But when we were attacked, we did not have the option of losing even one. And when we won we returned to seeking peace. Today, I suggest to those who seek war not to make the same mistake again. Do not disrespect our ability … we are prepared to physically defend our land and morally defend our heritage," the president said.
The prime minister also spoke at the official Memorial Day ceremony of the Yad Labanim memorial organization at Ammunition Hill in the capital and stressed the government's commitment to returning abducted soldier Gilad Shalit from captivity.
The prime minister said that Israel continues to work "every day" for the return of those soldiers who have disappeared and those that are being held captive. "We work every day for their return, including in ways that may be hidden from view," Netanyahu said. "We will not rest until they are returned."
Memorial Day ends at 8 P.M. with the traditional torch-lighting ceremony, also at Mount Herzl, that marks the commencement of Independence Day.