By Judy Siegel, The Jerusalem Post
Bringing back 3,500 Israeli scientists and researchers and 20,000 hi-tech professionals who have left the country must be an urgent national target, Science and Technology Minister Ghaleb Majadleh said in the Knesset on Monday in a special session of the Knesset Science and Technology Committee.
The session was held to mark the fifth anniversary of the death of Israel's first astronaut, Col. Ilan Ramon, in the failed Columbia space shuttle mission with colleagues from the US Aeronautics and Space Administration (NASA).
Two NASA astronauts – Sunita Williams and Michael Lopez-Alegria – were present at the meeting along with European Space Agency (ESA) astronaut Gerhard Thiele, NASA scientist Nagin Cox and family members of fallen American astronauts.
NUL-NRP MK Benny Elon asked the astronauts to help Israel in getting another Israeli admitted to the NASA space program.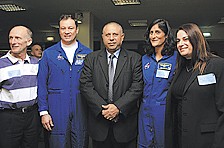 NASA astronauts flank Science and Technology Minister Ghaleb Majadleh.
Photo: Sasson Tiram
Knesset Speaker Dalia Itzik asked what astronauts eat during their flights when they spent half a year or more in a space station. She was told that a supply ship arrives periodically and brings fresh fruit and vegetables, along with other staples. "It is fresh produce that we miss the most," said Williams.
Thiele disclosed that talks about cooperation between the ESA and the Israel Space Agency were taking place.
Ramon's widow Rona, who has maintained much interest and links with NASA astronauts, said that the "joint tragedy has turned us into a warm and loving family."