Reuters and IsraelHayom.com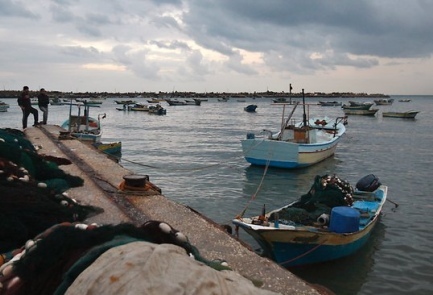 Israel eased restrictions on Gaza fishermen and farmers on Saturday, Palestinian officials said, advancing a three-day-old truce brokered by Egypt after a week of fierce fighting.
On Saturday night, a leading Islamic cleric in the Gaza Strip ruled it a sin to violate the cease-fire agreement. The fatwa, or religious edict, issued by Suleiman al-Daya late Saturday accords a religious legitimacy to the truce and could justify any act by Gaza's Hamas government to enforce it.
"Honoring the truce, which was sponsored by our Egyptian brethren, is the duty of each and every one of us. Violating it shall constitute a sin," the fatwa read.
Gaza's children also headed back to school in their hundreds of thousands, in another indication normal life was returning after eight days of fierce cross-border fighting in which 166 Palestinians and six Israelis were killed.
Despite the return to normal life, senior Hamas leader Mahmoud al-Zahar indicated how fragile the cease-fire may be with defiant remarks to reporters of how the Islamists would go on smuggling in weapons "by all possible means," including via Israel's arch-enemy Iran.
A statement from the office of Hamas Prime Minister Ismail Haniyeh said Egypt had notified it that "Israel has allowed Palestinian fishermen to fish in Gaza's waters at a distance of 6 miles (10 kilometers), up from 3 miles."
Israel had formally barred Gaza fishermen from heading more than 3 miles out into the Mediterranean Sea for about three years, its gunboats often enforcing the rule, a measure Israel said was intended to prevent weapons smuggling.
Murad al-Issi, a member of a fishermen's group, told Reuters his colleagues had already ventured out to the 6-mile limit on Saturday, undisturbed by Israel.
"The Israel Navy boat which used to fire and torch Palestinian boats that sailed beyond a 3-mile distance watched without doing anything to prevent them," Issi said.
Palestinians say the Israeli restrictions had hampered the amount and variety of fish they could catch.
Inside Gaza, Palestinian farmers tended land along the testy frontier with the Jewish state without incident, signaling that Israel was easing restrictions barring Palestinians from coming within 300 meters (984 feet) of the border fence.
The change took place a day after Israeli troops killed a Palestinian man at the fence, saying protesters there threw stones and tried to breach the barrier.
Palestinians denounced the shooting as a violation of the cease-fire, and Egypt intervened to restore calm.
On Saturday, a Reuters photographer saw farmers in the Khan Younis area working close to the fence.
Hamas security officials were on patrol and Israeli soldiers looked on without interfering, but for a brief verbal exchange between one soldier and a Hamas guard, witnesses said.
Israeli officials had no comment on whether Israel eased conditions for either the fishermen or farmers.